French first lady Brigitte Macron released a rare statement on Tuesday condemning a physical assault on her great-grandson on the sidelines of a demonstration against her husband's disputed pension reform.
Police said eight people were arrested in the northern French city of Amiens in connection with Monday night's assault on Jean-Baptiste Trogneux, 30, who runs a family chocolate shop.
OPPONENTS OF FRENCH PENSION REFORM PLAN MAKE LATEST EFFORT TO PREVENT CHANGE
Brigitte Macron denounced the "cowardice, stupidity and violence" of the assault.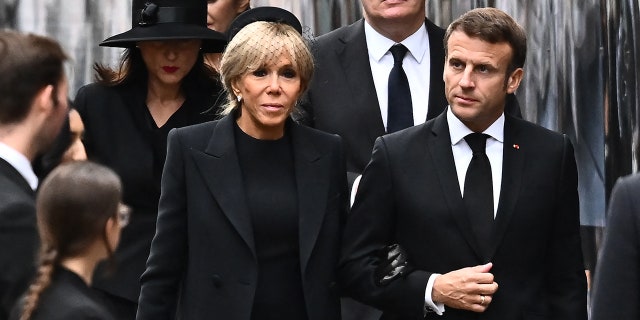 "I am in full solidarity with my family and have been in constant contact since 11pm yesterday," he said. "I have repeatedly denounced this type of violence which can only lead to the worst".
GUYS ATTACK FRENCH TOURIST, 71 YEARS OLD, WALKING IN NYC, NO ARREST: 'IN PARIS, I WOULD HAVE GOT THEM'
Trogneux was reportedly making his way to his apartment above the chocolate shop when he was attacked. His father, Jean-Alexandre Trogneux, said the assailants insulted "the president, his wife and our family" before fleeing.
During a speech in Iceland, French President Emmanuel Macron called the violence "unacceptable and it shocks everyone".
CLICK HERE TO GET THE FOX NEWS APP
The president told French television network TF1 on Monday evening that he will continue with unpopular pension reforms that will raise the retirement age from 62 to 64. The change has been the focus of months of anti-government protests.