A copy of the Hebrew Bible, believed to be 1,100 years old and one of the world's oldest intact books, has sold for $38m (£30m) at auction.
The Codex Sassoon, a handwritten, leather-bound vellum volume, was purchased by Alfred H Moses, former United States Ambassador to Romania, in New York on Wednesday.
It is thought to have been made between 880 AD (AD) and 960 AD (AD).
A codex is defined as "an ancient manuscript text in book form" by Oxford Languages.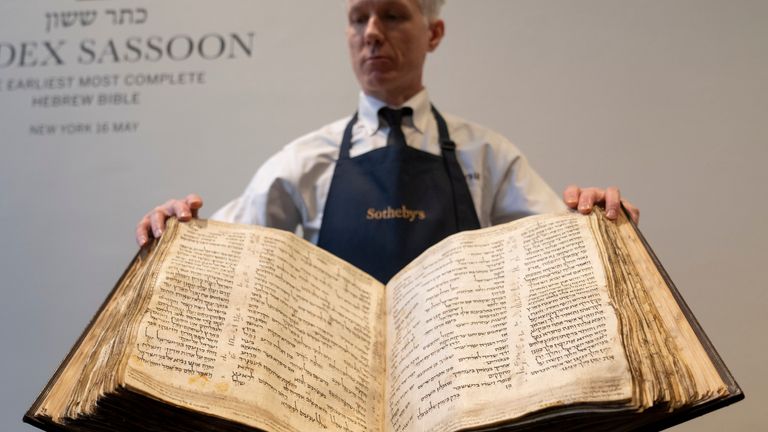 Mr. Moses, who represented the American Friends of the ANU, donated it to the ANU Jewish People's Museum in Tel Aviv, auctioneers Sotheby's said in a statement.
Anu means "we" in Hebrew, according to the organization's website.
The Bible, which went on display at the museum in March as part of a world tour, will join the collection there.
The Codex Sassoon got its name when it was bought in 1929 by David Solomon Sassoon, the son of an Iraqi Jewish business magnate who had a house in London which he filled with a collection of Hebrew manuscripts.
The Bible was subsequently owned by the British Rail pension fund until it was bought by the current seller, Swiss-Lebanese-Syrian billionaire Jacqui Safra, in 1989 for $3.19 million (£2.5 million ).
Jewish Bibles are similar to the Christian Old Testament, but differ in a number of ways.
Sotheby's Judaica specialist Sharon Liberman Mintz said the price, one of the highest for a manuscript sold at auction, "reflects the profound power, influence and meaning of the Hebrew Bible, which is an indispensable pillar of humanity".
In 2021, a rare copy of the US Constitution sold for $43m (£34m).
Bill Gates paid $31m (£25m) for Leonardo da Vinci's Leicester Codex in 1994.
Ms Mintz said she was 'absolutely delighted' with the sale and that the 'Codex Sassoon will soon be making its grand and permanent return to Israelon display for the world to see."
While the Codex Sassoon is the earliest surviving example of a single Hebrew Bible manuscript—containing all 24 books with punctuation, vowels, and accents—there are older examples that are incomplete, including the Dead Sea Scrolls, fragments of which come from the The Hebrew Bible dates before and shortly after the time of Christ, according to the Biblical Archeology Society.
Other older Christian Bibles in existence include the Codex Sinaiticus, part of which is in the British Library and the Codex Vaticanus, in the Vatican – both date to the 4th century, and the Codex Alexandrinus, also in the British Library and date to the 5th century.
The Gospel of St Cuthbert, which is only the Gospel of St John in the New Testament, is also in the British Museum and dates from the 8th or 7th century.