Tens of thousands gathered in Serbia's capital on Friday for the third time in a month to protest the government's handling of the crisis after two mass shootings in the Balkan country earlier this month, although officials they rejected the criticisms and ignored their requests.
In defiance, the right-wing nationalist party of autocratic Serbian President Aleksandar Vucic staged a counter-protest in a city north of Belgrade attended by thousands of its supporters.
Opposition demonstrators in Belgrade chanted slogans against Vucic, demanding the resignation of two top ministers and the revocation of broadcasting licenses to two TV networks which they say promote violence and glorify criminal figures.
OVER 100 SCHOOLS IN SERBIA RECEIVE BOMB THREATS FOLLOWING MASS SHOOTING AT ELEMENTARY SCHOOL
Prime Minister Ana Brnabic and other government officials attended a parliamentary session on Friday that focused on the May 3-4 shootings and opposition calls to replace the interior minister and intelligence chief after the carnage that sparked the 18 people died, many of them children.
The two shootings stunned the nation, especially as the first occurred at an elementary school in central Belgrade when a 13-year-old boy grabbed his father's gun and opened fire on his fellow students. Eight students and a school guard were killed and seven other people were injured. Another girl later died in hospital from head injuries.
A day later, a 20-year-old used an automatic weapon to randomly hit people he encountered in two villages south of Belgrade, killing eight and injuring 14.
Brnabic has rejected allegations that populist authorities were somehow responsible for the shootings. Instead, he accused the opposition of fueling violence in society and of threatening President Aleksandar Vucic. Brnabic called the opposition-led protests "purely political", saying they were aimed at forcibly overthrowing Vucic and the government.
"You are at the heart of the spiral of violence in this society," Brnabic told opposition lawmakers. "You are spewing hatred."
He also said that "everything that happened" in Serbia after the mass shootings was "directly the work of foreign intelligence services", adding that his government could only be changed by the will of the people in elections and not on the streets.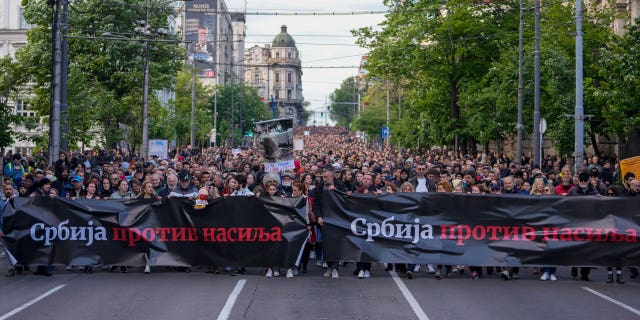 The opposition meeting on Friday evening in front of the parliament building in Belgrade is the third after the shooting. The previous two rallies drew tens of thousands of people who marched peacefully, only occasionally chanting anti-Vucic slogans.
Authorities launched a gun crackdown in the aftermath of the shootings and dispatched police to schools in a bid to boost a shaken sense of security.
Facing public pressure, the increasingly autocratic Vucic has scheduled his own rally for next week in the capital, suggesting that the entire government could resign and that an early vote should be called for September.
He also attended his party's demonstration in the town of Pancevo on Friday, which began at the same time as the opposition-led protest in the capital.
In his speech, Vucic mirrored his prime minister's narrative by suggesting that the opposition protests had been orchestrated from abroad. He accused his political opponents of trying to seize power by violence and "destroy Serbia".
"There can be no (coming to) power without elections," Vucic told the crowd. "I will never serve foreigners."
SERBS MARCH IN GROUPS ON BELGRADE AFTER MASS PHOTOGRAPHS ENSURED
Earlier in parliament, Interior Minister Bratislav Gasic, whose resignation protesters are calling for, defended police measures in the aftermath of the shootings. He also told parliament that citizens had so far handed over more than 23,000 weapons and over 1 million rounds of ammunition since a one-month amnesty was declared on May 8.
"The police could not have known or predicted that something like this would happen," he said of the school shooting, the first ever in Serbia.
Gasic also confirmed media reports that a man who was recently discharged from a psychiatric hospital fired an anti-tank missile at an empty house from a grenade launcher on Thursday in the town of Ruma outside Belgrade. No one was injured in the crash and Gasic said two people were arrested.
CLICK HERE TO GET THE FOX NEWS APP
Serbia is awash in weapons left over from the wars of the 1990s, including rocket launchers and hand grenades. Other gun control measures declared following the shootings include better control of gun owners and shooting ranges, a moratorium on new licenses, and harsh sentences for possession of illegal guns.