A woman has been arrested four years after a newborn baby was found abandoned in a plastic bag.
Karima Jiwani, 40, faces a variety of charges in the U.S. state of Georgia, including felony attempt to commit murder, aggravated assault, reckless neglect and cruelty to first-degree children, according to the Forsyth County Sheriff's Office .
Authorities said Jiwani, who was arrested on Thursday, is the biological mother of the child.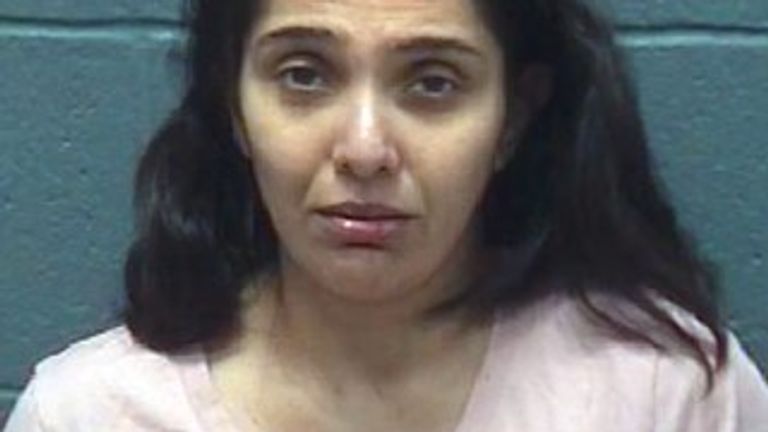 The child – later called India – was found in a wooded area in Cumming, Georgia on the night of June 6, 2019after two teenage girls hear the sound of her crying.
A video of the discovery was made public shortly after she was found, as officials asked the public for help finding the girl's parents or why she was abandoned.
In the footage, policemen are seen removing the little girl from the plastic bag and wrapping her in a blanket.
She was given first aid and taken to a local hospital, before being placed in the care of a foster family.
The child was "thrown away like garbage"
Sheriff Ron H Freeman said the investigation took officials from the Northeast to the Midwest, but they finally got their break 10 months ago when India's father was identified using family DNA.
However, there is no indication that the father was involved in leaving India.
Mr Freeman said Jiwani allegedly gave India birth in a car and drove 'for a significant amount of time', making no effort to use a law that allows a newborn in Georgia to be left in a medical facility , a fire station or a police station up to 30 days after the birth without the parents being prosecuted.
Instead, Freeman said India was "tied up in a plastic bag and dumped in the woods like a bag of rubbish."
"It's literally one of the saddest things I've ever seen."