At least 10 people were killed and nine others injured when an annual off-road racing event in Baja California erupted in gunfire on Saturday as participants drove through the city of Ensenada, according to multiple reports.
The two-day event, called Cachanillazo, was scheduled to conclude later in the day. As the runners pulled up in front of a gas station in the San Vicente area of ​​Ensenada, located about a two-hour drive south of San Diego, at around 2:18 p.m. local time, a group of attackers with long guns got out of the gray van and opened fire on the participants, according to Reuters, which cited reports of 911 calls.
Mexican journalist Alfredo Alvarez, who has amassed 52,700 Twitter followers, said on his website that the shooting arose from a confrontation between active members of the Arellano Felix Cartel (CAF) and the Sinaloa Cartel.
According to local reports, the group of alleged hitmen were targeting a member of the CAF cartel under investigation by the United States for drug trafficking. He was reportedly among those killed on Saturday.
NEW MEXICO POLICE RELEASE CRYPTICAL NOTE FROM YOUNG SHOOTER ACCUSED OF MURDERING 3 ELDERLY WOMEN AND INJURING 2 COPS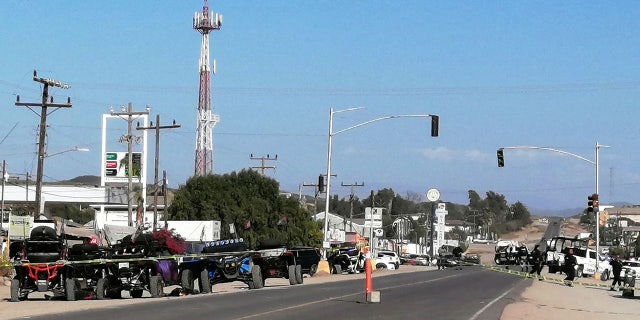 The graphic video shared on social media showed the bloodied bodies of the victims strewn on the street alongside all-terrain vehicles, called Razers, while soldiers and other law enforcement officers were at the scene. More footage captured the barrage of gunfire that rang out from the gas station on Saturday.
"Violence has reached levels never seen in BC and Mexico. Streets and cities that for decades have seen families and friends pass by in off-road adventure vehicles, today witness the executions of crimes. What happened today in #Ensenada must stop ," Gustavo de Hoyos Walther, a local Mexican lawyer, tweeted in Spanish to his more than 161,500 followers.
Authorities said the suspects were not arrested and did not immediately release the names of the victims, KNSD reported.
RED STATES RUN TO DEFEND WEAPONS MANUFACTURERS AGAINST MEXICAN CAUSE SEEKING DAMAGE FOR ARMED VIOLENCE
Reuters reported that municipal and state police, Marines, firefighters and the Mexican Red Cross, among other agencies, responded to the scene.
Ensenada Mayor Armando Ayala Robles said Baja California state attorney general Ricardo Ivan Carpio Sanchez has assigned a special team to investigate the shooting, Reuters said.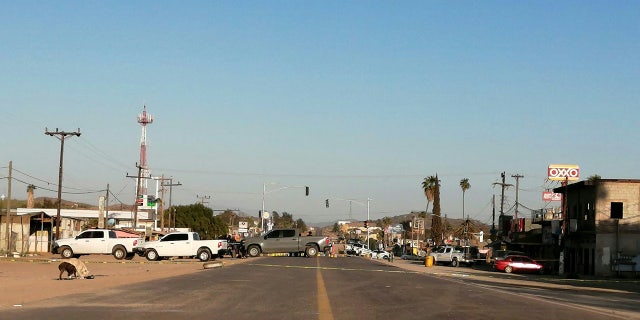 The shooting occurred as migrants were crossing the US-Mexico border in record numbers with the recent end of the 42 title.
On Friday, San Diego Border Patrol officers reported gunfire in two recent incidents, including one while officers cared for a 4-year-old boy abandoned about a half-mile east of the San Ysidro Port of Entry.
CLICK HERE TO GET THE FOX NEWS APP
"Violence at the border is a significant threat to public safety and to Border Patrol officers tasked with protecting our nation's borders," the officers warned.