NEW DELHI: With heatwave conditions already developing in parts of the city on Sunday, the met department issued a yellow ("caution") heatwave alert for Monday. Prior to this, the hottest day of the year was reported on May 12 when the mercury stabilized at 42.5 degrees Celsius.
Aside from the station where temperatures hit 45C or more on Sunday, Ridge reported 44.5C, Pusa 44.8, Ayanagar 44, Jafarpur 44.6 and Palam 43.8.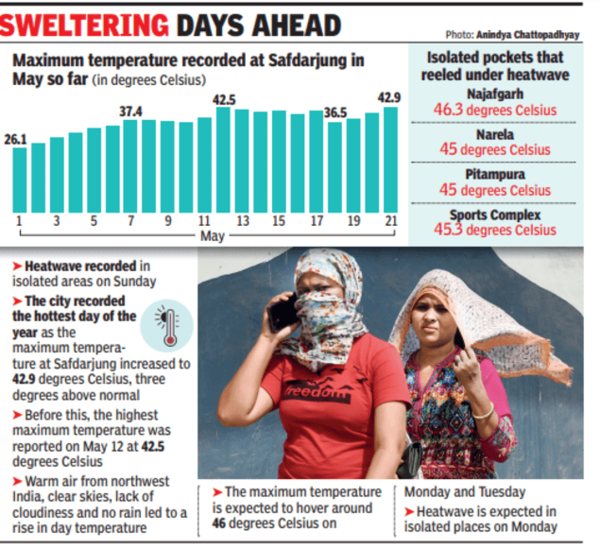 Although Safdarjung has not seen any heatwave days so far this season, isolated pockets have experienced two to three days of heatwave conditions this year. The IMD defines a heatwave day when the maximum is 4.5 degrees and more above normal and the maximum temperature is at least 40 degrees C. A heatwave is also considered if the maximum temperature touches 45 degrees C or more. A "severe" heat wave is declared when the maximum is 6.5 degrees and more above normal.
Kuldeep Srivastava, head of IMD's Regional Weather Forecasting Centre, said, "The north-westerly winds from Punjab and Haryana, which are experiencing high temperatures, are bringing warm air to Delhi. There was no cloud cover and no rainfall activity has recently been recorded in the lowlands or hills leading to an increase in temperature."
Sunday's minimum temperature was recorded at 24 degrees Celsius, three notches below normal. Relative humidity ranged from 25% to 74%.
The maximum temperature is likely to hover around 43 degrees Celsius on Monday and Tuesday. Strong surface winds are expected later in the day.
However, relief is expected from May 24 as the mercury could drop below 40 degrees Celsius, with light rain expected in the region under the influence of a western perturbation.
Delhi's air quality, meanwhile, deteriorated from "moderate" on Saturday to "poor" on Sunday. The Air Quality Index (AQI) was 215 versus 186 the day before.