Rick Allen has revealed he was caught off guard when he was attacked outside a hotel in Florida after a concert earlier this year.
"I heard a couple footsteps and then I just saw this (flash) and the next thing I knew I was down," Def Leppard drummer, 59, told ABC's Good Morning America in a interview broadcast on Monday.
"I landed on my back – hit my head on the pavement."
Def Leppard were in Fort Lauderdale performing at the Seminole Hard Rock Hotel and Casino when Allen was attacked March 13 while smoking a cigarette outside a hotel.
Police arrested Max Hartley, a 19-year-old from Avon, Ohio, who pleaded not guilty to two counts of battery and four counts of felony damage, according to court documents.
Police said they have yet to determine a motive.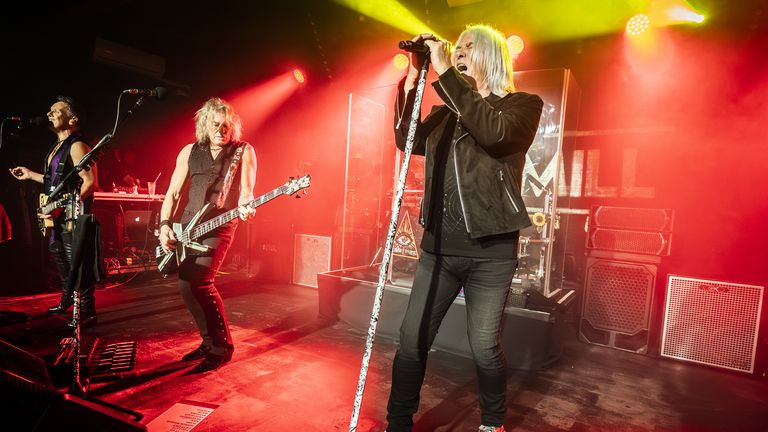 "I don't think he knew who I was, but he must have seen that I wasn't a threat because, you know, I only have one arm," said Allen, who lost his left arm in a car accident in 1984.
According to the police report, Hartley hid behind a pillar outside the hotel and then ran towards Allen, knocking him to the floor.
He also allegedly attacked a woman who tried to help Allen, but was not seriously injured.
Hartley allegedly then ran to another hotel and began smashing car windows until he was stopped by witnesses and police arrived, police said.
Hartley's attorney, Kevin Gardiner, did not immediately respond to an email asking for comments on the case.
To know more:
Foo Fighters appoint new drummer following Taylor Hawkins' death
China bans comedian Uncle Roger for a string of jokes
Allen's head hit the ground during the attack and he and his wife, Lauren Monroe, told Good Morning America they were focused on his recovery.
"My heart sank completely into me. I know the journey of trauma. It all stopped at our house and focused on him," Monroe said.
The couple created the Raven Drum Foundation to help trauma survivors, especially veterans and first responders, in 2001.
Allen and his bandmates performed at a small venue in their own hometown of Sheffield on Friday before kicking off their European tour.
"I know I'm not going to play in a band forever," Allen said.
"But while I am, I intend to make as many people happy as possible. And this is my moment. This is my opportunity."