Imran Khan's political party could be banned with the move 'under consideration', a Pakistani minister has said – in a move that could deepen a tense standoff between the former prime minister and the country's government and military .
Defense Minister Khawaja Asif said Pakistan Tehreek-e-Insaf (PTI) "attacked the very base of the state" which "could not be tolerated".
He added that parliament should give final approval to the government's decision to ban the party.
PTI party lawyer Ali Zafar said any such decision would be challenged in court.
He said an entire party cannot be blamed for acts committed by individuals.
It follows Nationwide protests by Mr Khan's supporters provoked by his arrest on May 9 for corruption.
Clashes with police left 10 dead and dozens injured. Mr. Khan was released on May 12 following a ruling by the country's Supreme Court.
Just days after being released on bail, he exclusively told Sky News that the Pakistani government was 'petrified by the election'.
He claimed they feared being "annihilated" by his party at the polls and said democracy in his country was at "an all-time low".
Mr Khan, 70, leader of the popular opposition, served as prime minister between 2018 and 2022.
Learn more:
Imran Khan warns of threats to Pakistani democracy
Former Pakistani Prime Minister Imran Khan spoke to Sky News about his arrest for alleged corruption

It was ousted in a vote of no confidence in parliament in April last year, which he said was illegal.
The cricketer-turned-politician star has since campaigned for a snap election, which his successor, Prime Minister Shahbaz Sharif, rejected.
Mr Khan now faces more than 100 lawsuits against him. He has denied all allegations, including those of corruption committed during his tenure and terrorism following those protests which saw protesters attack military buildings.
A court in Islamabad yesterday granted the former prime minister protection from arrest until June 8.
He then appeared before the National Accountability Bureau to answer questions in a separate case.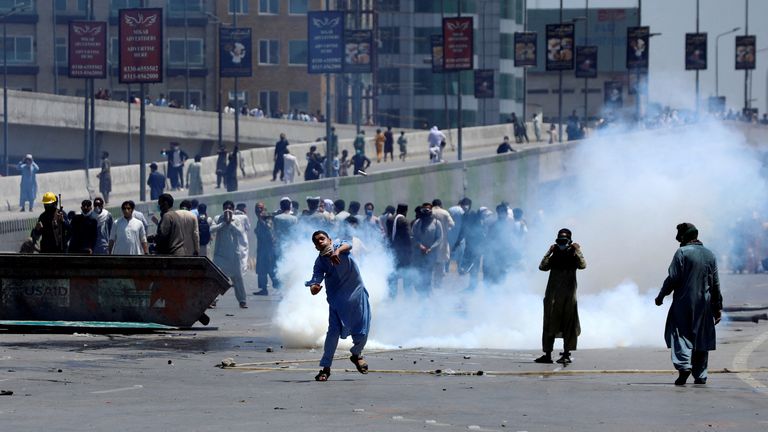 Last night Fayyaz ul Hassan Chohan, a key PTI leader, said he was leaving the party because of Mr Khan's 'policy of confrontation with the state and the military'.