"I put her as my wife, so take her."
As Ratha, a Sri Lankan rice farmer, stood at Colombo airport waiting for his ticket to the UK, the recruiter waved at a woman he had never seen before.
"If you don't go with her, you'll be in trouble and your money won't be returned," she was told.
Ratha had paid the man – whom he believed to be a recruitment "agent" – £50,000 for passage to the UK, selling a property that had been in his family for generations.
But by being forced to pose as someone's fake husband, he claims to have fallen victim to criminal gangs exploiting Britain's skilled worker visa system.
While Rishi Sunak has made stopping small boat crossings in the English Channel one of his top priorities, Sky News can reveal allegations that a legal route is being used for people smuggling.
Criminal gangs are using Britain's need to fill jobs using the skilled worker visa system as a way to move people to this country. Under this scheme, a person who has been offered a job in the UK is allowed to bring dependents with them.
But Sky News has been made aware of several cases where the right to bring in dependents on a skilled worker visa is abused.
The exorbitant price
Ratha says he paid the money because he believed it would result in employment and, possibly, permanent residence in the UK.
The woman posing as his wife – the work visa holder – has now disappeared.
He is staying with friends in Staffordshire because his relatives do not want him to be alone, fearing for his sanity.
He claims he was fleeing persecution in Sri Lanka and was unaware that he would be traveling as a fake dependent on someone else's work visa until he arrived at Colombo airport.
"I thought I was the only one traveling. At the entrance to the airport, I was told to wait, then a woman arrived," says Ratha.
"The agent said, 'I put her as my wife, so take her'."
At first he refused to accept the plan, but he claims he was threatened and refused a refund.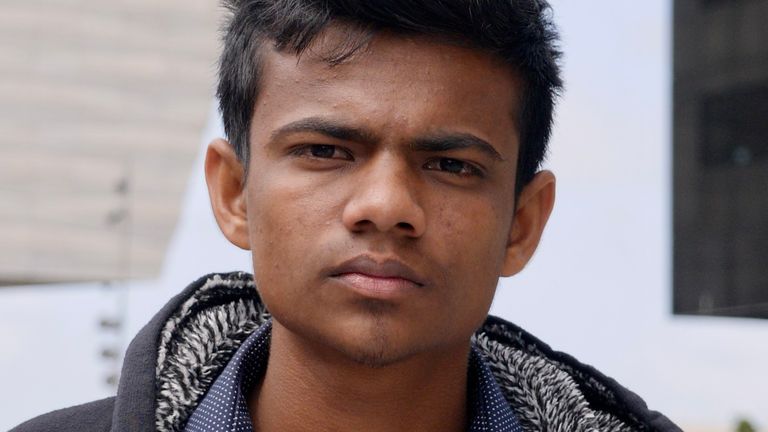 The false son
Along with Ratha came a 19-year-old, who says he pretended to be her son.
His name is Hinthujan and he now lives in Liverpool. He takes on a fearful and solitary figure.
His family spent all of their savings on their trip to the UK in hopes that he could join their loved ones in the city's Sri Lankan community.
Hinthujan says he had no idea what was going on until he arrived at Colombo airport, where he was forced to partner up with a fake father and fake mother.
Unable to speak a word of English, he is now an asylum seeker after the group was questioned and detained at Heathrow Airport.
"There are a lot of problems in Sri Lanka. It's not possible to stay there – that's why we came," he told Sky News through an interpreter.
"I was scared when [the agent] said to me: 'If you say that they are your mother and your father, there will be no problem'".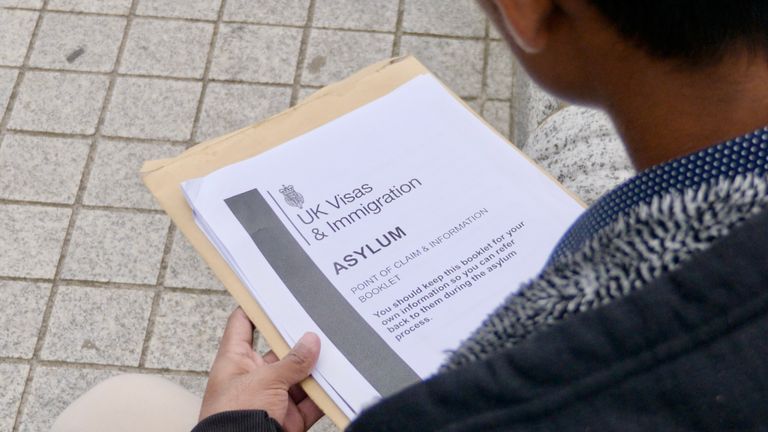 "I was scared but I couldn't do anything"
When Ms A turned up for her flight from Sri Lanka to the UK, she said the people she had paid £65,000 for a work visa gave her her permit, plane tickets and a 12 year old boy.
"It was a shock," she said. "It was last minute. I was scared but there was nothing I could do about it. They guaranteed there would be no problems."
After landing at Heathrow Airport, the boy was met by people Mrs A did not recognize and she never saw him again.
Ms A – who asked not to be identified – said the visa was issued by the British High Commission in Sri Lanka.
"It was only after I arrived in the UK that I realized it was a big mistake. I know I was used.
"The boy already knew he was coming to the country but I didn't know that."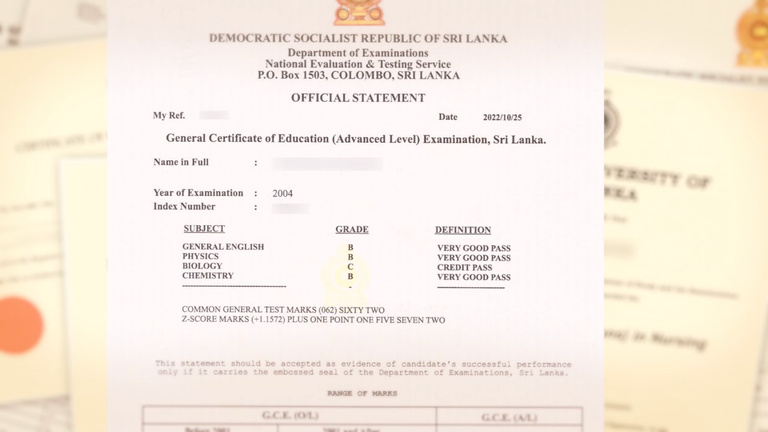 The documents
Ms A handed over the sum of money in the belief that officers would find her work in the UK – and that she did not need to speak English.
She was offered a job by a care company, then received a certificate of sponsorship from the Ministry of the Interior allowing her to obtain a visa. But it is a basic requirement for people coming to work in the UK as carers on skilled worker visas to speak English.
Mrs. A cannot read, write or speak English and has no qualifications. But a fake certificate used by the gang to apply for a job lists her as having a "very good pass" in an English exam.
Sky News obtained the fake documents submitted to the care agency with her job application. They include a nursing degree and fake certificates in biology, physics and chemistry.
Her fake CV says she spent seven years "providing direct nursing care to patients in a busy hospital ward" – and two years providing care to patients in a home for the aged.
He says she is skilled in handling patients safely and providing first aid.
None of this is true.
What are skilled worker visas – and how many are granted each year?
In February 2022, the government changed the rules for people wanting to come and work in the UK, making it easier for people from overseas to apply.
It expanded the list of shortage occupations and removed the requirement to prove that UK residents were unable to fill the roles listed. Care support worker is the lowest skilled job on this expanded list of shortage occupations.
The Migration Advisory Council's annual report recommended the change, along with setting a minimum wage of £20,480 a year.
The government accepted this recommendation at the time "to help ensure short-term sustainability as social care recovers from the pandemic".
Last year almost 150,000 people came to the UK last year on skilled worker visas.
Click to subscribe to Sky News Daily wherever you get your podcasts
"People sell everything and end up with nothing"
Zeena Luchowa, of the Law Society's immigration committee, said: 'It is extremely alarming and concerning that we have a system that does not catch exploitation at this level and there must be a way for the office at home to review its systems to look at what is not working here."
Sky News contacted the company Ms A was thinking of coming to work for. He said they had no idea that the documents used for Ms A's application by recruiters in Sri Lanka were fake.
Care England represents the largest number of independent adult social care providers in the UK. He confirmed that there are no "specific requirements" for healthcare related qualifications to come to this country as a carer. But it is necessary to speak, read, write and understand English at least at an intermediate level.
Ms A's legal adviser said: 'The UK government needs people. But criminal gangs are using this work permit legal system for their own benefit to make a lot of money.'
Meanwhile, he says, people from other countries are "selling their jewelry and belongings, giving them to criminal gangs and ending up with nothing. They come here and can't work, can't rent and end up in the street".
A Home Office spokesman said: "We are actively investigating the allegations made.
"Abuse of our immigration system will not be tolerated. Anyone who has used false documents, misrepresented their personal circumstances, or otherwise engaged in deception will have their application denied and may face a ban on further applications up to 10 years."
The Home Office is reviewing its processes to try to prevent future abuse of the skilled worker visa system.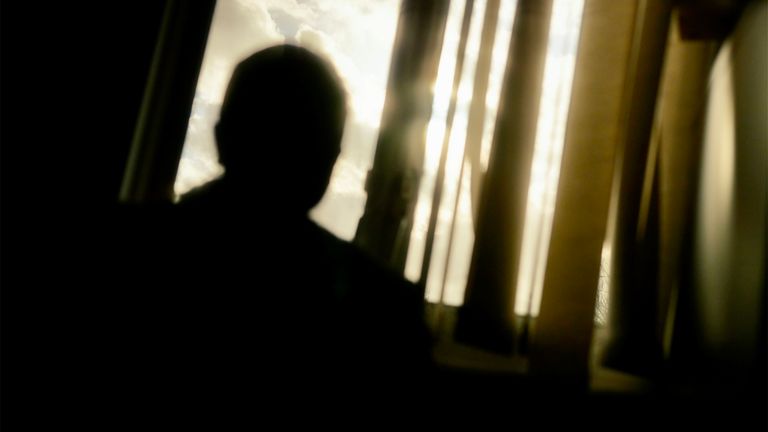 "I sold everything that three generations of my family worked for"
Vinothan is another Sri Lankan who has joined the UK's backlog of asylum seekers. The job he thought he was coming to do didn't work out.
Vinothan, his wife and their two young children now live in a friend's spare room. He claims the family cannot return to Sri Lanka because they have been threatened by the criminal gangs who obtained his work visa for the UK.
He paid people in Sri Lanka £26,000 for a full-time job offer to work as a carer in a UK company – not the same one Ms A applied for.
On the day of the induction, Vinothan says he got a uniform but no paid work. He claims that before leaving Sri Lanka, he was not told that he would have to undergo unpaid training for an indefinite period.
As he is now in conflict with the company, his sponsorship certificate to work in the UK has been withdrawn.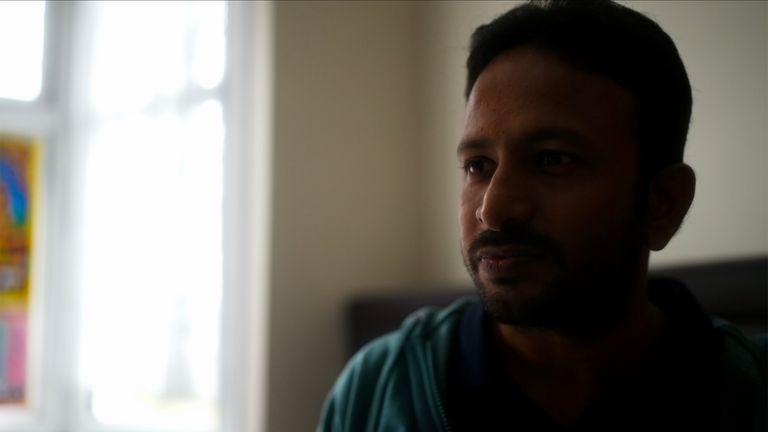 Wiping away his tears, he explains that the money was his family's life savings – after selling everything, including land and jewelry.
"£26,000 is a very big sum for us from Sri Lanka. My grandfather and grandmother's jewelery and three generations have earned this. Now I have nothing. It's all gone . [The criminal gangs in Sri Lanka] deceived me.
"How can I get this back?" »
Reporting by Lisa Holland and Nick Stylianou
Produced by Megan Baynes
Edited by Serena Kutchinsky