Half-naked climate activists showered themselves in mud in Rome, Italy, to protest the use of fossil fuels and to remind people of the dangers of flooding.
Last week, severe flooding killed 14 people and caused major property damage in northern Italy.
A series of attention-grabbing public protests were staged by activists across Italy, including protesters who glued themselves to the glass covering a Botticelli masterpiece.
A pair of shirtless protesters smeared themselves with mud outside the Senate building in Rome on Tuesday to protest the use of fossil fuels and remind people of the dangers of flooding linked to climate change.
Police promptly removed the two. Since last year, an activist group called the Last Generation has staged several attention-grabbing events in Italy, including pouring black liquid into Rome's Trevi Fountain and bonding to the glass protecting Botticelli's masterpiece 'Primavera' in the Gallerie of the Uffizi in Florence, to highlight the damage that fossil fuels cause to the environment and its role in global warming.
Activists used the mud to remind people of last week's severe flooding in northern Italy's Emilia-Romagna region, where 21 rivers overflowed their banks and hundreds of landslides were triggered by a heavy concentration of downpours on barren land.
JOHN KERRY'S OFFICE CONSULTED LEFT-HAND ENVIRONMENTAL GROUPS WHEN MAKING POLICIES, EMAILS SHOW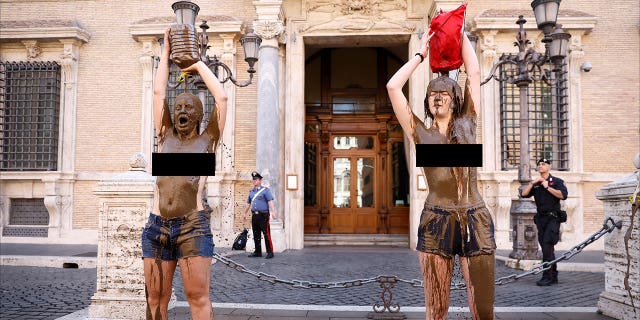 CLICK HERE TO GET THE FOX NEWS APP
The floods killed at least 14 people, destroyed farms and businesses, inundated homes and isolated villages and caused the evacuation of 36,000 people.
Meteorologists and other experts said the floods were part of climate change phenomena that include long periods of drought punctuated by extremely heavy and concentrated rainfall that cannot be absorbed by the barren ground.