A Labor mayor has accused his party of being "anti-democratic" after he was blocked from running in an election for a new position.
Jamie Driscoll, mayor of the North of Tyne, refused to condemn controversial remarks from director Ken Loach about Jews, Israel and the Holocaust.
I have has been prevented by Labor HQ from standing as candidate for the newly created role of leader of the North East Mayoral Combined Authority after appearing on stage with Mr Loach.
Many more migrant boats intercepted after 'landmark deals', says minister – Politics latest
Speaking to Sky's Sophy Ridge, Mr Driscoll was asked about Mr Loach's comments.
They include saying that Israel's actions made a rise in antisemitism understandable; and replying that "all history" was up for discussion when asked if the Holocaust was unacceptable or if Israel's founding was based on ethnic cleansing.
Mr Driscoll said this was a question for Mr Loach, and that he was "not a spokesman for Ken Loach".
"My combined authority has adopted the… IHRA [International Holocaust Remembrance Alliance] definition of antisemitism," he added.
"I've been on Jewish Labor Movement training, I work very closely with the Jewish Leadership Council, visit the synagogues in my region."
He said he found out he would not be a potential candidate for the new role via email.
The mayor said banning people "who are promoting socialist views from participating is really quite anti-democratic".
Mr Driscoll and Mr Loach appeared at Newcastle's Live Theater in March to speak about the director's filmmaking.
The mayor told Sky News that Mr Loach's films were of "big cultural significance" to the North East.
He said he regretted "this entire episode" but believed the "whole thing's blown up and now Labor members are not getting the opportunity to choose".
Mr Driscoll said local Labor members should decide who should run.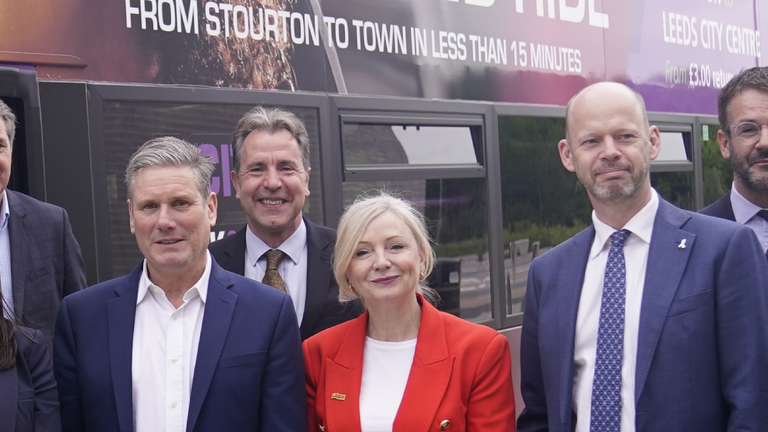 Mr Loach was kicked out of Labor in 2021and while it is unclear precisely what for, he said in a tweet it was because he would "not disown those already expelled".
It came shortly after the party expelled a number of groups, including Resist, Socialist Appeal, Labor in Exile Network and Labor Against the Witch-hunt.
Mr Loach was a vocal supporter of former Labor leader Jeremy Corbyn, and Mr Driscoll has been described as the "last Corbynista in power".
Mr Corbyn has been blocked from standing for Labor in the next general election due to his reaction to antisemitism investigations during his tenure as leader.
Mr Loach has also been supportive of Chris Williamson, a former Labor MP removed from the party who claimed Labor was "too apologetic" over the issue.
It comes as Sir Keir Starmer gears up for an expected general election next yearwith lists of potential candidates being tightly controlled.
Shadow business secretary Jonathan Reynolds told Sky News he strongly disagreed with suggestions the Labor leader is trying to purge the party's left.
Click to subscribe to the Sky News Daily wherever you get your podcasts
He said Sir Keir had "changed the party" and that it was necessary to have "due diligence" for selecting candidates.
Mr Reynolds said a person who "shares a platform with someone who has been expelled from the Labor Party for their views on antisemitism" could not be chosen.