A total ban on fires – including solid fuel barbecues – is being imposed in Sydney for the first time in almost three years – with the most destructive wildfire season since the "black summer" of 2019-20 being forecast.
Authorities said 61 wildfires were burning across New South Wales (NSW) on Tuesday – with 13 out of control.
During the "black summer", 33 people lost their lives, more than 3,000 homes were destroyed, and 47 million acres of land were ravaged by the flames.
In the current hot and dry conditions, a complete ban on fires has been declared for the Greater Sydney area and coastal communities to the south, where 20 schools have been closed.
It is the first complete fire ban in Sydney since late November 2020.
The city hit 34.6C (94.3F) on Tuesday, matching its September record.
Meanwhile, a "catastrophic" fire danger level has been announced for NSW's Far South Coast – the highest in a five-tier system.
"We are in this run of very, very warm weather which hasn't been seen in many, many years," said senior meteorologist Miriam Bradbury from the Australian Bureau of Meteorology.
It follows temperature records the world over being toppled during a series of unprecedented heatwaves earlier this year.
Read more:
Huge frustration in Libya after flooding
UK's 2022 record-breaking weather to become 'typical'
The New South Wales authorities say a total fire ban means no one is allowed to light, maintain or use any fire in the open, or to carry out any activity in the open that causes, or is likely to cause, a fire.
It includes welding and using a barbeque or pizza oven that is powered by solid fuel, such as wood or charcoal, and requires people to take extra care when using gas or electric barbecues.
Rural Fire Service commissioner Rob Rogers said one of the main concerns is that once fires take hold "we won't be able to put (them) out".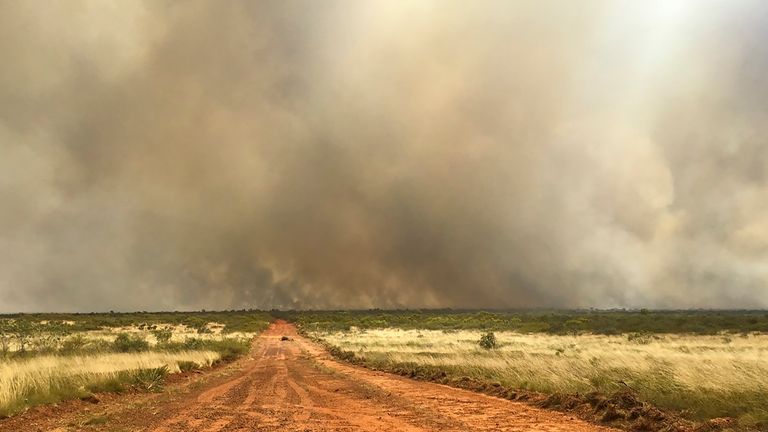 "We need to warn the community the risk has elevated and make sure that people focus on life preservation on a day like today," he added.
Australia's Bureau of Meteorology said there was an El Nino weather pattern, which is associated with hotter and drier conditions across the Australian east coast.
"In all likelihood, we can expect that this summer will be hotter than average and certainly hotter than the last three years," bureau manager Karl Braganza said.