Libyan authorities have ordered some journalists to leave the flood-hit city of Derna, according to a government minister.
Hichem Abu Chkiouat, minister of civil aviation, told Reuters News Agency some reporters had been required to stay away from rescue operations, but he denied this was related to security or politics.
"It is an attempt to create better conditions for the rescue teams to carry out the work more smoothly and effectively," he said.
"The large number of journalists has become an impediment to the work of rescue teams."
Network links with Derna were abruptly cut off on Tuesday morning following protests in the city, and it's unknown whether this was due to excavation work, or sabotage.
A spokesperson for the state-owned Libyan Telecommunications Holding Company, Mohamed Albdairi, told a television network in Libya the communications had gone down because some fibre-optic cables had been severed.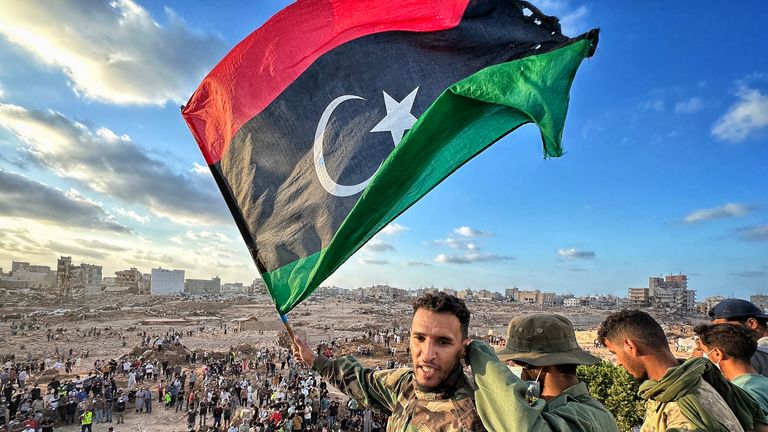 Demonstrators have taken to the streets of flood-hit Derna, blaming negligence and corruption for the failure of two dams which have killed at least 11,300 people, and displaced over 40,000, according to the UN.
Protesters crowded into the square in front of the Sahaba mosque in Derna, waving flags from the mosque's roof, and torched the house of Mayor Abdulmenam al Ghaithi.
A tally by the country's government on Sunday found at least 891 structures had been totally demolished, while a further 211 buildings were partially damaged and almost 400 others were submerged in mud.
Read more:
Torrent of frustration as flood-hit protesters call for change
Experts warned about dams for nearly 40 years – prosecutor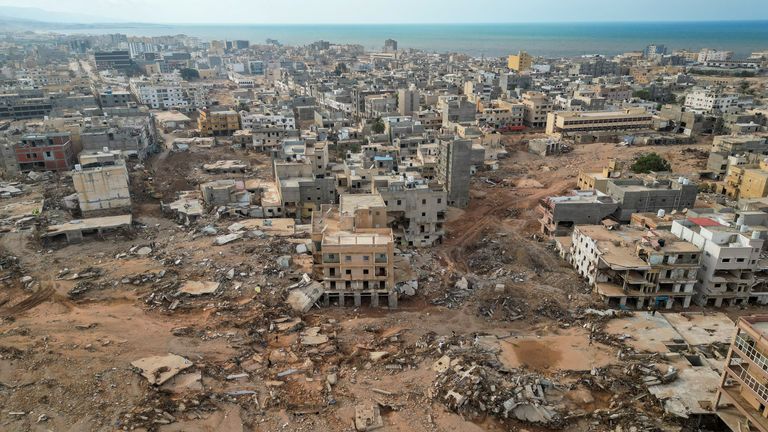 UK Foreign Secretary James Cleverly told Sky's Sunday Morning With Trevor Phillips the UK had provided £1m worth of support but added the governance situation in Libya makes rescue efforts "incredibly difficult".
"The civil war has, in many ways, broken the infrastructure that you would normally wish to deploy in a terrible, terrible situation like this," he said.