Sir Keir Starmer and French President Emmanuel Macron have exchanged gifts as they met for the first time.
The Labour leader met with Mr Macron in Paris, following an international junket that has also seen him glad-handing with Canadian Prime Minister Justin Trudeau in Montreal.
Sky News understands Sir Keir – an Arsenal fan – gave Mr Macron a football shirt in his favourite team's colours, while a pair of cufflinks was exchanged in return.
Politics latest: Top doctors on strike as ministers consider extending law
Politics Hub with Sophy Ridge
Sky News Monday to Thursday at 7pm.
Watch live on Sky channel 501, Freeview 233, Virgin 602, the Sky News website and app or YouTube.
Tap here for more
Speaking after the meeting, Sir Keir said the pair "had a very political discussion covering a lot of issues to do with global politics, but also it was that opportunity to look at future prosperity, future security, some of the most pressing issues on my mind, on the president's mind".
It is not uncommon for opposition leaders to meet foreign leaders, especially ahead of an election. David Cameron met Barack Obama ahead of the 2020 election.
A spokesman for Mr Macron said: "Their meeting is part of the dialogue that the president of the republic maintains with European political players."
Rishi Sunak's press secretary said: "It's not unusual for opposition leaders to meet world leaders."
Starmer gives Sunak new nickname

Sir Keir said the meeting was "constructive and positive", adding: "It was my first opportunity to say how much I value the relationship between our two countries, particularly when it comes to prosperity and security and how, if we are privileged enough to be elected into power, intend to build on that relationship and make it even stronger than it is today."
Labour has recently laid out its plans on immigration, which includes attempting to secure a returns agreement with the EU.
Sir Keir told Sunday Morning with Trevor Phillips: "Let me be absolutely crystal clear about this, because the government has been pumping out complete garbage this week, in terms of the numbers that they are suggesting.
Read more:
Starmer warns West faces 'axis of instability'
Jon Craig: Globe-trotting Starmer has sense of humour failure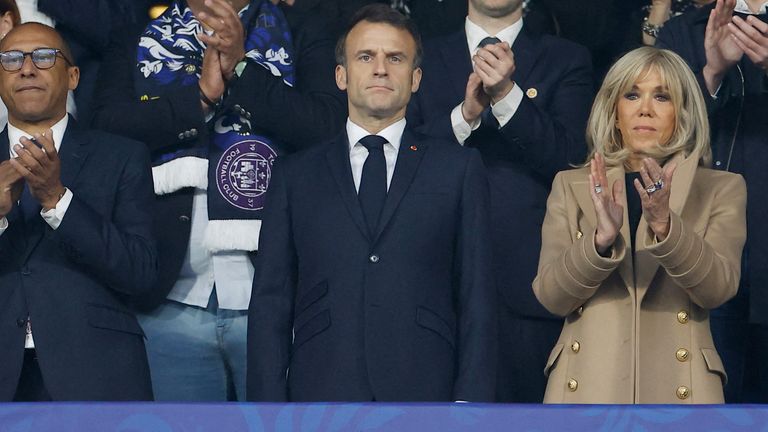 "Obviously an EU quota system for EU members… well it's obvious we are not an EU member.
"That scheme itself isn't really working very well. So the idea that we're going to join the EU scheme on quotas is complete nonsense. We're not an EU member and that wasn't what I was talking about."
Speaking to the Financial Times on Monday, Sir Keir indicated his desire to negotiate a "far better" post-Brexit deal with the EU should he win the general election expected next year.
This would be as part of the renegotiation of the Trade and Cooperation Agreement, which is set to take place in 2025.
Responding to this, a Conservative Party spokesperson said: "Seven years on from the referendum, Keir Starmer wants to take Britain back to square one on Brexit, reopening the arguments of the past all over again.
Click to subscribe to the Sky News Daily wherever you get your podcasts
"Keir Starmer backed Remain, then wanted a second Brexit referendum, yet now he says he accepts it. Just after he became Labour leader he promised to 'make the case for freedom of movement', now he doesn't. Three years ago he promised he wouldn't seek major changes to the UK's new relationship with the EU, but now his latest short term position is that he will.
"What price would Keir Starmer be prepared to pay to the EU for renegotiating our relationship?"