Volodymyr Zelenskyy has lauded the strength of Ukrainian soldiers fighting for the war torn country as they "chew and choke the Russian occupiers".
After addressing an audience at the US National Archives Museum in Washington, the Ukrainian president posted a series of messages on X (formerly Twitter) celebrating his armed forces.
"Among the documents I saw today at the National Archives was Abraham Lincoln's telegram to General Grant," he posted.
"An inspiring document. 'Hold on with a bulldog grip, and chew and choke as much as possible,' – President Lincoln's words reflect the courage and faith that helped America.
Analysis:
Zelenskyy's concerns with US run deeper than just a slow delivery of weapons
"President Lincoln's words reflect exactly how Ukrainians fight.
"In our victorious battles for Kyiv, Kharkiv, and Snake Island in the Black Sea. In our battle for Bakhmut, where our soldiers are pressing forward, no matter what. In our fight for every inch of Ukrainian land.
"Every day of this war, Ukrainian soldiers hold on with the grip of a bulldog. They chew and choke the Russian occupiers as much as possible."
Zelenskyy: White House visit 'very important'

Read more:
Why Poland's unwavering support of Ukraine has reached breaking point
Zelenskyy's poise, presence and persuasion could be key for Ukraine at crucial Washington talks
During an earlier meeting in the White House, Joe Biden pledged a new $325m (£244m) military aid package that would include weapons and air defences.
Mr Biden assured the Ukrainian president that "the American people are determined to see to it that we do all we can to ensure the world stands with you".
Mr Zelenskyy also faced questions from politicians from the lower house of Congress about the US money sent so far to aid in combating Vladimir Putin's forces.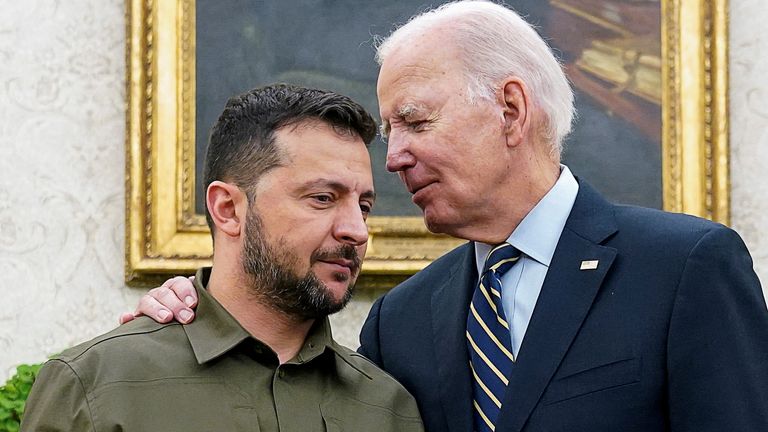 House Speaker Kevin McCarthy, who faces opposition among far-right Republicans aligned with former president Donald Trump on support for Ukraine, asked Mr Zelenskyy: "What do you need and what's your plan for victory?"
Mr McCarthy praised the answers saying he "heard a lot of positive things".
In terms of the way forward for Ukraine's counteroffensive, Mr Zelenskyy conceded that "it's tough… to overcome entrenched [Russian] defences", Independent senator Angus King said.
"They believe they will make slow but steady progress, but it's not going to be quick," Mr King added.
Russia launched its heaviest strikes in a month across Ukrainian cities hours before Mr Zelenskyy's arrival at Congress, killing multiple civilians and causing mass destruction.