Over 100,000 people took to the streets in Paris on Sunday to protest the rise in antisemitism taking place since Oct. 7, when Hamas-led terrorists invaded Israel to execute a deadly massacre.
As of the day before the protests, French officials had counted 1,247 antisemitic acts in the country since Oct. 7, which is about triple the number of antisemitic acts during 2022, according to the Interior Ministry.
The Associated Press reported that many elected officials attended the protest, including Prime Minister Elisabeth Borne, far-right leader Marine Le Pen, and representatives of parties on the left, conservatives and centrists of President Emmanuel Macron's party, though Macron himself did not attend.
PRO-PALESTINIAN DEMONSTRATOR SETS ISRAELI FLAG ON FIRE IN NYC PROTEST, STOPS ON IT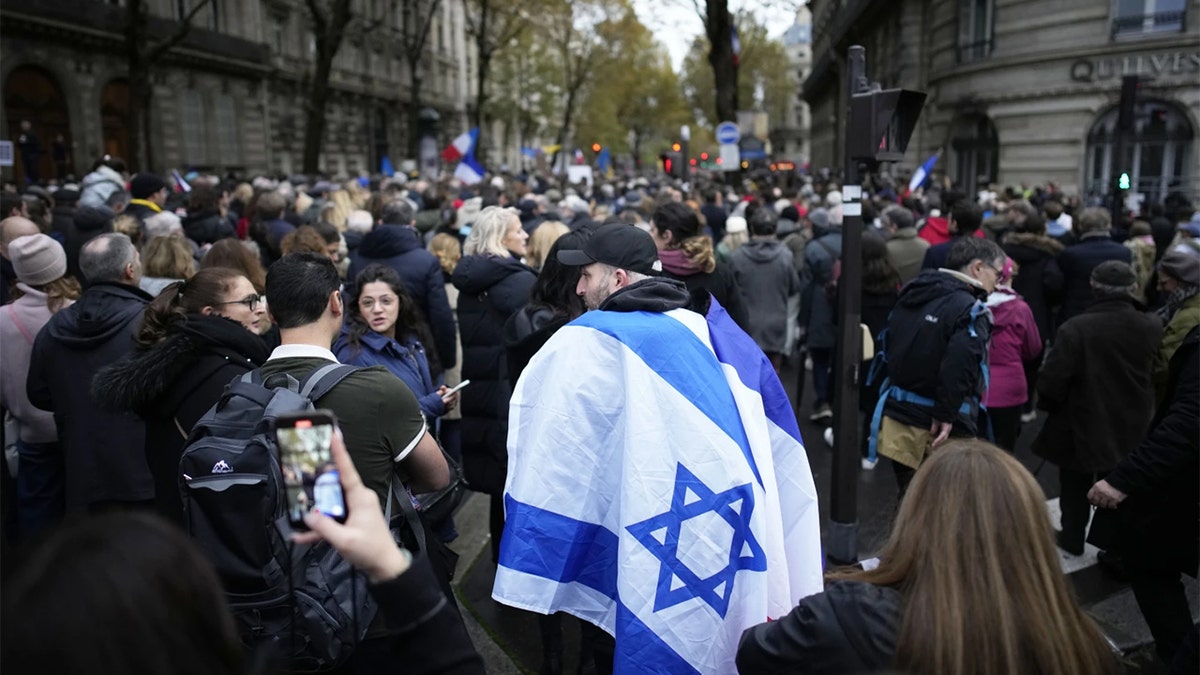 Instead, the French president expressed his support of the protest, calling on the people of France to stand up against "the unbearable resurgence of unbridled antisemitism."
Macron said in a letter published in Le Parisien newspaper on Sunday that those who commit antisemitic acts will be prosecuted and punished.
"A France where our Jewish fellow citizens are afraid is not France," Macron said in the letter. He called on the country to remain "united behind its values … and work for peace and security for all in the Middle East."
OBAMA CALLS FOR END OF 'OCCUPATION,' SECURITY FOR ISRAEL, STATE FOR PALESTINIANS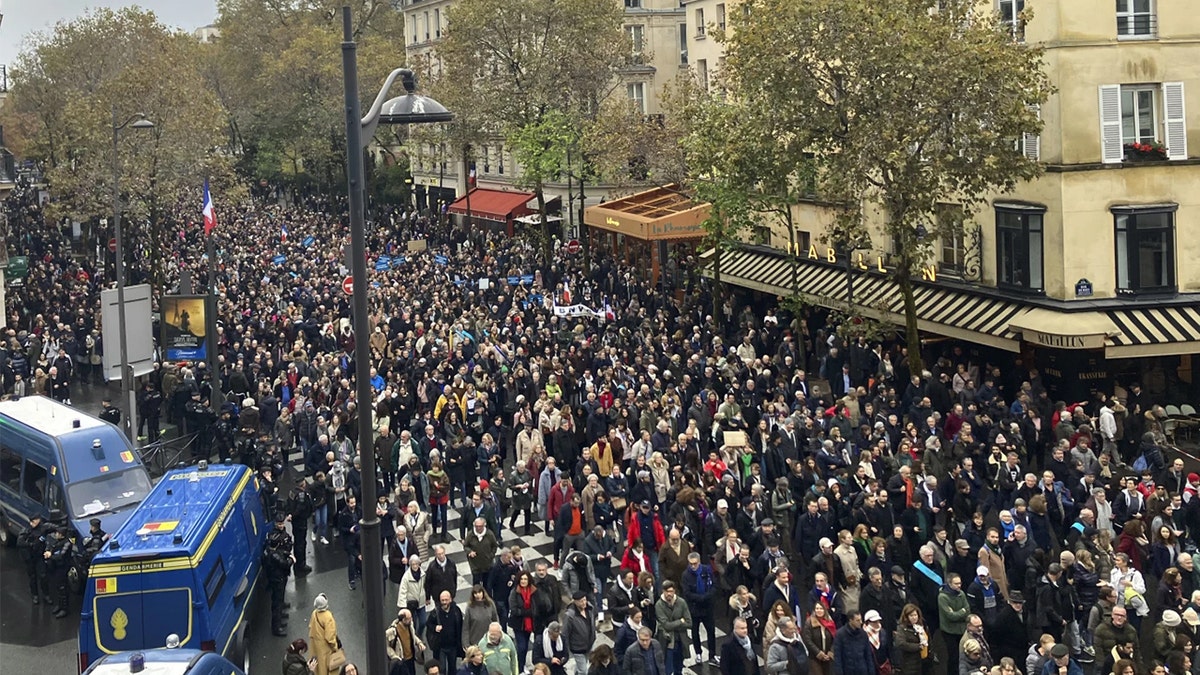 He added that he would attend the protest "in my heart and spirit," though not in person.
"My role is to build unity of the country and to be firm on values," he said Saturday on the sidelines of Armistice Day commemorations to mark the end of World War I.
Another person who did not attend, leader of the far-left France Unbowed party, Jean-Luc Melenchov, said last week on X, formerly known as Twitter, that the march was a meeting of "friends of unconditional support for the massacre" in Gaza.
LONDON POLICE IN HOT WATER AFTER ADVISER'S ANTI-ISRAEL CHANT REVEALED: REPORT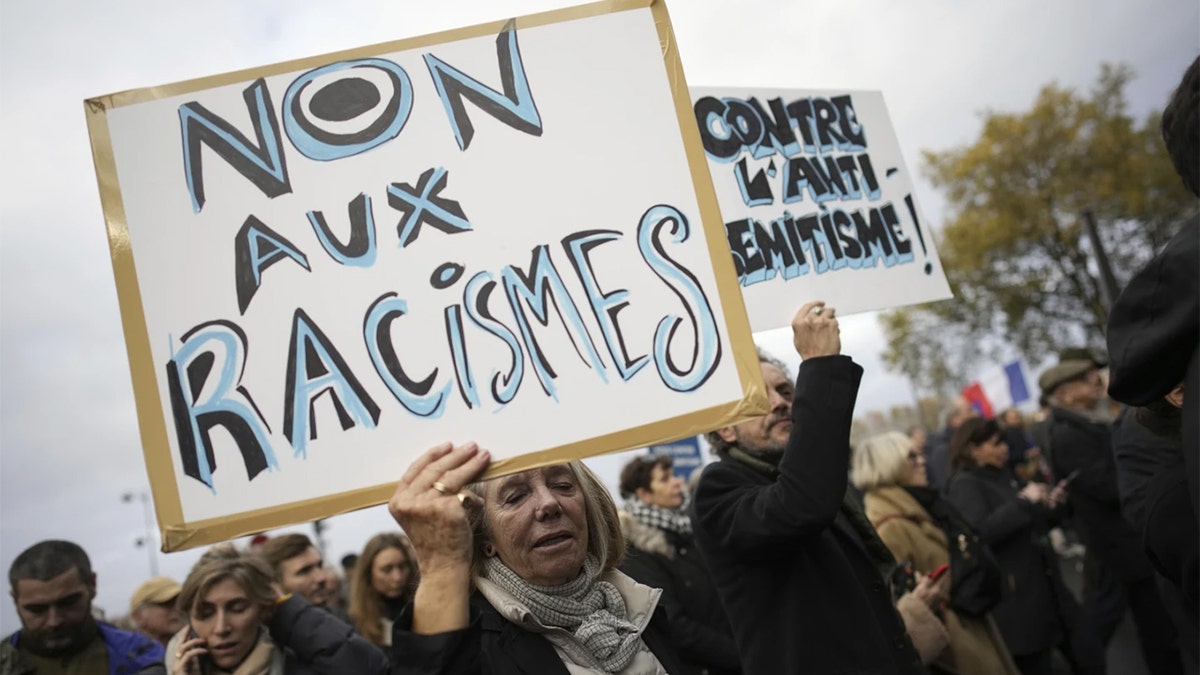 During the protest, Paris authorities had 3,000 police troops setup along the route of the protest, called by leaders of the Senate and parliament's lower house, the National Assembly.
The protest was called as anti-Jewish acts in the country – which has the largest Jewish population in Europe – are on the rise.
One issue with the antisemitic acts is that they open old scars stemming from France's collaboration with the Nazis during World War II.
PROTESTERS IN LONDON CALL FOR CEASE-FIRE IN GAZA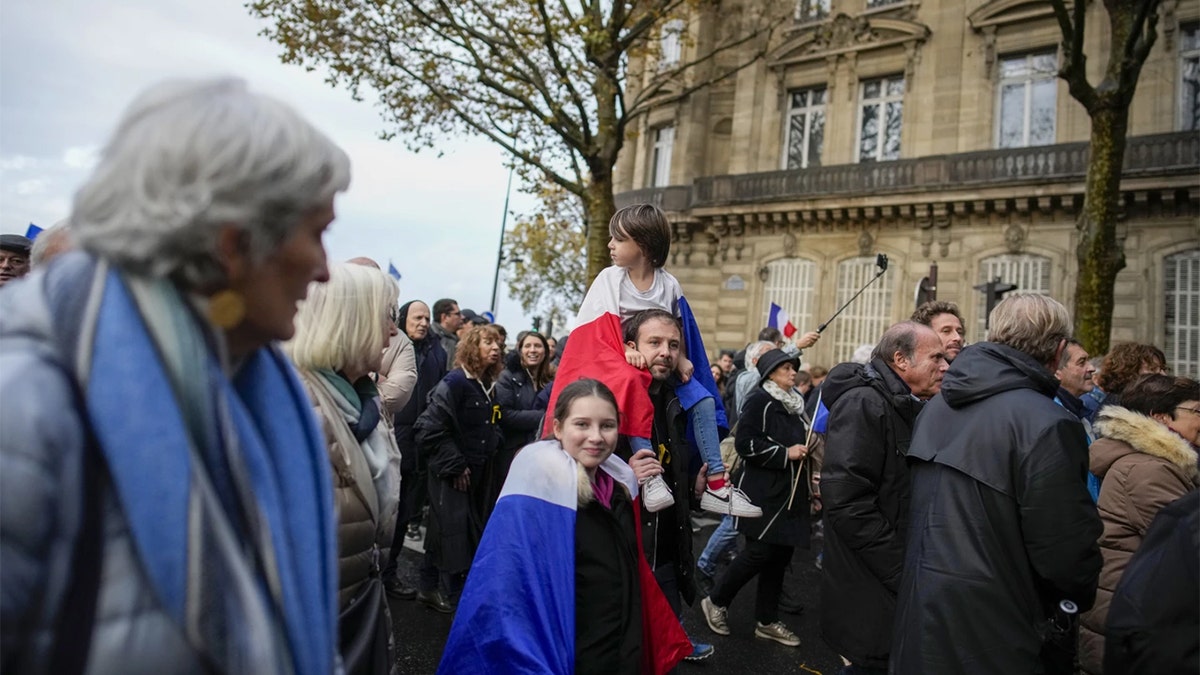 Paris police said the protest on Sunday drew 105,000 protesters, including family members of some of the 40 French citizens who were killed in the initial attack executed by Hamas, as well as of those who have gone missing or were taken hostage.
A lawyer and member of "Freethem" committee which is working toward the release of hostages held by Hamas and other groups in Gaza, Patrick Klugman, told the Associated Press that the large number of protesters who showed up to march on Sunday is meaningful and symbolic in reassuring French Jewish communities.
"I am very proud of my country because of this mobilization," Klugman said. "I feel less alone than in the past weeks and days."
ANTISEMITISM EXPOSED
Protests in support of Israel or Hamas have been taking place around the world, in places like New York City, San Francisco, California, London, Paris, Australia, and even New Zealand.
On Saturday, a pro-Hamas rally was expected to be held in Auckland, New Zealand, but it was quickly canceled after a group of Maoris led a Haka, or ceremonial dance, in support of Israel.
CLICK HERE TO GET THE FOX NEWS APP
Pro-Palestinian protests have largely been banned in France, though supporters have marched in several French cities over the past few weeks, including thousands who are demanding a ceasefire in Gaza, who participated in an authorized protest in Paris last week.
The Associated Press contributed to this report.