And another one bites the dust. Suella Braverman – one of the most divisive politicians of the age – has been sacked as home secretary.
It marks the fourth dramatic exit from Rishi Sunak's cabinet in just over a year – after the departures of Dominic Raab, Nadhim Zahawi and Gavin Williamson.
It's not exactly a good look for a prime minister who promised to bring accountability, integrity and professionalism to Downing Street.
Follow live: Sunak sacks Braverman as reshuffle begins
But Ms Braverman's fiery rhetoric on things such as immigration, policing and homelessness was starting to rile even those within her own party.
After an inflammatory article in The Times in which she accused the Met Police of bias towards left-wing protesters, and made an offensive comparison to marches in Northern Ireland, the writing was on the wall.
Tory MPs called her an "embarrassment" and "ignorant", and accused her of being on a mission to deliberately get herself sacked in order to launch a leadership pitch.
More called for her to go on Saturday, with Scottish First Minister Humza Yousaf suggesting the far-right had been emboldened by her comments, as a group of counter-protesters using slogans like 'England til I die' clashed with police on Armistice Day, while a pro-Palestinian demo that Ms Braverman had called to be banned went off largely peacefully.
Deliberate or not, her position in one of the most senior cabinet roles was no longer considered tenable by Number 10, who had not fully signed off the Times piece.
And so she was sacked as home secretary – and not for the first time – marking the end of a short yet turbulent career on the Conservative frontbenches… at least for now.
Braverman criticises Pro-Palestine protests

Born to parents from Kenya and Mauritius and fluent in French, Ms Braverman's political brand might seem unusual for someone of her background: she has risen through the ranks championing a hard Brexit, anti-immigration, "anti-woke" agenda.
But for someone who is currently making daily headlines, she was relatively unknown until a year ago.
The 43-year-old was first elected as the MP for Fareham in 2015 and spent three years on the backbenches before a brief stint as a junior minister in the Brexit department – a post from which she resigned over the "unacceptable terms" of Theresa May's Withdrawal Agreement.
The move won her favour with Boris Johnson, who upon being elected as prime minister made her attorney general – the chief legal advisor to the crown.
It was a fitting role for Ms Braverman, who studied law at Cambridge University and the University of Paris before qualifying as an attorney in New York State.
During her time in the post, she faced criticism from the legal profession for backing the Internal Market Bill, which sought to override parts of the EU's legal divorce deal and was described by critics as breaking international law.
But it was only when she was made home secretary that she really become a household name, as she repeatedly became the centre of so-called "culture wars" rows.
Click to subscribe to the Sky News Daily wherever you get your podcasts
Braverman's long list of scandals
The job was marked with controversy from the beginning.
Just weeks into the post in September 2022, she declared it was her "dream and obsession" to deport refugees to Rwanda – triggering a backlash from those opposed to the controversial policy (or what Ms Braverman and her allies might like to call the "liberal elite").
Indeed, Ms Braverman caused a stir just some weeks later as she defended the government's controversial Public Order Bill with a bizarre attack on "the Guardian-reading, tofu-eating wokerati", whom she blamed for protest disruption.
And her claim that the country faced an "invasion of our southern coast" in reference to Channel crossings also drew condemnation.
But the first big scandal came when just 43 days into the role, she was forced to resign – effectively sacked – because she had breached government security rules by sending an official document from her personal email to a backbench MP.
Ms Braverman said it was a mistake, but her resignation letter took aim at then prime minister Liz Truss, accusing her of breaking "key pledges that were promised to our voters".
Read more:
Braverman's long list of controversies
Labour: PM 'too weak' to sack Braverman

She would ultimately return to the top job just a week later under Mr Sunak, after the rapid collapse of the Truss administration.
The appointment was seen as a gamble, given Ms Braverman had originally backed Ms Truss over Mr Sunak in the leadership contest to replace Mr Johnson – after being knocked out early in the race herself.
Labour leader Sir Keir Starmer accused Mr Sunak of making a "grubby deal" at the expense of national security in order to ensure her support and keep her backers on the right of the party happy.
The PM denied the accusation, but regardless of whether that was the case, to what degree she has actually offered such support has been questionable.
Was Suella Braverman's migrant speech a leadership pitch?

Is Braverman running a leadership campaign?
While she is closely tied to the prime minister's "stop the boats" pledge, Ms Braverman has undoubtedly proved to be a thorn in his side.
Her integrity has been called into question on many occasions, including when she was alleged to have asked her civil servants to arrange a private awareness course after she was caught speeding, and when she claimed grooming gang members are "almost all British Pakistani" – remarks seen as amplifying a far-right narrative and factually inaccurate.
Mr Sunak has been forced to distance himself from her language on several occasions, most recently declining to back her comments saying multiculturalism has "failed", likening immigration to a "hurricane" and describing rough sleeping as a "lifestyle choice".
So divisive have her words been that some of her colleagues have accused her of undermining the PM by running a leadership campaign, pointing to speeches at right-wing events such as the National Conservatism conference in May.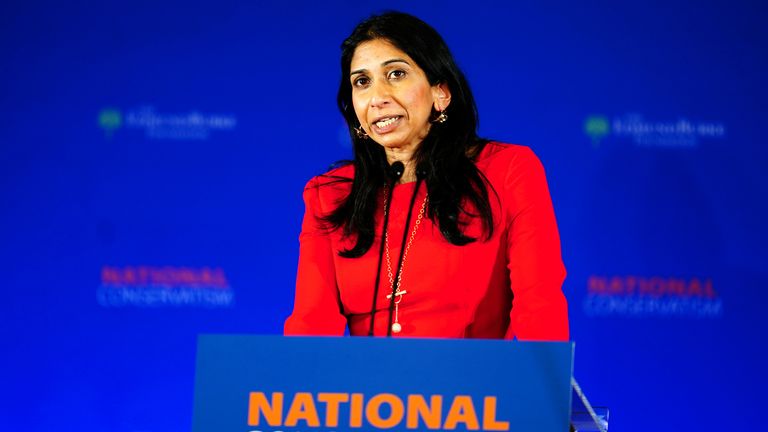 But until now, Mr Sunak has appeared unwilling to rein in his home secretary – possibly out of fear of a rebellion on the Conservative right if he takes action against her.
Ms Braverman is now free to lead that if she so wishes.
Having questioned the integrity of the operationally independent Met Police, Mr Sunak seems to have judged she has finally gone too far.
Doubling down on her description of pro-Palestinian protesters as "hate marches", she wrote in The Times: "Right-wing and nationalist protesters who engage in aggression are rightly met with a stern response, yet pro-Palestinian mobs displaying almost identical behaviour are largely ignored even when clearly breaking the law."
Read More:
Analysis: Braverman has displayed breathtaking ignorance on Northern Ireland
Comedian raises thousands for homelessness charity after Braverman's comments
She also said: "I do not believe that these marches are merely a cry for help for Gaza.
"They are an assertion of primacy by certain groups – particularly Islamists – of the kind we are more used to seeing in Northern Ireland."
It was enough to make even Priti Patel – Ms Braverman's right-wing predecessor – make a not so thinly-veiled retort at the COVID inquiry about the operational independence of the police "and that we as politicians were not there to dictate directly to the police as to when to arrest people".
Other MPs accused her of fanning the flames of hate, while Labour turned the heat on the prime minister himself and his judgement in keeping her in post.
Now she is out of government. And some people think that was her plan all along, so she can focus her efforts on being the Tory right's next leadership candidate.
We may not know if that is true, but what is clear is that this isn't the first time she has landed herself in hot water and, in or out of cabinet, it's unlikely to be the last.