A local Georgia Democrat recently found herself in hot water after she passed out in the street outside a sports bar and hurled insults at first responders as she was taken to the hospital in a state of distress.
Now-former Clayton County Board of Commissioners Vice Chair Felicia Franklin claimed she ended up in that state after being given a date rape drug, but police have disputed that, saying there was no evidence of such a substance in her toxicology report.
Frankling was attending an event in Morrow, Georgia, on the night of Sept. 29 before she found by police lying on the street outside 404 Sports Bar and Grill. 
WH REFUSES TO SAY IF IT WILL SUPPORT COOPERATION WITH SUBPOENA IN BIDEN CLASSIFIED DOCS INVESTIGATION
According to police bodycam footage of the encounter, Franklin became increasingly agitated after officers helped her into an ambulance and emergency staff began transporting her to the hospital. 
"I don't know what they gave me," Franklin says at one point in the video before growing more unruly.
Franklin was eventually restrained and shouted "get the f*** out of my face" numerous times toward the staff before calling for her mother, which continued upon arrival at the hospital.
In a statement posted on social media a few days later, Franklin described the incident as "a deeply personal and troubling experience," and claimed medical professionals believed she "was drugged with a GHB pill, more commonly known as the 'date rape pill.'"
DEMOCRATS BLOCK EFFORT TO IMPEACH DHS SECRETARY MAYORKAS WITH REPUBLICAN SUPPORT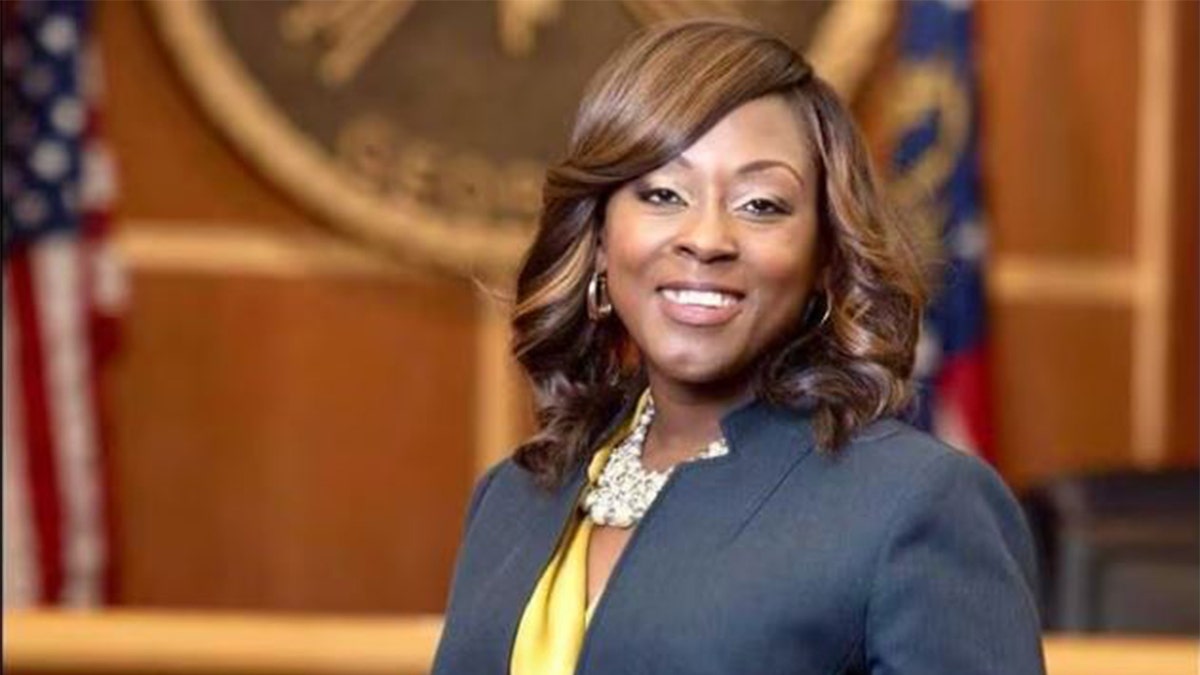 "This incident has shaken me to my core. I was safe and did not leave the facility until Morrow EMT medical professionals arrived and rendered emergency support. Thank you. Thank you. Thank you," she wrote. 
"While I am still processing the details, I am committed to shedding light on this issue. I believe it's crucial to use this moment as a catalyst for change. I will be working closely with authorities to ensure that justice is served, and I will also be advocating for improved safety measures at events like these," she said, adding that no one else should have to experience what she claims she did.
NEWLY RELEASED PHOTOS SHOW MYSTERIOUS COCAINE DISCOVERED IN WHITE HOUSE
Contrary to Franklin's claim, video of her interview with police after the incident shows officers informing her that there was no evidence of the date rape drug in her system, but there was evidence that she drank five alcoholic drinks and tested positive for cannabis.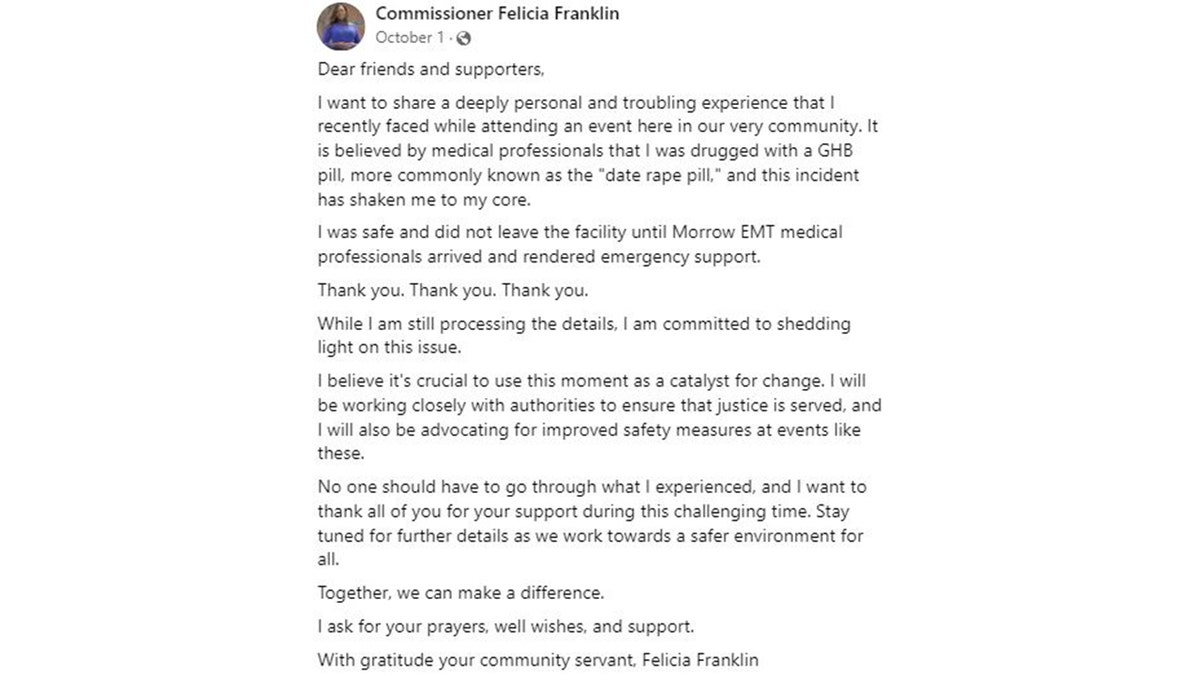 Surveillance video from 404 Sports Bar showed Franklin consuming drinks and dancing, according to local ABC affiliate WSB-TV.
CLICK TO GET THE FOX NEWS APP
Franklin was removed from her position as Vice Chair of the Clayton County Commission on Oct. 23 after the bodycam video of the altercation was released. However, she remains an elected county official.
Fox News Digital has reached out to Franklin for comment.