Polish President Andrzej Duda on Monday named Prime Minister Mateusz Morawiecki, a fellow member of the right-wing Law and Justice party, the caretaker leader of the eastern European nation's transitional government.
Morawiecki lost control of Parliament last month to a centrist, pro-European coalition led by former Prime Minister Donald Tusk.
Moriawecki's appointment to the caretaker role angered political opponents, who accused Duda of buying his party several more weeks in power while the likely Tusk-led government assembles.
Poland faced a contentious and protracted transition of power on Monday as the president designated the outgoing prime minister to lead the new government in a caretaker capacity, angering a pro-European Union alliance with a strong majority in the new parliament. The chamber overwhelmingly chose a speaker from the alliance that must wait longer to lead.
Political opponents accused President Andrzej Duda, who is allied with Prime Minister Mateusz Morawiecki's right-wing Law and Justice party, of acting against the will of voters by giving Morawiecki up to four more weeks to lead. They accused Morawiecki's conservative government, in power for eight years, of hanging on to appoint allies to state positions.
Morawiecki had offered his conservative government's resignation as required after his party lost its parliament majority in last month's election, but Duda within hours redesignated him as prime minister candidate.
POLAND SEES MASSIVE NATIONALIST MARCH HONORING 'GOD, FAMILY AND FATHERLAND' AFTER GLOBALIST ELECTION RESULTS
The alliance of pro-EU parties has vowed to restore democratic standards. Its candidate for prime minister is Donald Tusk, the centrist and former prime minister.
Morawiecki in an address to parliament expressed a desire to build a new government that transcends party divisions. When he appealed for support, his critics responded with laughter.
Duda, whose term runs for another year and a half, is expected to have a difficult relationship with the new legislature.
The lower chamber, or Sejm, in its first vote chose center-right Szymon Holownia, an ally of Tusk, as its speaker. The 47-year-old Holownia, a former Poland's Got Talent co-host and a rising star in Polish politics, was backed by 265 lawmakers. A candidate from Morawiecki's party received 193.
"After this vote there can be no doubt that there is a majority in the Sejm that is ready to take responsibility for Poland," said Holownia, the leader of the Poland 2050 party.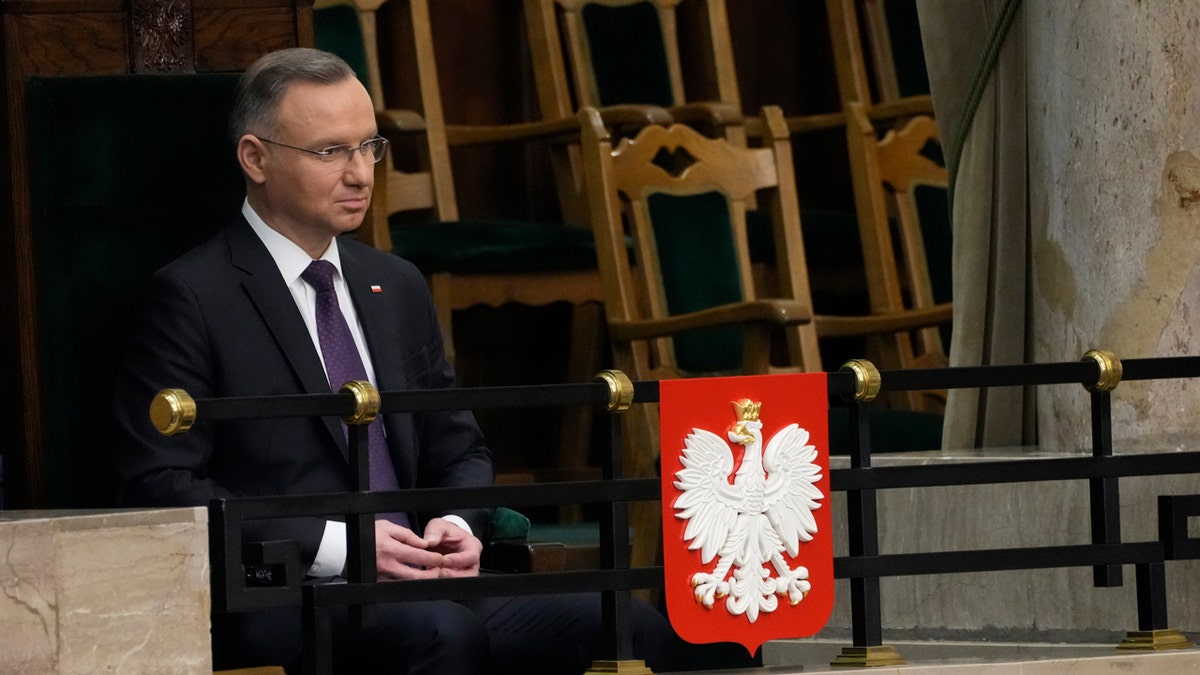 He stressed that this parliament will no longer serve the government by pushing through controversial laws, as was the case under Law and Justice rule.
Among Holownia's first decisions was one to remove barriers that the Law and Justice-led government put up around the parliament building following massive protests. As he spoke, activists and others were already dismantling them.
Duda called on the legislature to rise above divisions but warned that he would use his power of the presidential veto to defend "controversial" solutions.
"The constitutional order must be preserved, I will not agree to any circumvention or bending of the law," Duda said, to some laughter. Law and Justice and Duda himself have been accused by critics of violating procedures in recent years.
POLISH ELECTION: UKRAINE LOOMS LARGE AS FAR-RIGHT PARTY WITH ANTI-WAR VIEW COULD HOLD BALANCE OF POWER
Tusk and his allies accuse Duda of disrespecting the will of the voters by not giving them the first chance at governing. His coalition vows to rebuild the legal order in Poland and bolster foreign alliances and security at a time of war in neighboring Ukraine.
Tusk says his future government will work to obtain billions of euros in EU funding that were frozen due to Law and Justice's laws that were criticized as eroding the independence of the courts.
Law and Justice received 194 seats in the 460-member Sejm. The winning coalition holds 248 seats. It includes parties ranging from conservatives to the left. They ran separately but promise to work together after eight years of Law and Justice rule. In the vote for Holownia, they were supported by the far-right Confederation party.
CLICK HERE TO GET THE FOX NEWS APP
The 100-seat Senate, where the Tusk-led alliance won an overwhelming majority, held its first session Monday afternoon.