The Metropolitan Police has said climbing on a memorial is "unfortunate" but not illegal after the force was criticised for not arresting pro-Palestinian protesters who scaled a monument at Hyde Park Corner.
Footage shared on social media shows a demonstrator draped in a Palestinian flag while speaking to an officer at the Royal Artillery Memorial, which commemorates the nearly 50,000 soldiers from the Royal Artillery killed in the First World War.
Another demonstrator who is clutching a Palestinian flag can be seen running across part of the top of the monument which is around 30ft (9m) high.
The officers were criticised for not arresting the demonstrators.
Metropolitan Police Commissioner Sir Mark Rowley said today that police recognised that while climbing on a war memorial was not illegal, it was "unfortunate" and "inflammatory in certain ways".
He said it was for the government to consider whether officers should be given further powers to respond to protests.
"The officer recognised that while it wasn't illegal it was unfortunate, inflammatory in certain ways. The officers at the scene asked them to get down and they did.
"So the officers intervened as officers often do to try and de-escalate risk of conflict, even when there isn't an explicit power to do it. So I think they did a sensible thing," he said.
In the video of the footage, a voice off camera can be heard saying: "Brother, be respectful."
A man who appears to be another protester is seen standing on a lower part of the memorial to help him down.
At least three police officers are seen in the footage which surfaced online on Tuesday night.
The Metropolitan Police said in a statement: "Most people would agree that to climb on or otherwise disrespect a war memorial is unacceptable… While officers were on the scene quickly, we regret they were not there not there quickly enough to prevent the protesters accessing the memorial."
The statement added: "There is no law explicitly making it illegal to climb on a memorial so officers cannot automatically arrest, but they can intervene and make it clear the behaviour isn't acceptable.
"The videos shared online show them doing that."
Read more:
Inside Gaza's humanitarian corridors
Who are the rebel Labour MPs that resigned over the vote for a Gaza ceasefire?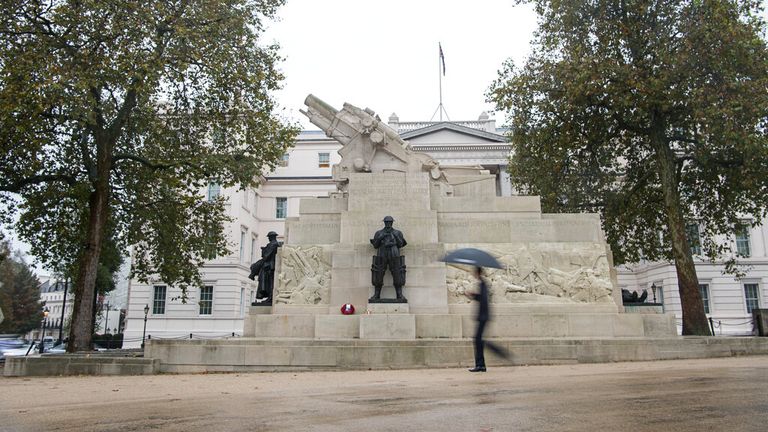 Hundreds and thousands of pro-Palestinian demonstrators have protested in London since the conflict between Israel and Hamas broke out on 7 October.
Police detained more than 100 protesters who broke away from a march through London on Armistice Day on Saturday.
Officers also arrested at least 92 far-right counter-protesters were arrested in Pimlico, central London.
The Met Police has said 18 police officers were injured policing two public order incidents on Armistice Day.