More than $1bn (£806m) worth of counterfeit handbags, shoes and other luxury merchandise has been seized by US authorities.
Federal authorities in New York said it was the largest-ever seizure of counterfeit goods.
Two people were charged with trafficking the knock-offs from a New York City storage unit and other locations from January through to October, the US Attorney's Office said.
It said the haul amounted to approximately 219,000 counterfeit bags, clothes, shoes and other luxury products.
Photographs showed shelves stacked with counterfeit wallets and bags in one location.
Pictures from another location showed handbags hanging from hooks from the floor to the ceiling.
"As alleged, the defendants used a Manhattan storage facility as a distribution centre for massive amounts of knock-off designer goods," US attorney Damian Williams said.
"The seizures announced today consist of merchandise with over a billion dollars in estimated retail value, the largest-ever seizure of counterfeit goods in US history."
The two men charged could face up to 10 years in prison if convicted.
Read more from Sky News:
Alleged Gambino mafia members held after raids in US and Sicily
New York's mayor uses audio deepfakes to call residents in languages he doesn't speak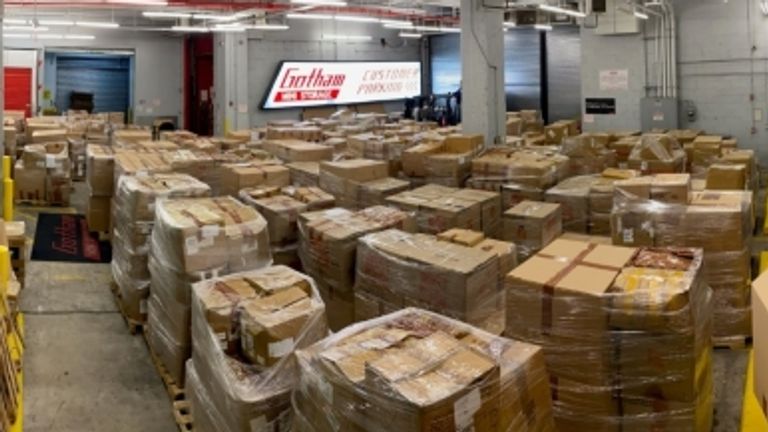 The Homeland Security Investigations (HSI) special agent in charge, Ivan J Arvelo, said: "Today's groundbreaking announcement underscores the unwavering commitment of HSI New York in the fight against intellectual property theft and serves as a testament to the dedication of our team and partner agencies, who have tirelessly pursued justice, culminating in the largest-ever seizure of this kind."
NYPD Commissioner Edward A Caban said: "The trafficking of counterfeit goods is anything but a victimless crime because it harms legitimate businesses, governments, and consumers.
"Today's indictments show how seriously the NYPD and our federal partners take this offence. And we will continue to work hard to hold accountable anyone who seeks to benefit by selling such items on the black market."