Flying with the Icelandic coast guard low over Grindavik's deserted streets, we followed the gash that has ripped the town apart.
It zig-zags across gardens, car parks and streets, through houses and the sports centre.
Iceland volcano live updates
A crack in the earth that stretches for nine miles across the Reykjanes Peninsula.
Steam still rises from hot water pipes that have been shattered by the shifting ground.
And in the most dangerous red zone an entire neighbourhood has slumped by almost a metre, undermined by the molten magma building up beneath.
We tracked the fault line north-east, a clear ridge in a sea of lava from volcanic activity long ago.
About a mile out of town is the area where scientists now believe a new eruption is most likely.
You wouldn't know it on the surface, but this is where molten rock is still rising from deep within the Earth and the magma tunnel – or dyke as volcanologists call it – is at its widest.
Nearby, dozens of diggers, bulldozers and trucks are ripping up rock and earth to form a wall eight metres high.
The authorities hope it will be strong enough to protect a power station from a river of lava, and keep the heat and lights on for 35,000 homes.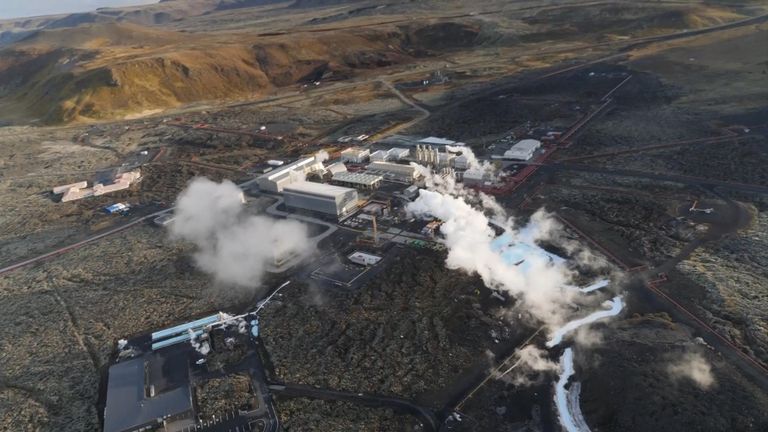 Read more:
Inside the exclusion zone in Grindavik
How big could the volcano eruption be?
What is happening under the surface in Iceland?
This area of Iceland hadn't had any eruptions for 800 years. But in 2021 the Fagradalsfjall volcano, about five miles from Grindavik, burst into life.
Two more eruptions followed, the most recent this summer.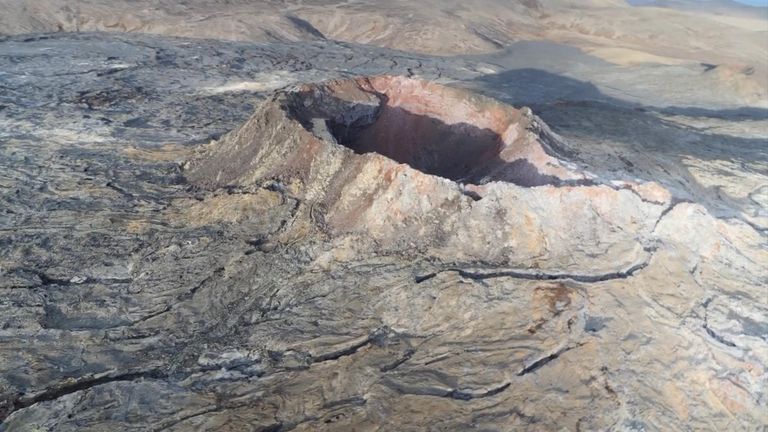 We hovered just a few metres over the craters, where so recently molten rock had spewed into the air.
On the slopes of the most recent eruption, lava is still cooling and smoke rising into the chilly winter air.
It's a reminder of how dynamic Iceland's landscape is, shaped by volcanic activity.
And a reminder too of how powerless the people of Grindavik are against the immense forces of nature.