A Democratic congresswoman from Michigan said the violent pro-Palestinian demonstration at the Democratic National Committee (DNC) "rattled" her more than the Jan. 6 Capitol riots.
Rep. Debbie Dingell, D-Mich., said Thursday the protest frightened her and warned that someone "is going to get hurt at one of these things."
"They can get out of control," Dingell added. 
In an interview with Fox News Digital, Dingell described how she attempted to leave the DNC building as the protest turned violent.
REPUBLICANS BLAST PRO-PALESTINIAN PROTESTS AT DNC: 'NATION'S CAPITAL IS UNDER SIEGE'
Dingell and fellow Michigan Democrat Rep. Hillary Scholten were inside the DNC during the protest that saw a U.S. Capitol Police (USCP) officer pepper-sprayed.
Dingell told Fox News Digital she thinks "that the right to free speech and the right for peaceful protest … right for assembly, they're really fundamental parts of our Constitution."
However, as she tried to leave the building through a side door, she found it had been blocked.
"I later learned that they had pushed those trash bins so you couldn't open the doors," Dingell said. "And they said people are waiting in the alley to jump at you."
Dingell said she went back and chatted with people inside the building before deciding she would leave the DNC via the front door because she has "talked to protesters" before.
"I've always done that," Dingell said. The congresswoman said she told the other people who were in lockdown at the DNC she was going to leave the building and was joined by Scholten.
"And I said, 'I talk to protesters all the time, what can they do to us?'" Dingell said. "And I said, 'So I'm going to walk out the front door, and we'll see how we get treated and the rest of you can figure it out."
Dingell said she got up to leave but stopped when she saw the pepper-sprayed USCP officer brought in.
"Her skin was burnt, her eyes were bad. She had been pepper-sprayed and was not OK," Dingell said. "And a medic came in right behind her and was treating her, and we're all looking at that.
"Then, the Capitol Police said to me, 'It's not OK out there, you're going to get hurt,'" she added. "And you looked, and there were policemen there with masks on up on the stairs. And you saw the intensity of what was going on.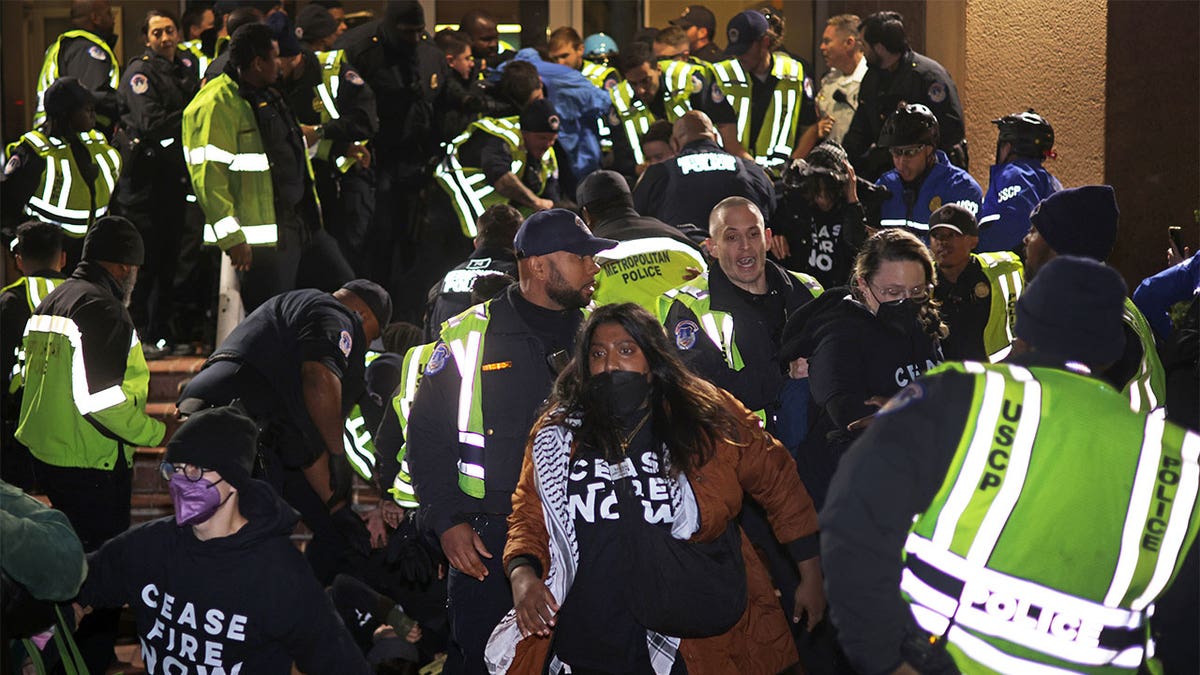 "So, yeah, when you're that close and you see someone come in who's been hurt, it does rattle you."
The Michigan Democrat said the DNC building "is not a huge building," calling it a "contained space."
"In the Capitol, we were in a big place. They were working to keep us safe," Dingell said, recalling the storming of the Capitol by supporters of former President Donald Trump in January 2021. "I never knew how bad it was until after we had finished our final voting about what had been happening."
The DNC headquarters, on the other hand, put her closer to the clash between police and protesters. 
"When you're in that contained space and all you see are bodies fighting each other, it's scary," Dingell said.
Dingell said that while she "will protect anybody's right for peaceful protest," the violent Wednesday night protest "distracts from the message that they were trying to get people to hear."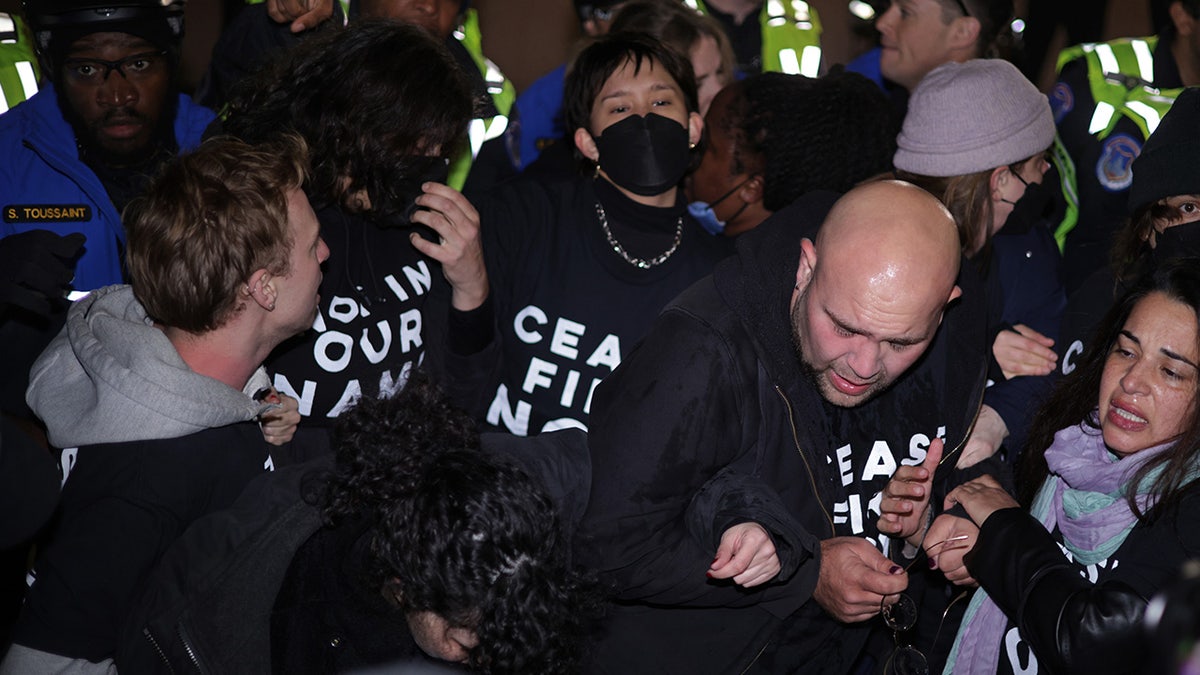 The Michigan Democrat said she was grateful to the Capitol Police for keeping her and her colleagues safe and that she is "sorry anybody got hurt."
Dingell said she believes "that there are people that are deliberately trying to pit us against each other."
When asked who she thinks is trying to divide the country, Dingell said she thinks there are some "outside forces" at play.
CLICK HERE TO GET THE FOX NEWS APP
"And I'm not into calling any … I am a person who believes in civility. I believe you can disagree agreeably," Dingell said. "And I think that there are forces at play, probably multiple ones that really enjoy watching some of this play out.
"And they're trying to harm our democracy."