Benjamin Netanyahu has said Israel is doing all it can to minimise civilian casualties in Gaza but had "not been successful".
The Israeli prime minister was speaking to CBS when he made the comments regarding the thousands of reported deaths since his forces began their operation against Hamas.
Mr Netanyahu laid the blame for the civilian deaths squarely at the feet of the group which attacked Israel on 7 October.
Israel-Gaza live updates
He said: "Any civilian death is a tragedy. And we shouldn't have any because we're doing everything we can to get the civilians out of harm's way, while Hamas is doing everything to keep them in harm's way.
"So we send leaflets, (we) call them on their cell phones, and we say: 'leave'. And many have left.
"The other thing that I can say is that we'll try to finish that job with minimal civilian casualties. That's what we're trying to do. Minimal civilian casualties. But unfortunately, we're not successful."
Thousands of civilians are reported to have died during Israel's weeks-long military campaign in response to the attack by Hamas that killed 1,200 people with another 240 being taken hostage.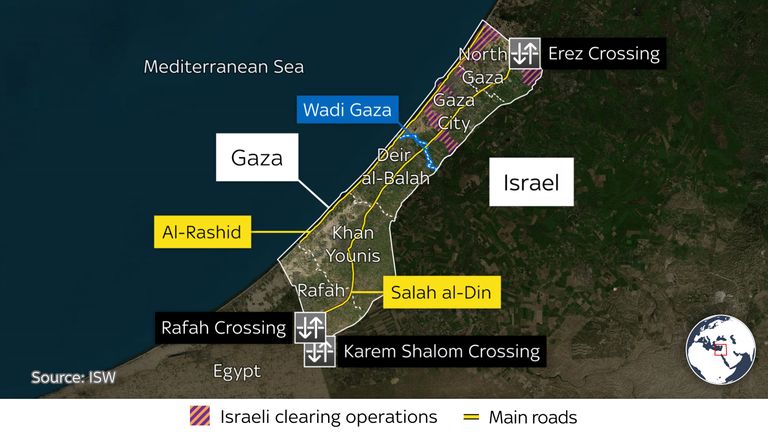 In the same interview Mr Netanyahu said there were "strong indications" that some of the hostages had been held in al Shifa hospital, but were no longer there when the Israel Defence Forces (IDF) entered the building.
On Thursday, IDF soldiers continued searching underground levels of the hospital, Gaza's largest, following a raid that began early on Wednesday.
Technicians responsible for running the hospital equipment were detained, the health ministry in Gaza said in a statement.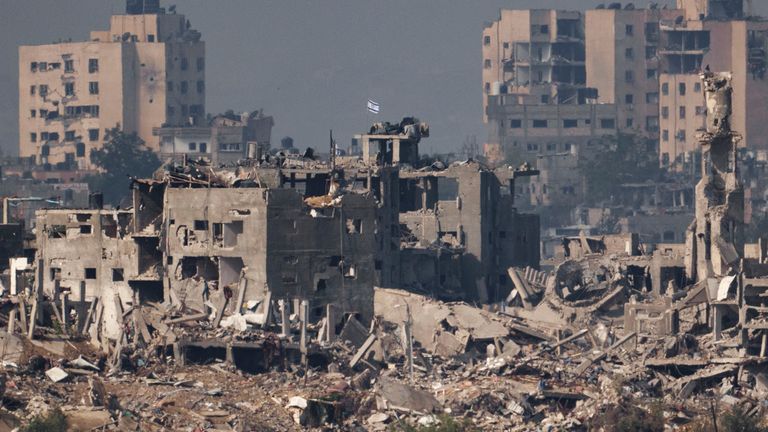 The military released footage from inside the hospital showing three duffle bags allegedly found hidden around an MRI lab – each containing an assault rifle, grenades and Hamas uniforms.
Hamas-run health authorities in Gaza claim at least 11,500 people have been killed during Israel's ongoing operation, with more than 4,700 of them children.
IDF footage reviewed by analyst

Two thirds of the Gaza Strip's population of 2.3 million have been made homeless by the war.
On Thursday, Israel's air force dropped leaflets in parts of southern Gaza telling people to evacuate for their own safety.
Israel has also used leaflet drops in northern Gaza to warn civilians to move.
Read more on Sky News:
How does Hamas count those who have been killed?
Hezbollah's leader threatens escalation
Stop killing women and babies in Gaza, Macron tells Israel
IDF claim body of hostage found

Hundreds of thousands have done so, in a mass displacement that some fear could become permanent.
Tanks and troops crossed the border with northern Gaza on 26 October in what was described at the time as the "biggest incursion" of the conflict so far, almost three weeks after the 7 October Hamas attack.
Gaza has also experienced four mass communication outages since the ground invasion began.