Pedro Sanchez has been re-elected prime minister of Spain.
The vote came after nearly two days of debate among party leaders that centred almost entirely on a highly controversial amnesty deal for Catalonia's separatists.
Mr Sanchez agreed to the bill in return for vital support of six smaller parties to get elected prime minister again.
The Socialist Workers' Party (PSOE) leader, who has governed Spain since 2018, was backed by 179 politicians in the 350-seat lower house of parliament.
Only right-wing opposition parties voted against him.
It means the PSOE will form another minority coalition government with the left-wing Sumar (Joining Forces) party.
As the vote was completed inside, outside parliament, around 400 angry protesters shouted and shook police barricades.
The protests on Thursday were a continuation of nightly demonstrations that have taken place outside PSOE headquarters in Madrid and first started two weeks ago.
Many citizens are angered by the amnesty bill, which would mean any politicians and activists who were convicted for taking part in an attempt to separate Catalonia from Spain would be pardoned.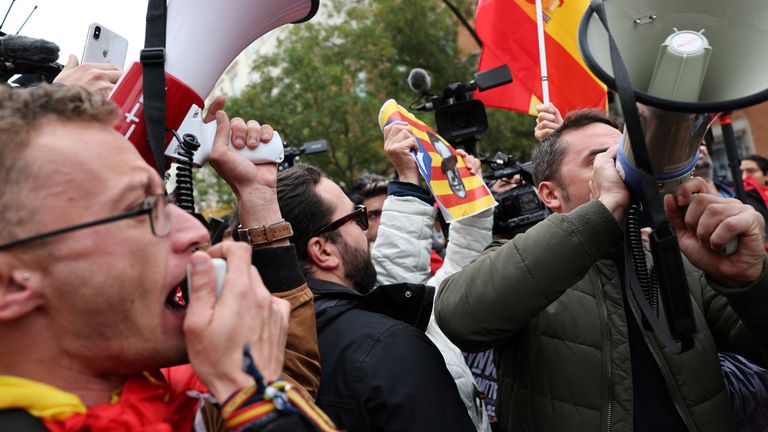 Those who helped facilitate Catalonia's two independence votes in 2014 or 2017 will receive amnesty, and those who tried to prevent the ballots – such as police officers accused of using excessive force – are also protected by the proposed law.
Read more world news:
Inside Gaza's 'humanitarian corridors'
Women and children rescued after armed gang surrounds hospital
At least 26 killed and dozens injured in China fire
The law would particularly benefit former Catalan regional president Carles Puigdemont, who is a fugitive from Spanish law and considered public enemy number one by many in Spain.
A debate will now take place next week on whether the amnesty threatens judicial independence in Spain.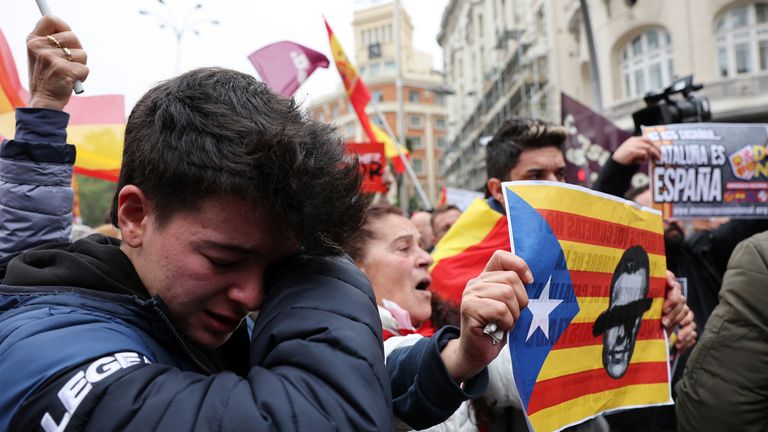 Alberto Nunez Feijoo, leader of the conservative People's Party (PP), accused Mr Sanchez of "pathological ambition" and trading an amnesty for personal gain after the bill was submitted to the lower house on Monday.
"He hasn't secured the support of anyone, he has bought it signing cheques that we will all pay for," Mr Feijoo said, telling Mr Sanchez: "History won't amnesty you, I can assure you."
The leader of the PP won the most seats but failed to secure enough support from other parties in his own bid to
lead the country.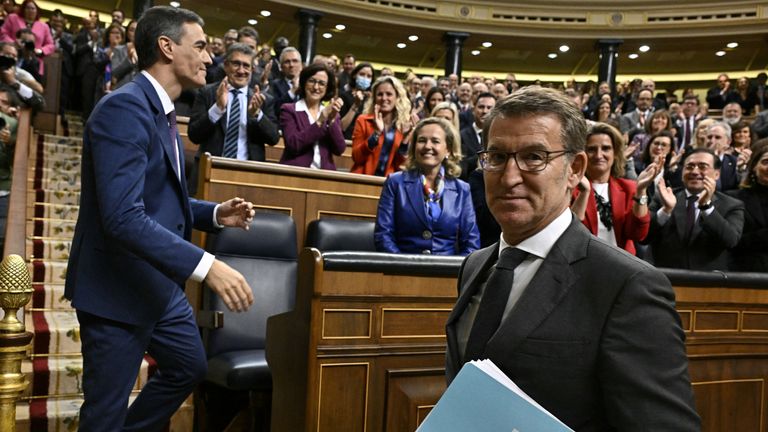 He has called for a mass protest to take place in Spain on 18 November.
Meanwhile, Mr Sanchez was congratulated by German Chancellor Olaf Scholz on social media platform X, formerly Twitter.
"It is good that we can continue to work side by side," Mr Scholz said.
"We see many challenges in the world from a very similar perspective."