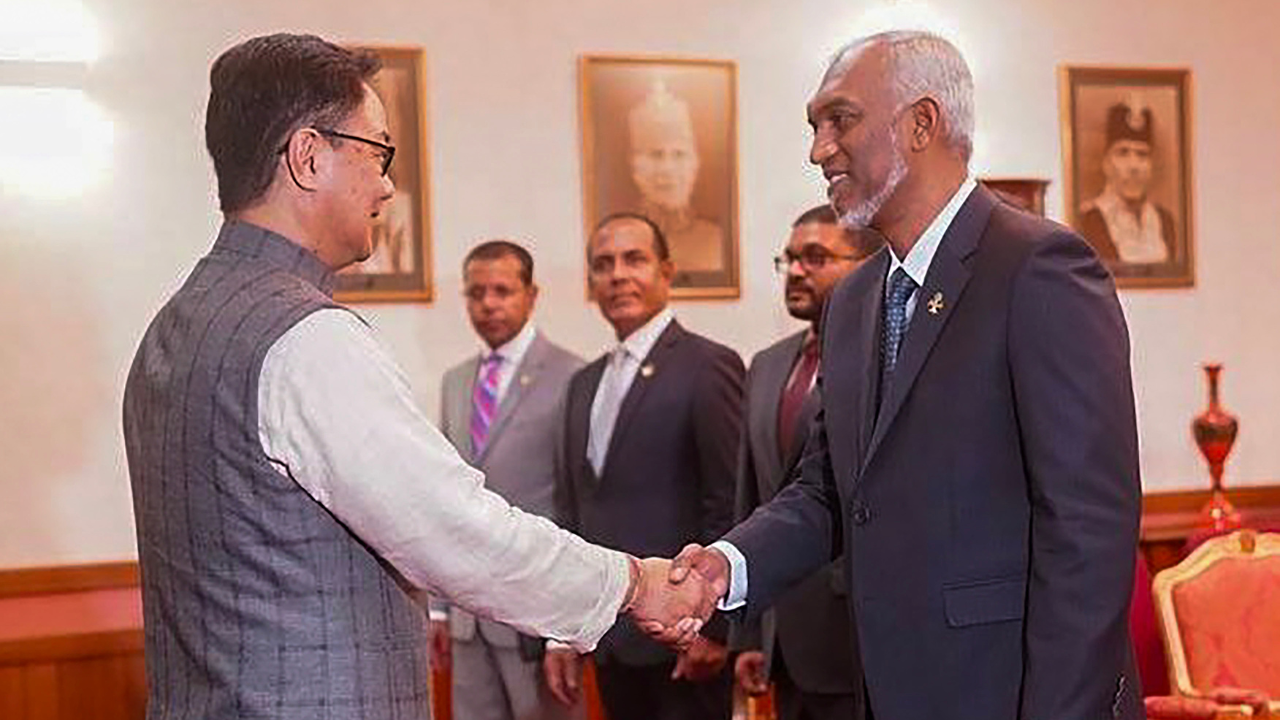 A day after he took oath as Maldives president, Mohamed Muizzu asked India in an official communication to pull out its military personnel from the Indian Ocean archipelago. The president's office said Muizzu requested withdrawal of Indian troops in a meeting with Indian minister Kiren Rijiju, who was in Male for the inauguration of the president, expressing hope that India will honour the "democratic will" of the people of the Maldives.
Muizzu, however, acknowledged the role played by Indian military choppers, which Indian personnel help fly, in facilitating emergency medical evacuations and, according to Indian government sources, agreed to find a "workable solution'' for their continued operation.Importantly for India, Muizzu called for accelerating work on India-assisted projects, including the $ 500 million Greater Male Connectivity Project that was launched by PM Narendra Modi and Muizzu's predecessor Ibrahim Solih.
"They (the choppers) are also central to the confidence that international tourists have staying on remote islands. He appreciated their role in monitoring and combating drug trafficking," said an Indian source.
The expulsion of all Indian personnel will likely render uncertain the fate of the 2 choppers and also a Dornier aircraft provided by India to the Maldives. As president-elect, Muizzu had on several occasions said he wanted to rid Maldives of Indian military presence, preferably in the first week of his presidency, but the announcement on Saturday still seemed hasty, given that there is, and by his own admission, no clarity on the number of Indian troops in the country.
According to high-level sources in the previous Maldivian Democratic Party (MDP) government, there's not a single Indian military personnel in the Maldives, except for those sent under the Indian government's technical and economic cooperation program to help fly the Dornier aircraft and the choppers India had gifted to the country.
The Indian government had reminded Muizzu last month how Indian assistance has helped safeguard his country's maritime security and also how Indian aircraft and choppers, in the past 5 years, saved 523 lives through medical evacuation. Significantly, one of these choppers was given to the Maldives in 2016, when Muizzu's alliance partner Abdulla Yameen was the president.
Widely seen as an ally of China, Yameen, who is in jail on corruption charges but whose release Muizzu has pledged to secure soon, had ordered India to remove both the choppers from the Maldives in 2018. His surprise loss to the MDP candidate, Ibrahim Solih, in the presidential elections the same year put an end to that story.
Earlier in the day, foreign minister S Jaishankar congratulated his new Maldives counterpart Moosa Zameer for his appointment as foreign minister. In his response, Zameer said he was looking forward to working with him on issues of mutual interest and concern and to "recalibrate'' and advance the time-tested relationship between the 2 countries.
As the leader of forces that have unabashedly pursued an Indian Out campaign, and also because of his close ties with Yameen, Muizzu has mostly been described as a pro-China leader in the international media. His aides, however, have refuted claims of a likely China tilt in his foreign policy and Muizzu said last week he has no plans to replace Indian military personnel with Chinese troops. In the meeting with Rijiju, who sought constructive ties between the 2 countries, Muizzu said that in the presidential election in September, the Maldivian people had given him a strong mandate to "request" India to remove its troops.