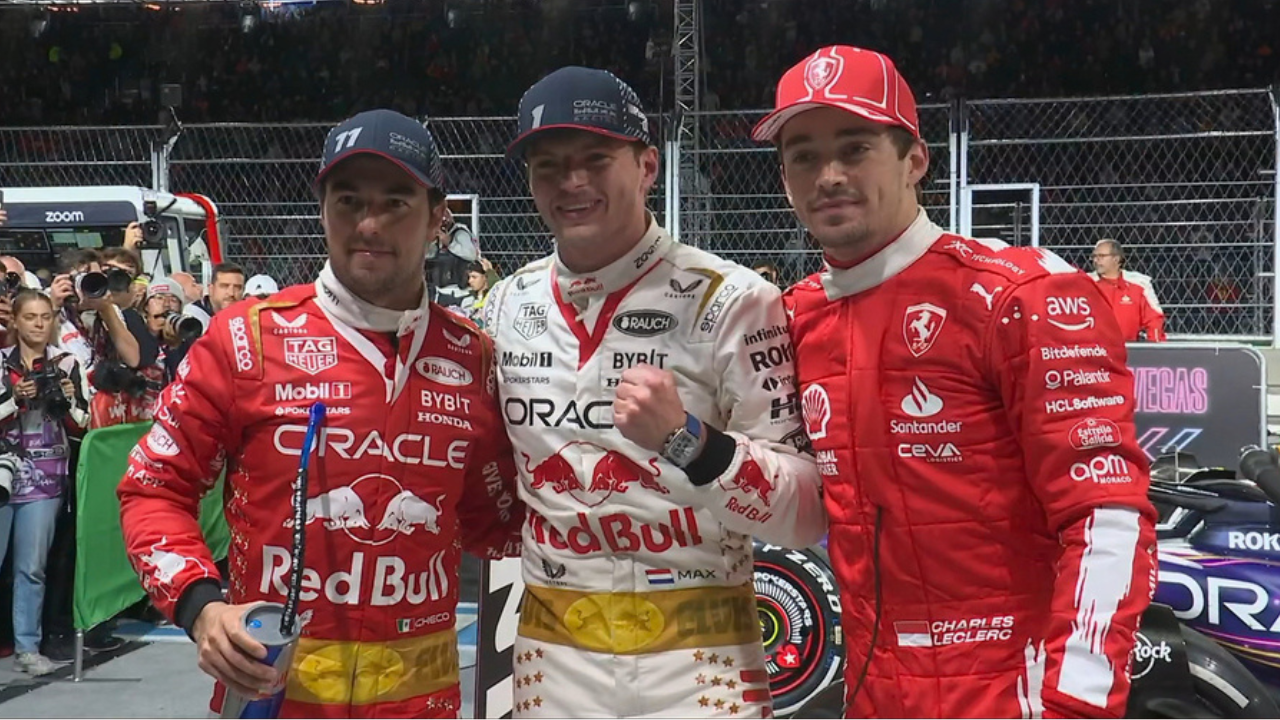 For the 22nd round of the 2023 season, Formula One headed to Las Vegas for the much-hyped Las Vegas Grand Prix that took place over 50 laps of the 6.2-kilometre Las Vegas Strip Circuit in Nevada, USA. In the end, it was another Max Verstappen victory from a Charles Leclerc pole, however, the Monegasque managed to make a last lap move to snatch P2 from Sergio Perez!
The race start was an absolute mayhem, with Leclerc being pushed off the track by Verstappen, with the latter thereby taking the lead of the GP.Lap 1 also saw a few other cars being spun out on the track, resulting in the deployment of the Virtual Safety Car until the debris was cleared. Lap 4 saw Lando Norris' McLaren losing grip and crashing into the barriers, and the Safety Car had to be brought out.
Verstappen was handed a five-second penalty for the Lap 1 incident. "Yeah that's fine, send them my regards," said the Red Bull driver upon being told of his penalty on the radio. Leclerc kept reducing the gap, eventually overtaking Verstappen who went into the pits and served his penalty. Meanwhile Hamilton and Piastri made contact which saw the 7x world champion's car getting a puncture! The Mercedes driver limped his way to the pit and then made a slow stop, coming out around the back of the grid.
Driving a Ferrari 296 GTB for the first time: Road trip from Delhi to Jaipur vlog | TOI Auto
Here are all the point scorers at the 2023 F1 Las Vegas Grand Prix –
1. Max Verstappen (Red Bull)
2. Charles Leclerc (Ferrari)
3. Sergio Perez (Red Bull)
4. Esteban Ocon (Alpine)
5. Lance Stroll (Aston Martin)
6. Carlos Sainz (Ferrari)
7. Lewis Hamilton (Mercedes)
8. George Russell (Mercedes)
9. Fernando Alonso (Aston Martin)
10. Oscar Piastri (McLaren)
Fighting for position, Russell and Verstappen made contact! Verstappen's front wing received damage and the reigning world champion had to make a pit stop. However, to his luck, the debris on the track saw the Safety Car being deployed again. Russell was handed a five-second penalty for causing the incident.
The following laps saw immense dogfight for the first spot between Leclerc and the two Red Bulls. In the end, it was Verstappen who took the lead of the race after overtaking his teammate Perez first, and Leclerc soon after. Unfortunately, Leclerc's tyres locked up, helping even Perez pass him easily, thereby helping Red Bull take 1-2. With a spectacular last lap move, Leclerc was able to snatch the second position from Perez into Turn 14!
Apart from Norris, Nico Hulkenberg and Yuki Tsunoda were the other two drivers who did not finish the Las Vegas GP after mechanical issues saw the two retiring in the last few laps of the race.
Stay tuned to TOI Auto for all updates on the 2023 Formula 1 season, including the penultimate Abu Dhabi GP qualifying and race