NEW DELHI: As excitement builds up around the 2023 ODI World Cup final between hosts India and Australia at the Narendra Modi Stadium in Ahmedabad on Sunday, the home fans anticipate unbeaten India to continue their rich form and clinch their third title.
But as the players would know, the knockout games, especially a final, bring their own pressure, irrespctive of the form the two teams or players have shown throughout the touranment.India haven't lost a match, winning 10 league games and the semifinal against New Zealand. Australia too haven't looked back since losing their two opening league matches. They won their next seven games to qualify for the semis and defeated South Africa in the last-four stage to extend their unbeaten run to 8 matches.
Talking about pressure, the 12 ODI World Cup finals so far, since the tournament's inaugural edition in 1975, have seen only 5 centuries and 2 five-wicket hauls.
Here are some of the interesting stats related to the title matches in the tournament's history:
1. From 1975 to 1992, the first five finals resulted in wins for the teams batting first – West Indies beat Australia by 17 runs in 1975; West Indies beat England in 1979; India beat West Indies by 43 runs in 1983 – all three at Lord's; Australia beat England by 7 runs at Kolkata in 1987 & Pakistan beat England by 22 runs at Melbourne in 1992.
2. Two other World Cup Finals resulted in wins for the sides batting first – both won by Australia – by 125 runs vs India at Johannesburg in 2003 and by 53 runs vs Sri Lanka at Bridgetown in 2007.
3. The Finals, contested in 1996, 1999, 2011 & 2015 resulted in wins for the sides batting second. The 2019 Final, contested at Lord's, produced a tie. New Zealand, batting first, posted 241 for eight while England got dismissed at 241. England won the match on boundary count after the Super Over also resulted in a tie.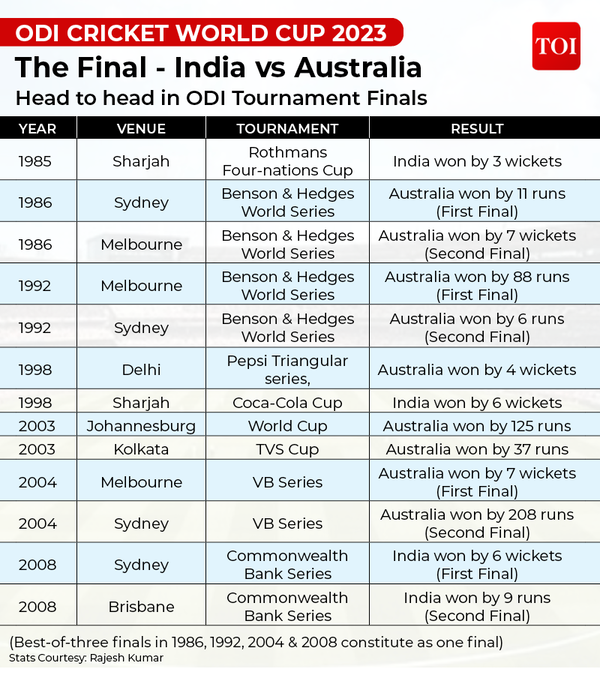 4. Five hundreds have been registered in the World Cup Finals – 149 by Adam Gilchrist (Australia) vs Sri Lanka at Bridgetown on April 28, 2007; 140 not out by Ricky Ponting (Australia) vs India at Johannesburg on March 23, 2003; 138 not out by Vivian Richards (West Indies) vs England at Lord's on June 23, 1979; 107 not out by Aravinda de Silva (Sri Lanka) vs Australia at Lahore on March 17, 1996; 103 not out by Mahela Jayawardene (Sri Lanka) vs India at Mumbai on April 2, 2011; and 102 by Clive Lloyd (West Indies) vs England at Lord's on June 21, 1975.
5. Mahela Jayawardene's hundred is the only one in a losing cause in a World Cup Final. This was the first of his fourteen centuries in ODIs, which ended in a loss.
6. Aravinda de Silva remains the only all-rounder to post a hundred (107 not out) apart from capturing 3 wickets in a World Cup Final.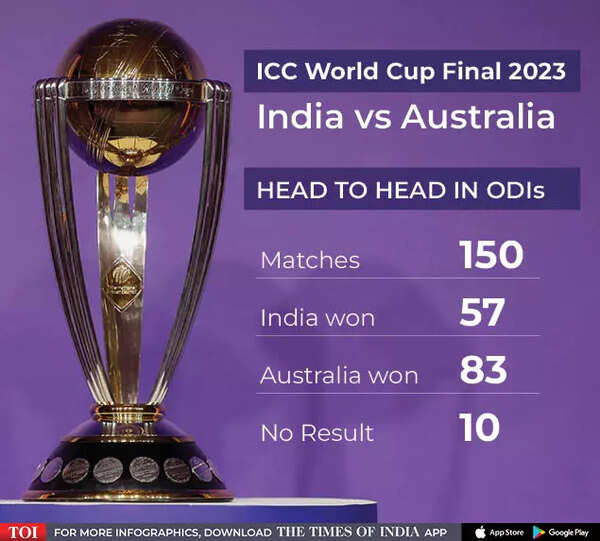 7. Two bowlers have produced five-wicket hauls in the World Cup Finals – 5 for 38 by Joel Garner (West Indies) vs England on June 23, 1979, and 5 for 48 by Gary Gilmour (Australia) vs West Indies on June 21, 1975. Two bowlers had bagged four-wicket hauls — 4 for 33 by Shane Warne (Australia) vs Pakistan on June 20, 1999; and 4 for 50 by Keith Boyce (West Indies) vs Australia on June 21, 1975. The venue of all four instances has been Lord's.
8. Eight ducks were recorded in the Final between England (5) and West Indies (3) at Lord's on June 23, 1979 – an unwanted World Cup record.
9. The highest match aggregate in a World Cup final remains 593 for the loss of 12 wickets – Australia 359 for two and India 234 at Johannesburg on March 23, 2003.
(Stats by Rajesh Kumar)