A failure by the government to be able to provide basic details on the crumbling concrete crisis in schools has been branded "shocking and disappointing" by MPs, as they warned about the "alarming" state of classroom buildings.
The head of the influential Commons Public Accounts Committee (PAC) said an "absolute catastrophe" had been "averted through sheer luck".
Politics live: Chancellor facing questions ahead of autumn statement
The watchdog said it was "extremely concerning" Education Secretary Gillian Keegan's department did not have a good enough understanding of the risks across school buildings to "keep children and staff safe".
The cross-party group also warned "unacceptable numbers of pupils are learning in poorly maintained or potentially unsafe buildings" and this was harming their education.
The criticism was levelled by the committee in its The Condition Of School Buildings report, which focused on the serious problems caused by unsafe reinforced autoclaved concrete (RAAC).
Just days before the return from the summer holidays, more than 100 schools, nurseries, and colleges in England were told by the UK government to close classrooms and other buildings that contained the collapse-prone material.
What is the concrete crisis?

Schools in 'dire need of help'
The committee said the Department for Education (DfE) was unable to tell its inquiry how many surveys to identify RAAC were outstanding, how many temporary classrooms had been provided to schools affected by the crisis, or say when the issues with the concrete type would be addressed.
Its report recommended the department urgently complete its programme of specialist surveys where RAAC is suspected to establish the full extent of the issue and be clearer on the funding it will provide to schools for temporary mitigation measures.
Committee chair Dame Meg Hillier said it was "beyond unacceptable" that "a significant proportion of children" are learning in "dilapidated or unsafe buildings".
She added: "The images of classroom ceilings collapsed onto empty school desks released in recent months are not just searing indictments of a deteriorating school estate.
"They are chilling reminders of absolute catastrophe averted through sheer luck."
Read more on Sky News:
Jeremy Hunt mulls major benefits squeeze
Labour MP 'frightened' after graffiti sprayed on office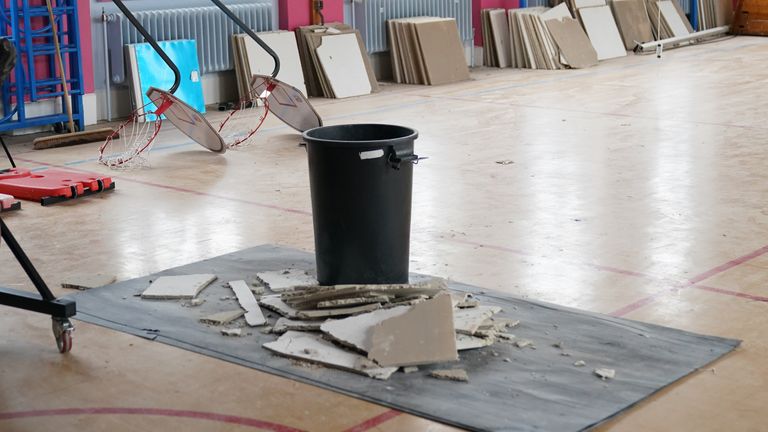 Government rejects report's findings
Daniel Kebede, general secretary of the National Education Union, said: "The RAAC crisis exposes the folly of letting so much of the school estate fall into disrepair."
But a DfE spokesperson said: "We do not accept the committee's assessment – the government has taken swift action, responding to new evidence, to identify and support all schools with RAAC to ensure the safety of pupils and teachers.
"We have now gathered questionnaire responses from all education settings in the affected areas. The vast majority have no RAAC and of those that do, most are providing face-to-face education with only a small handful providing a form of remote education for a short period.
"We have been clear that we will do whatever it takes to remove RAAC from the school and college estate.
"We are working closely with schools with RAAC to ensure remediation work is carried out and disruption to learning is minimised.
"Our school rebuilding programme is continuing to rebuild and refurbish school buildings in the poorest condition, with the first 400 projects selected ahead of schedule."