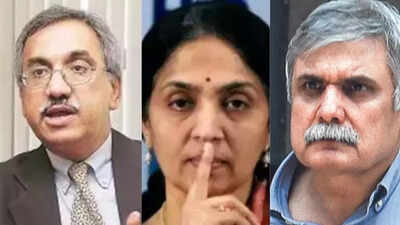 (LR) NSE chiefs Chitra Ramkrishna, Ravi Narain and former Mumbai Police Commissioner Sanjay Pandey
NEW DELHI: CBI filed FIR against former Mumbai police commissioner Sanjay Pandey and ex National stock exchange (NSE) leaders Chitra Ramkrishna and Ravi Narain, among others, for alleged wiretapping of NSE employees between 2009 and 2017 and could broaden the scope of the investigation amid indications that an illegal surveillance facility at the stock exchange may have been used to snoop on people other than its employees.
The CBI suspects that a company, iSEC Securities, started by Pande and hired by NSE, may be conducting a large illegal surveillance operation by tapping phones with illegal equipment. CBI, the sources said, has discovered the possibility of touching about 120 calls simultaneously to four MTNL lines – each with a capacity of 30 lines – in place at the NSE office.
At the time, some NSE officials allegedly tried to dispose of the tapping machine as electronic waste, sources say. CBI also collected evidence of payments of at least Rs 4.5 crore to a Pandey-related company instead of uncovering "security vulnerabilities at the NSE," officials said.
It is also investigating whether Pandey used imported surveillance equipment and wiretapped phones. The wiretapping exercise allegedly was halted after news of the co-location scam began to spread in 2017-18.
The searches were conducted on Friday at about 18 locations across India, including Delhi-NCR, Chandigarh, Lucknow, Kota, Mumbai and Pune, officials said adding that voice samples, call transcripts and a "server raid" they were recovered from the office of the company based in Jogeshwari, Mumbai. Investigators also seized 25 desktops and two laptops with incriminating data.
The FIR of CBI arrives on indications of the Ministry of the Interior. According to the MHA complaint, iSEC securities were tasked with conducting illegal surveillance of NSE employees by its former bosses. After his return to duty, Pandey's relatives took over the position of iSEC securities directors with the NSE server security audit contract but did not report the violations that led to the "co-location scam."
"CBI filed a case against a private company based in New Delhi, its then directors and other officers and four officials from NSE, Mumbai, including then MD, then DMD, then executive vice president, then chief (Premises) and others on a reference from the Ministry of the Interior in relation to the alleged illegal interception of the phones of NSE employees carried out by its top management in collusion with the private company, "said CBI spokesman RC Joshi.
According to CBI, the company was engaged under the pretext of conducting a "periodic cyber vulnerability study" at NSE. "It was also alleged that senior NSE officials issued agreements / work orders in favor of the private company and illegally intercepted phone calls from its employees by installing machines, in violation of the provisions of the Indian Telegraph Act," added Joshi.
No authorization for this activity has been taken from the relevant authority as required by Section 5 of the law and no consent from NSE employees has been taken in this matter either, CBI said. It was also claimed that the transcripts of these calls were provided by the company and received by senior NSE officials even though an amount of Rs 4.45 crore would be paid to the company for this activity.
FOLLOW US ON SOCIAL
FacebookTwitterInstagramKOO APPYOUTUBE