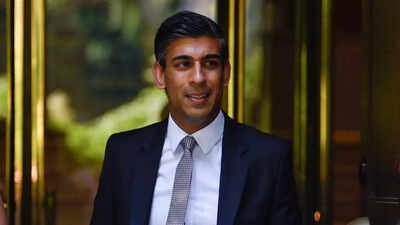 Rishi Sunak topped conservative MPs' second round of voting in Tory leadership race on Thursday with 101 votes (Reuters)
LONDON: Rishi Sunak On Thursday he passed the second round of voting for Conservative MPs in the Conservative leadership race with 101 votes, while the only other Indian-born candidate in the race, Attorney General Suella Braverman, was eliminated from the competition.
Minister of Commerce Penny Mordaunt came second with 83 votes, followed by foreign secretary Liz Truss with 64 votes. Former Equal Opportunities Minister Kemi Badenoch was fourth with 49 votes and chair of the Foreign Affairs Committee Tom Tugendhat was fifth with 32 votes. These five candidates have progressed to the third round of voting, which will take place on Monday.
Sunak, the son-in-law of Infosys NR founder Narayana Murthy, had passed the first round with 88 votes. But while he's doing well with Tory MPs and is widely expected to reach the bottom two candidates to be inducted into the party, a quick YouGov poll of Tory party members – who will take the last call – found more support for Penny. Mordant and Kemi Badenoch who for Sunak. Mordaunt has now overtaken Sunak as bookmakers' favorite to be the UK's next PM.
Braverman, who had pledged to get the UK out of the European Court of Human Rights, was eliminated after getting the lowest number of votes at 27. Her father has family origins in Nairobi and Goa while her mother, a Tamil, is born in Mauritius.
Lord Frost, former chief Brexit negotiator, told Talk TV he had "serious reservations" about Mordaunt becoming the next prime minister, saying he didn't feel he was strong enough to defend Brexit and make it a success.
"I'm pretty surprised that's where she is in this leadership race," he said, saying he didn't feel she mastered the necessary details when she was his deputy in Brexit talks and was often not accountable or visible.
Frost, who worked in the cabinet with Sunak, said: "Rishi is a very serious guy and there is no doubt he could do the job very well. I'm still not sure if he is still offering the scale of economic change and the necessary change of direction. "
Former foreign minister Jeremy Hunt, one of two candidates eliminated on Wednesday evening, has now backed the former chancellor, saying Sunak has "formidable skills". "Rishi is one of the most honest and honest people with the highest standards of integrity he has ever encountered in British politics," Hunt said.
Sunak was criticized on BBC Radio 4's 'Today' show that he was too 'rich and slimy' to be PM as hardened Brits were 'now using dish soap rather than shampoo to wash their hair'. He replied: "I don't judge people by their bank accounts. I judge them by their character and I think people can judge me by my actions. I believe in hard work and aspiration. This is my story: my parents worked hard, sacrificed themselves a lot and gave opportunities to me, my brother and my sister. It is something I am proud of and if I am PM I will defend those values ​​".
He said he supported Interior Minister Priti Patel's plans to deport illegal immigrants to Rwanda, saying, "I think it is essential to have control of our borders and I say this as the son and grandson of immigrants. This country has a proud history of welcoming people. There is nothing ethical about letting people die to the death in the canal, "he said, adding that he would only cut taxes responsibly as it was more important to deal with inflation." I don't cut taxes to win taxes. elections; I win elections to cut taxes, "Sunak said.
FOLLOW US ON SOCIAL
FacebookTwitterInstagramKOO APPYOUTUBE