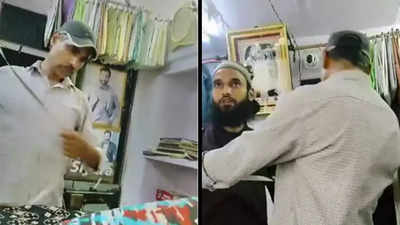 In this combined image, Kanhaiya Lal, a tailor works in his shop before being attacked by an attacker with a sharp weapon while the other filmed the crime (Archive photo: PTI)
JAIPUR: The NIA Udaipur resident arrested on Wednesday Wasim Alithe sixth suspect in the beheading of the tailor Kanhaiya Lal Sahu in his shop on June 28th. He was produced before an NIA special court in Jaipur and placed in police custody until 12 July.
Sources said Wasim worked in a shop near Lal's tailor shop in Udaipur. Wasim allegedly met and conspired with the two main accused: Gaus Mohammad and Mohammad Riyaz – who admitted in a video that he beheaded Sahu for supporting BJPs Nupur Sharma. Prior to Wasim, the NIA on Tuesday picked up Mohammad Mohsin on suspicion of helping Gaus and Riyaz. Suspected "co-conspirators" Mohsin Khan and Asif were later detained for alleged access to the tailor's shop.
Meanwhile, the Rajasthani government, in a meeting led by CM Ashok Gehlot, decided on Wednesday to loosen the rules and give government posts to both of Kanhaiya's sons.
FOLLOW US ON SOCIAL
FacebookTwitterInstagramKOO APPYOUTUBE