Concern is growing for an Iranian climber who competed in an international competition without a hijab.
Elnaz Rekabi, 33, could have been forced to leave the Asian Championships in South Korea prematurely and risks being arrested and immediately transferred to prison upon her return home, according to reports denied by Tehran.
Wearing the hijab is compulsory for women in Iran – a rule that has sparked growing protests over the past month.
The Iranian embassy in South Korea said Rekabi left Seoul on a flight Tuesday morning.
However, his passport and mobile phone were reportedly seized, a "knowledgeable source" told reporters.
His flight was reportedly unexpectedly postponed from Wednesday, according to the BBC's Persian Service.
According to The Associated Press, an Instagram Story on Rekabi's account said, "I apologize for what I have done to cause you concern."
The post also described her as "unintentionally" not wearing her hijab and claimed she was "rushed" – despite appearing relaxed in the footage.
The Instagram story suggested she was returning to Iran on a prearranged schedule.
However, a friend and former member of the national ice climbing team said she was "very worried" for Rekabi.
In a statement shared on Instagram, Zeinab Moosavi said, "Considering all the events that have transpired, all of Iran and the world are worried about Elnaz's condition after his arrival in Iran.
"We can only pray and ask God to make the best decision for dear Elnaz in this situation.
Moosavi also hailed Rekabi as a "brave and powerful girl" adding "a nation stands by your side".
Another website, IranWire – founded by Iranian-Canadian journalist Maziar Bahari, who was once detained by the Iranian regime – alleged that Rekabi would be immediately transferred to the notorious Evin prison upon his arrival.
At least eight inmates died and dozens were injured after a huge fire broke out in Tehran prison this week – where political prisoners including now released Nazanin Zaghari-Ratcliffe took place.
The Iranian embassy dismissed "fake news and misinformation" about Rekabi's departure in a tweet.
But he posted a photo of the athlete wearing a headscarf at another competition in Moscow, where she won a bronze medal.
The International Sport Climbing Federation said it was "trying to establish the facts" about Rekabi's departure, adding: "We understand that she is returning to Iran, and we will continue to monitor the situation as it unfolds. as it develops when it arrives".
Rekabi took part in the Asian Championship final in Seoul on Sunday, traveling with a team of 11 including eight athletes and three coaches.
Footage from the event showed her wearing a black headband with her black hair pulled back into a ponytail.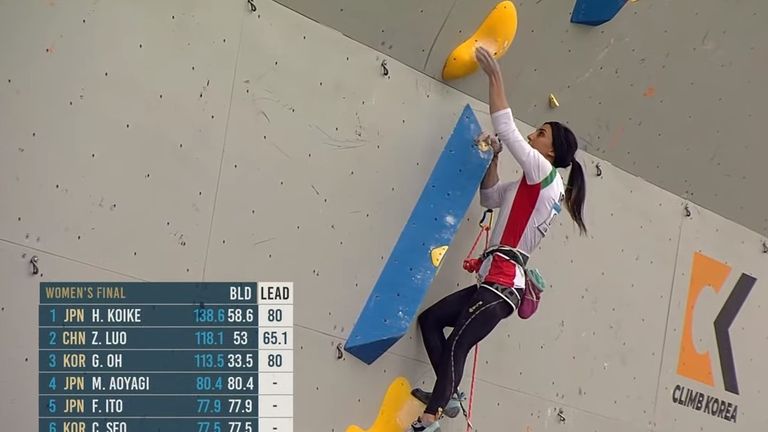 She had worn a hijab in previous appearances, the Korea Alpine Federation said in Seoul.
There are no rules requiring female athletes to wear a headscarf, but Iranian women competing abroad always wear a hijab.
South Korea's Justice Ministry said confidentiality regulations meant it could not say whether Rekabi was still in the country.
She has already won a silver and two bronze medals at the Asian Championships.
Why are Iranians protesting?

Fears over his fate come as violent protests were sparked by the death of Mahsa Amini continued for a fifth week.
Read more:
Nazanin Zaghari-Ratcliffe: 'The world cannot turn a blind eye to Iran'
Iran's Supreme Leader says Mahsa Amini's death 'broke my heart'
The 22-year-old was arrested by morality police for not wearing the hijab properly and died in custody in September, sparking international anger against the Iranian regime.
Children are among dozens of people who have died in the protests.