Transportation Secretary Pete Buttigieg's tenure has been plagued by multiple crises from supply chain snarls to widespread commercial airline delays while he has been criticized for his handling of the issues.
Amid the many crises Buttigieg has faced, the former presidential candidate and mayor of South Bend, Indiana – who President Biden selected to lead the Transportation Department in January 2021 – has been hit with criticism from Democrats and Republicans alike. On multiple occasions, he has been accused of failing to properly address issues, being more focused on a potential future presidential bid and being absent.
"What's happening with the railroads, airlines & the supply chain is a result of a small city mayor being made the Secretary of Transportation as a means to pad his resume for President," Nina Turner, a senior fellow at the left-wing Institute on Race, Power and Political Economy, tweeted on Tuesday.
"Secretary Buttigeig is a prime example of failing up," Turner added
GOP LAWMAKER BLASTS BIDEN, BUTTIGIEG AFTER KIDS STRANDED IN BALTIMORE AMID AIRLINE CHAOS
In August, Buttigieg wrote letters to CEOs of 10 US airlines, warning that he was considering taking action in response to repeated flight delays across the country stretching back months. He implored the executives to at least provide lodging and meal vouchers for travelers impacted by delays.
During the crisis, the transportation secretary forecasted that the issues facing air travel would clear up before the busy holiday travel season.
PETE BUTTIGIEG OFTEN FLIES ON TAXPAYER-FUNDED PRIVATE JETS, FLIGHT DATA SHOW
"I think it's going to get better by the holidays," Buttigieg said during a talk show appearance in September. "We're really pressing the airlines to deliver better service. So many people have been delayed, been cancelled, it happened to me several times this summer. And the fact is they need to be ready to service the tickets that they're selling ."
However, over the last week Southwest, one of the largest airlines in the nation, has canceled about 15,000 flights, pending thousands of Americans' holiday travel plans.
Buttigieg responded with harsh words for Southwest and other airlines that reported delays and cancellations during the busy holiday travel days, saying he would "hold them accountable with all tools available." But both Democratic and Republican lawmakers criticized Buttigieg for his handling of the crisis.
"Nearly six months ago[Sen. Bernie Sanders, I-Vt., and] I called for Buttigieg to implement fines & penalties on airlines for canceling flights," Rep. Ro Khanna, D-Calif., said this week. "Why were these recommendations not followed? This mess with Southwest could have been avoided. We need bold action."
CHASTEN BUTTIGIEG FIRES BACK AT DEMOCRATIC CRITIC OF PETE OVER SOUTHWEST MELTDOWN
Bipartisan state attorneys general have repeatedly called on Buttigieg to take more aggressive steps to ensure air travelers are protected.
And while Buttigieg has spent much of his tenure addressing commercial delays, he has used government-managed private jets on at least 18 occasions since taking office.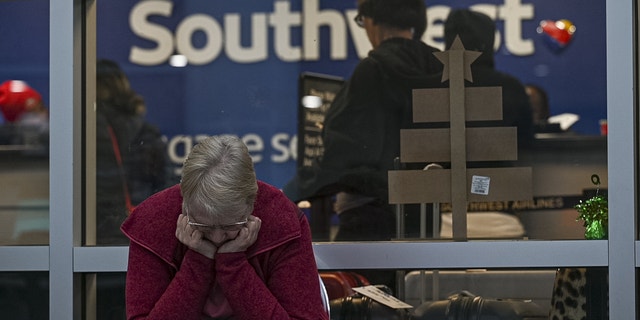 "Pete Buttigieg flies around on private jets while you're stuck in an airport," Rep. Troy Nehls, R-Texas, tweeted Tuesday. "That's the difference."
"[Buttigieg] says he is working on the airline crisis, but flies on taxpayer funded private jets," the House Judiciary Committee GOP added in a tweet of its own Wednesday.
In addition, Buttigieg has been slammed for his handling of the supply chain crisis in 2021. Throughout the second half of the year, ships were forced to wait off the coast of California due to onshore logjams, as a trucker shortage slowed transportation and rail yards faced massive clogs.
BUTTIGIEG QUIET ON GROWING PORT CONGESTION AS SHIPPING CONCERNS BUILD AHEAD OF HOLIDAYS
The crisis led to shortages of household items like toilet paper, raw materials needed for construction and critical tech components like semiconductors. The shortages in turn led to higher prices for consumers.
Buttigieg, though, blamed the crisis on President Biden's successful economic agenda during an interview in October 2021.
"Demand is up," he told CNN at the time. "Because income is up because the president has successfully guided this economy out of the teeth of a terrifying recession."
Buttigieg also took a multi-month paternity leave during the heart of the crisis.
And the transportation secretary recently came under fire after it was revealed he vacationed in Porto, Portugal, while his agency and the White House were locked in tense negotiations with rail worker unions to avert a strike that could have had a dire impact on the US economy . The Department of Transportation said the vacation was a "long-planned personal trip."
"Don't waste my tax dollars and my time with you abdicating your responsibilities," Fox News host Emily Compagno said in response to the story on Dec. 15. "And the people who pay for it are the members of that union that got a horrible deal."
"Unfortunately, truth is stranger than fiction here when it comes to this administration," she continued. "The optics of this are so poor."
Congress eventually approved a deal backed by the White House and Buttigieg to avoid the rail strike, but four unions said the deal included insufficient paid-sick leave time.
CLICK HERE TO GET THE FOX NEWS APP
When asked about the crises that have happened on Buttigieg's watch, a spokeswoman for the Department of Transportation said the agency was proud of its achievements over the past two years and pushed back on criticism.
"It's no surprise to see some in Washington playing politics with every crisis, even something as serious as the impacts of a global pandemic on our transportation systems," the spokeswoman told Fox News Digital.
"Faced with the most complex set of transportation crises since 9/11, Secretary Buttigieg and the administration team at this Department have and will continue to focus on getting results – like the successful resolution of a backlog of ships at our ports, ordering the toughest ever financial penalties for airlines over refund violations, securing new requirements for airlines to cover expenses for stranded passengers, and of course overseeing historic investments to improve our nation's infrastructure," she continued.
"The rest is political noise."