Pershang Peighami arrived in England in a dinghy after a perilous journey from the Kurdish region of Iran.
From a town called Shno, the 25-year-old was a women's rights activist and campaigner for a local political party when she decided to flee 18 months ago.
She thinks it was the most sensible decision she ever made.
"I had no choice. If I had stayed I would have been killed," she said when we met her in a busy cafe in the northeast of England.
The country's clerical leaders have spent the past five months trying to quell a nationwide rebellion, sparked by the death of a woman called Mahsa Amini.
The 22-year-old, who was Kurdish, died in suspicious circumstances at a police station in Tehran after his detention by the Iranian Religious Morality Police for wearing her hijab wrong.
According to human rights groups, at least 470 protesters have been killed in protests following Ms Amini's death, and more than 18,000 have been arrested across the country.
And the authorities are using increasingly harsh techniques to quell the unrest. Four protesters have been executed in recent weeks on charges such as "moharebeh" or "waging war on God".
Ms Peighami has felt the effects in the north of England as this uncivil conflict envelops her family in Iran.
"They were always smiling and laughing and joking," she said, showing me pictures of her nephews. "They lived their lives with great spirit."
Read more:
Iran protests: Large protests begin as anger grows over executions
Iran executes two more men for alleged violence during anti-government protests
Iran arrests seven people with UK links after anti-government protests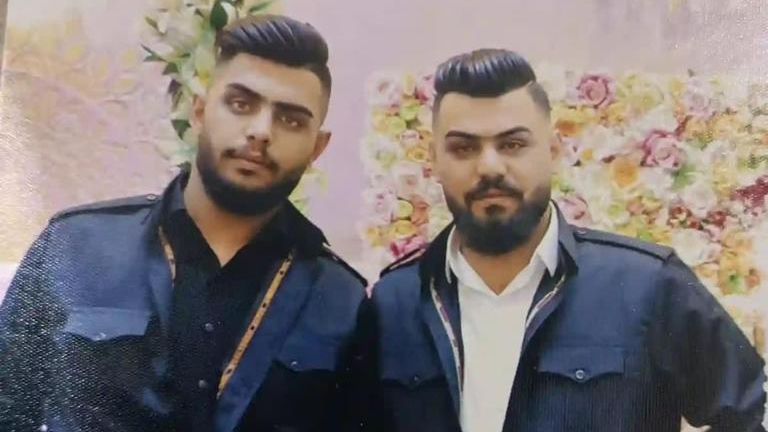 Farzad Tahazadeh, 23, and Farhad Tahazadeh, 24, have both been charged with "waging war against God", and now face death by hanging.
The couple weren't particularly political, she said, but they were deeply frustrated with the country's economic situation. They took to the streets as large anti-government protests swept through Shno in late September.
A few days later, the regime came for them.
"Farzad was taken from his house at five o'clock in the morning. He was asleep when they took him away. They jumped on the roof and entered the house in front of his wife and child. His wife was pregnant."
"And Farhad? I asked.
"When his brother was arrested, [Farhad] hidden. He escaped from Shno but he was arrested 20 or 25 days after Farzad."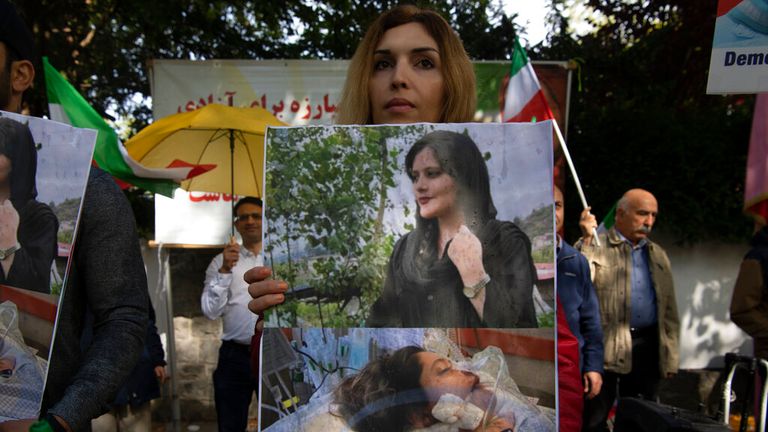 The family sent us a video of their mother, Shahla, when she learned that her sons had been charged with offenses carrying the death penalty.
She cried uncontrollably with Farzad's son in her lap.
"Why can't you hear me God? I'm burning inside."
According to the Oslo-based group Iran Human Rights (IHR), at least 109 protesters have been sentenced to death – or face charges that could result in the death penalty. Family members have to deal with the uncertainty that now surrounds their loved ones.
"I think family members melt because they see how children are sitting in jail cells waiting to be executed. It's the most terrible feeling."
Ms Peighami admits she misses her family as she awaits a decision on her asylum claim in the UK. Joining her in a one-room studio is her two-month-old son called Ramko.
But she says she cannot go back to Iran.
"Did you make the right decision coming to the UK? I asked.
"I had no choice. If I had stayed, I would have been killed."