POKHARA (NEPAL): Nepalese rescuers on Monday night suspended the search for three missing bodies in the mangled wreckage of a plane that crashed with 72 people on board, with no hope of finding any survivors.
The Yeti Airlines The ATR 72 plummeted into a steep gorge, shattered into pieces and burst into flames as it approached the central city of Pokhara on Sunday in Nepal's worst air disaster since 1992.
The cause was not yet known, but a video on social media – verified by AFP partner ESN – showed the twin-prop plane suddenly and abruptly banking to the left as it approached from Pokhara airport. A loud explosion followed.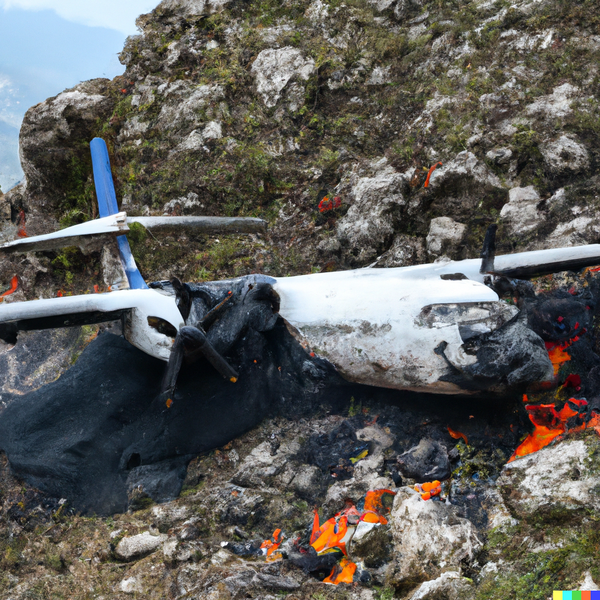 Photo courtesy: DALL E
Nepal, which has a poor aviation safety record, observed a day of mourning on Monday. Fifteen foreigners were on board the plane, including five Indians, four Russians and two South Koreans.
Soldiers used ropes and stretchers to retrieve the bodies from the 300-metre (1,000ft) deep ravine late Sunday night and throughout Monday before suspending work until Tuesday morning.
Officials said 69 bodies had been recovered so far, with autopsies on 24 underway. The plane was carrying 68 passengers and four crew members.
"We are praying for a miracle. But the hope of finding someone alive is nil," said a senior local official. Tek Bahadur KC told AFP.
"Three bodies are still missing. The search has been suspended for today. We will resume the search operation tomorrow morning," he said.
He added that no black boxes were found among the debris, which included the mangled remains of passenger seats and the plane's white fuselage.
Raj Dhungana, the uncle of one of the passengers, 23 years old Sangita Shahitold AFP outside a hospital in Pokhara that his whole family was "suffering".
He described a "very talented" young woman who was a student in Kathmandu and ran a makeup studio while working on an online business platform on the side.
"God took away such a nice person," he said.
The RTA 72 flew from the capital Kathmandu to Pokhara, a gateway for religious pilgrims and trekkers.
It touched down between the brand new international airport and a former domestic airport shortly before 11 a.m. (0515 GMT).
"I was walking when I heard a loud explosion, like a bomb had gone off," said witness Arun Tamu, 44, who was about 500 meters (yards) away and live-streamed video of the incident. blazing wreckage on social media.
"A few of us rushed to see if we could save anyone. I saw at least two women breathing. The fire was getting very intense and it was difficult for us to get any closer," said to AFP the former soldier.
It was unclear if anyone on the ground had been injured.
Aviation expert Greg Waldron told AFP that from the video shared on social media, it appears the plane suffered a "wing stall", meaning a wing suddenly stopped providing lift.
"When you're at low altitude and you have an event like this…it's a major problem," Waldron, Asia editor at trade publication FlightGlobal, told AFP.
Terence Fan, an aviation expert at Singapore Management University, said after watching the same video that it was unclear whether the cause was pilot error or a mechanical malfunction.
French manufacturer ATR said in a statement on Sunday that its "specialists are fully engaged to support both the investigation and the customer".
Experts from France's accident investigation agency Bureau d'Enquête et d'Analyse pour la Sécurité de l'Aviation Civile were due to arrive in Nepal on Tuesday, the body said.
Nepal's aviation industry has boomed in recent years, transporting goods and people between hard-to-reach areas, as well as foreign mountaineers.
Yeti Airlines, Nepal's second largest airline, was founded in 1998 by entrepreneur Ang Tshering Sherpa, who died in a helicopter crash in 2019.
The sector suffers from a lack of security due to insufficient training and maintenance. The European Union has banned all Nepalese carriers from its airspace for security reasons.
Nepal also has some of the most remote and difficult trails in the world, flanked by snow-capped peaks with challenging approaches and capricious weather.
The country's deadliest aviation accident took place in 1992, when all 167 people on board a Pakistan International Airlines plane died when it crashed on approach to Kathmandu.