An Irish teacher fired over a row of transgender pronouns has returned to the premises a day after being arrested for trespassing at school.
Enoch Burke was once jailed for failing to obey a court injunction barring him from attending school while suspended from work.
He was suspended from his job last year after several incidents stemming from a request from the high school principal.
Mr Burke has repeatedly voiced his opposition to the principal's request to address a transgender child by name and refer to them by the pronoun "they".
Mr. Burke was removed from his post on Friday.
Either way, he showed up at the school at Wilson's Hospital in County Westmeath on two days in a row – Tuesday and Wednesday – and was refused entry by staff each time.
Mr Burke was arrested on Tuesday, released, and then seen on the school grounds the same afternoon before leaving.
A day later, Mr Burke's father dropped him off at school but the former teacher was again barred from entering the building.
Mr Burke was seen in the rain on the school grounds and writing in a notebook as he stood outside the school.
He was then seen leaving with his father in the car.
The evangelical Christian was suspended from his full-pay job last year pending the outcome of disciplinary proceedings.
Subsequent events led to his suspension.
A disciplinary hearing took place last week and one of Mr Burke's family members released a statement on his behalf on Friday, saying he had been fired.
Mr Burke rejected his dismissal, saying he had the right to work and was 'wrongly' arrested for trespassing on Tuesday.
He said: "It's not an intrusion to show up at your place of work, it's absolutely not an intrusion."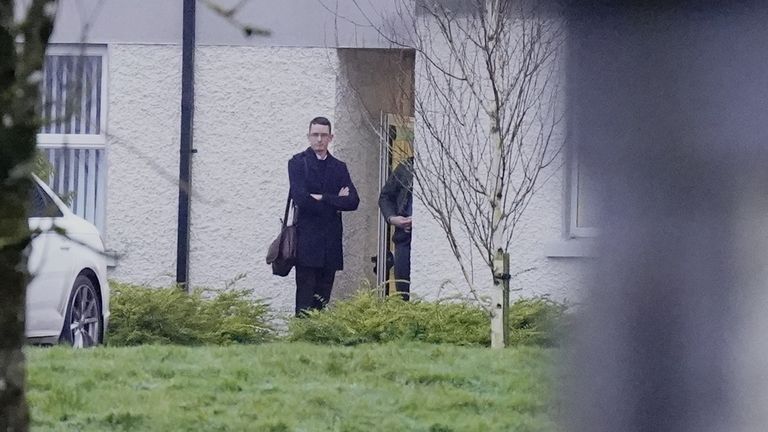 He told reporters that the resulting "alleged disciplinary meeting" and "alleged dismissal" were not expected to take effect for months, and said he was still an employee of the school.
He added: "I am here to work, here to do my job, as every teacher in the country, every civil servant and every employee has the absolute right to do so."
The school declined to comment when contacted by Sky News.