Transportation Secretary Pete Buttigieg on Sunday defended President Biden's handling of the Chinese spy balloon that flew across the United States over the course of several days before the US military shot it down Saturday, saying it was "handled appropriately."
"As the US has communicated, it's not acceptable at all that China sent this object into our airspace, but in terms of how to handle it, that's something that was done based on assessment of the risks, making sure that there was no risk that outweighed the risks in terms of any damage that would come and it was handled appropriately," Buttigieg said on CNN's "State of the Union."
He would go on to praise the mission to shoot down the Chinese spy balloon as being done in a "very effective" and "excellent" way.
Host Jake Tapper later pressed Buttigieg on when Biden first learned that the Chinese spy balloon entered US airspace, prompting him to say, "I really can't speak to that."
US MILITARY SHOOTS DOWN CHINESE SPY BALLOON OVER ATLANTIC OCEAN
"What I can speak to is the great cooperation we have between the FAA and the Pentagon to make sure we that when you have a special military operation like what it took to bring down this balloon, that it happens without any threat to American lives and property," Buttigieg said.
Buttigieg's comments come a day after US military fighter jets shot down the balloon off the coast of South Carolina. A senior US military official said that an F-22 was used to bring down the balloon at 58,000 feet, adding that a single A9X missile was fired.
Secretary of Defense Lloyd J. Austin III said in a statement after the balloon was shot down that "President Biden gave his authorization to take down the surveillance balloon as soon as the mission could be accomplished without undue risk to American lives under the balloon's path. "
Despite the balloon being shot down, Biden received backlash from Republicans who criticized him for allowing the balloon to fly across US airspace for multiple days and not shooting the balloon down sooner.
REPUBLICAN DEMANDS JOE BIDEN, KAMALA HARRIS RESIGN AFTER 'CATASTROPHIC CHINESE SPY BALLOON SPECTACLE'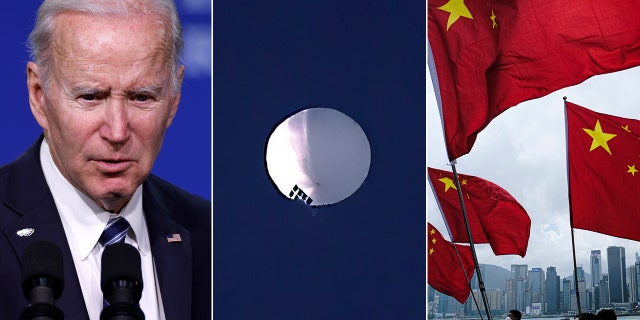 Rep. Joe Wilson, RS.C., a member of the House Armed Services Committee, said Saturday that the Chinese spy balloon saga confirmed that both President Biden and Vice President Harris should resign from office.
"The catastrophic Chinese Spy Balloon spectacle clearly threatened American families from Alaska to my home community in South Carolina and confirms President Biden and Vice President Harris should resign," Wilson said in a tweet. "My call for their resignation was valid in August 2021 due to the surrender and disastrous withdrawal in Afghanistan, creating a safe haven for terrorists to attack American families."
Sen. Susan Collins, R-Maine, a member of the Senate Intelligence Committee, echoed Fry's sentiment saying the balloon "should have been taken out earlier, over remote areas of Alaska or Montana."
"Not only was the Homeland Security Committee not informed of this CCP provocation before it broke on the news, but it has since come to light that officials were monitoring the balloon before it entered US airspace and could have been shot down over the water before ever reaching our shores," Republican Rep. Andrew Garbarino, a member of the House Committee on Homeland Security, told Fox News Digital. "This was the CCP testing their boundaries and President Biden failed in his response from him."
Sen. Lindsey Graham, RS.C., added that it amounts to "negligence" if the US is unable to recover information from the balloon due to the decision to wait until it was over the ocean. Nevertheless, Graham said the eventual decision to take it down was a "sound decision."
CLICK HERE TO GET THE FOX NEWS APP
In a statement to Fox News Digital, Rep. Elise Stefanik, RN.Y., said that Biden "abysmally failed" a test on the world stage.
"The Chinese Communist spy balloon should never have been allowed to cross into our sovereign nation gathering intelligence," Stefanik said. "The American people deserve to know why Joe Biden allowed this national security threat for so long, why he tried to hide it from the American people, and what information our foreign adversaries were gathering."
Fox News' Adam Sabes , Jacqui Heinrich, Jennifer Griffin, Andrew Mark Miller, and Thomas Catenacci contributed reporting.