A 7.8-magnitude earthquake hit southern Turkey on Monday and was felt in Syria, Jordan and Israel, among other neighboring countries.
Preliminary information from the US Geological Survey indicates that the quake originated in Gaziantep, which is located in the southeastern region of Turkey and is an important provincial capital.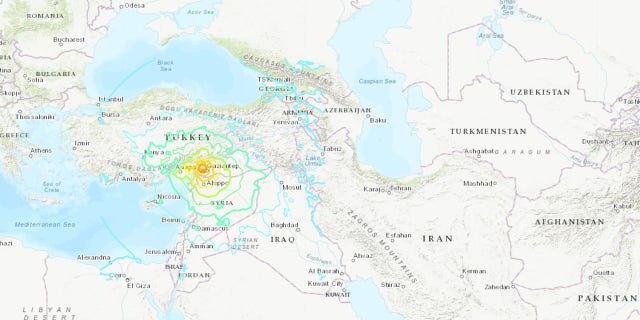 It was centered about 11 miles deep, according to USGS. A heavy 6.7 shaking rumbled about 10 minutes later.
5.9-magnitude EARTHQUAKE STREAKS GREEK ISLAND OF RHODES, COAST OF TURKEY
The extent of possible infrastructure damage, injuries and possible deaths remains unclear at this time.
CLICK HERE TO GET THE FOX NEWS APP
Turkey has experienced severe earthquakes over the years. In 2020, a magnitude 7.0 earthquake in the Aegean Sea struck Turkey and Greece, killing at least 57 people and injuring more than 900.
This is a developing story. Check back for updates.
The Associated Press contributed to this report.