"The first floor of my house in Istanbul is empty. I am ready to help anyone with shelter and catering."
This is a single post shared in a Facebook group offering shelter and food to those affected by the devastating 7.8 magnitude earthquake that hit southern Turkey on Monday.
Until then, the page was used to advise people on how to get the most out of an earthquake detection app. Now it is inundated with individuals offering aid, shelter and sustenance to the victims of the disaster.
Death toll tops 5,000 as patients left for dead in 'forgotten' hospital – latest updates
Thousands of people across Turkey have been left without supplies or humanitarian assistance as severe weather has prevented aid from reaching affected areas.
Some civilians are taking matters into their own hands, creating online groups to publicize available help and shelter, as well as the missing.
This post showing two users offering their homes was shared in a group of over 5,000 members.
The Facebook page, which was not previously used for aid purposes, welcomed around 500 new members in the past week. Its current membership numbers over 5,000.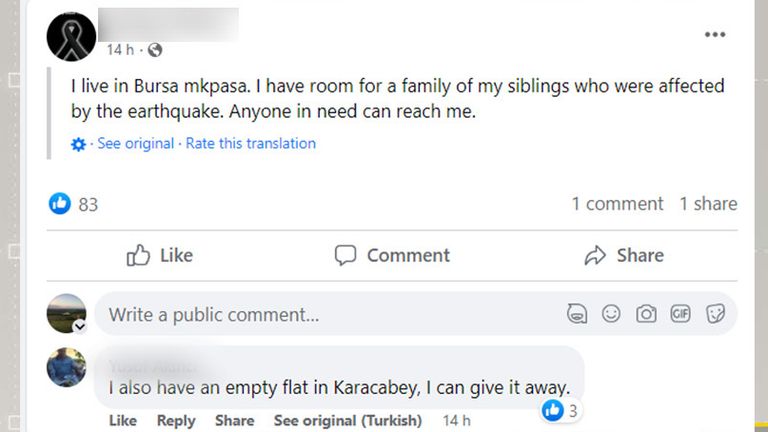 Others have set up channels specifically for those seeking help after the earthquake.
"No one should sit idly by. Maybe we'll meet someone's need, let them know we're with them. Maybe we'll raise their voice," read a message sharing a Telegram channel created Monday which now has over 200 members.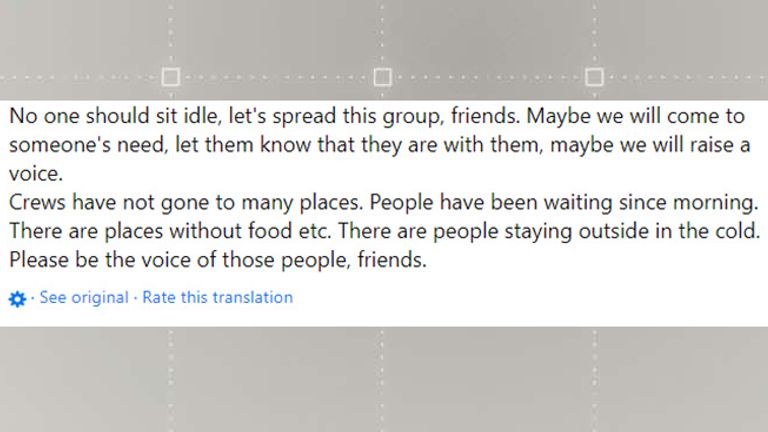 One of the biggest channels Sky News found on Telegram has amassed more than 4,000 members since its launch on Monday. Tens of thousands of messages were exchanged there by civilians.
The channel is divided into sub-forums for sharing information in each city affected by the earthquake.
One of the posts shared multiple times on the forum reads:
"If people are in Diyarbakir, we have accommodation for 200 people. Everything is free. Contact me."
"Our hotel rooms, which can accommodate 100 people, are empty. We can provide accommodation, food and cover heating costs. Contact me," read another.
Turkish companies, including this bus company, have also offered to help within the group.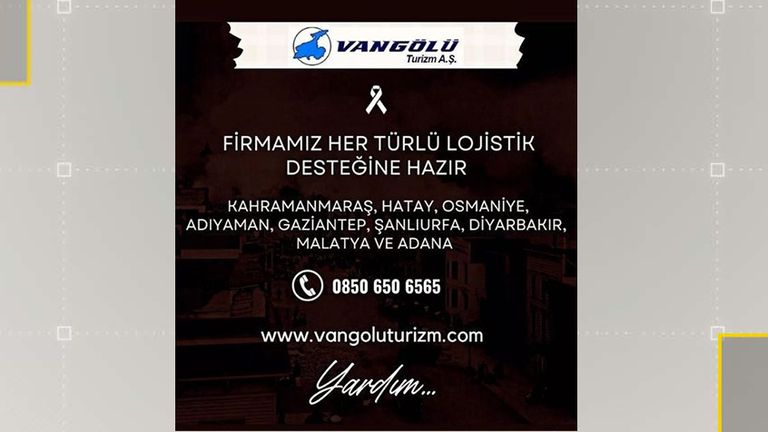 The page's owner, a 22-year-old named Murat, says he has no humanitarian experience but thinks the skills he's learned managing large social media channels in the past could come in handy.
"It's the real definition of helping people," he told Sky News.
"People stuck in the rubble have tried to make themselves heard on sites like Twitter and Instagram. As a country, we try to respond to their requests for help with information provided through WhatsApp and Telegram groups which are easily accessible and collectively by the authorities," he said.
Learn more:
More powerful tremors hit Turkey – as WHO warns death toll could reach over 20,000
Local humanitarian organizations are also helping civilians access information online.
This interactive map compiled by the Ahbap Derneği organization lists the "Earthquake Safe Zones" which are institutions that opened their doors free of charge to victims of Monday's earthquake.
But it's not just information about help and shelter that people share on these forums.
Desperate parents are using the groups to find information about missing loved ones, sharing missing digital posters with names, photos and addresses.
Sky News has decided not to repost these images out of respect for the families.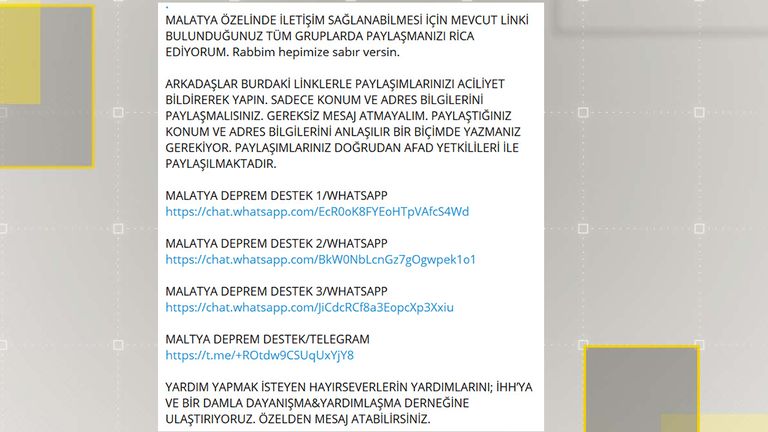 The forums, however, are also used to post lists which users say include the names and dates of those rescued.
A list details the names and ages of 89 people it says were taken to Ankara for treatment.
Another post seen in several Telegram and WhatsApp groups listed the names of 600 people he said were being treated in hospital in the city of Mersin on Turkey's southern coast.
Sky News was unable to independently verify the information.
More than 6,300 people have now been killed in Turkey and northern Syria after Monday's devastating earthquake.
Rescuers are working tirelessly in both countries to find survivors under the rubble, but harsh weather conditions have prevented help from reaching many in need.
THE Data and forensics The team is a versatile unit dedicated to delivering transparent Sky News journalism. We collect, analyze and visualize data to tell data-driven stories. We combine traditional reporting skills with advanced analysis of satellite imagery, social media and other open source information. Through multimedia storytelling, we aim to better explain the world while showing how our journalism is done.
Why data journalism matters to Sky News