American comedian Jay Leno has revealed his "brand new face" after one of his classic cars caught fire in November, leaving him with third-degree burns.
The former Tonight Show host, who was left with a scarred neck and jaw, showed his healed face in a television interview.
The 72-year-old he sustained severe burns on his hands and chest when one of his cars caught fire while he was working on it in the garage of his Los Angeles home on Nov. 12.
He was hospitalized and doctors used temporary skin grafts as part of his treatment.
Speaking on The Kelly Clarkson Show, Leno said he has a "brand new face" and described what happened as "pretty bad."
He said, "This is a brand new face, it's amazing!
"What happened is I was working on a car and I got my face full of gas and it caught fire."
Leno was even in good spirits enough to joke about his injuries, adding, "I was eating a Flamin' Hot Dorito and when I bit into it, it set my face on fire."
But he continued, "It was interesting, all third-degree burns, it was pretty bad, it was pretty bad… This is like a brand new face."
Leno previously told NBC's Today show that he was working on his 1907 White Motor Co steam car with a friend when he noticed the vehicle's fuel line was clogged.
He said when he tried to unclog it and blew some air through the line, he got a "face full of gas" and burst into flames.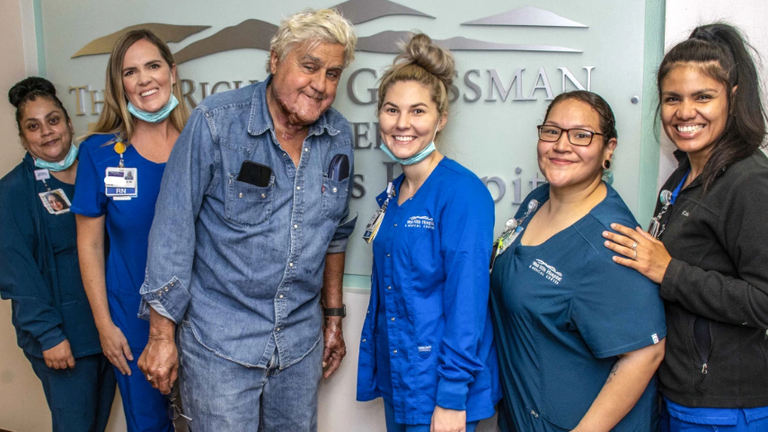 The announcer was taken to the hospital and then sent to the Grossman Burn Center in Los Angeles, where he received hyperbaric treatment, an oxygen therapy that "may speed the healing of burn wounds," according to the center's website.
Previous images of his treatment showed him bandaged and lying down in a hyperbaric chamber.
Days after being released from the burn center, Leno returned to his feet with a sold-out performance at the Comedy & Magic Club in California.
To know more:
Jay Leno describes the moment his face caught fire
Police search for Travis Scott after an alleged punch at a nightclub
The comedian is an avid car collector and has more than 200 vehicles housed in a garage in Burbank, north of Los Angeles.
He left The Tonight Show in 2014.