The Russian government has donated 20,000 tons of fertilizer to Malawi as part of its efforts to gain diplomatic support from various African nations.
Russia will supply 260,000 tons of fertilizer to countries on the continent, Russian ambassador to Malawi Nikolai Krasilnikov said at a delivery ceremony on Monday in the capital, Lilongwe.
He said he hoped African leaders would lobby for the lifting of international sanctions against Russia when they attended the second Russia-Africa summit in St. Petersburg at the end of July.
RUSSIAN FOREIGN MINISTER MEETS SUDANISH LEADERSHIP
Russian producer Uralchem-Ukalkali produced the fertilizer and gave the gift to Malawi, said Dmitry Shornikov, head of the company's Southern Africa branch, who also witnessed the delivery.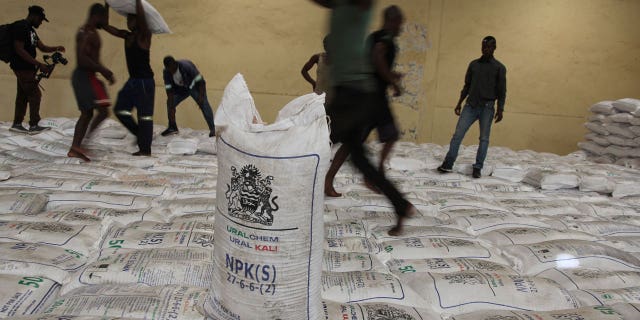 The fertilizer should help Malawi meet its goals of substantially increasing its agricultural production and helping families grow healthier and more nutritious food, Shornikov said.
THE TOTAL OF DEATHS CAUSED BY CHOLERA IN MALAWI EXCEEDS 1,000
Malawi's Agriculture Minister Kawale said the fertilizer would reach 400,000 farming households and boost their agricultural output.
A representative of the United Nations World Food Program also attended the event.
CLICK HERE TO GET THE FOX NEWS APP
Malawi voted to censure Russia at the United Nations last year over its invasion of Ukraine. More than 15 other African countries abstained from voting.