The Duke and Duchess of Sussex's daughter, Princess Lilibet Diana, has been christened, a spokesperson said.
A statement from the Sussexes read: "I can confirm that Princess Lilibet Diana was christened on Friday 3 March by the Archbishop of Los Angeles, the Rev John Taylor."
This is the first time that Lilibet, Lili for short, has been publicly referred to as Princess.
She became a princess when her grandfather King Charles took the throne.
It is understood that Lili and Archie's titles of princess and prince will be used in formal contexts, but not in everyday use by the couple.
Both Harry and Meghan are keen not to deny their children their birthright, but are keen to let them decide for themselves whether they want to continue using their titles or give them up later.
To know more:
Prince Harry: 'I've always felt different from the rest of my family… and my mum has felt the same way'
Prince Charles has a "very emotional" first meeting with his niece Lilibet
The ceremony took place privately at the Sussexes' home in Montecito, California.
"Lili Made Us a Family"
Lili's first public image was released in December 2021, in Christmas card for the couple.
The image, taken by Alexi Lubomirski, showed Harry hugging his son Archie, while Meghan lifted Lilibet into the air.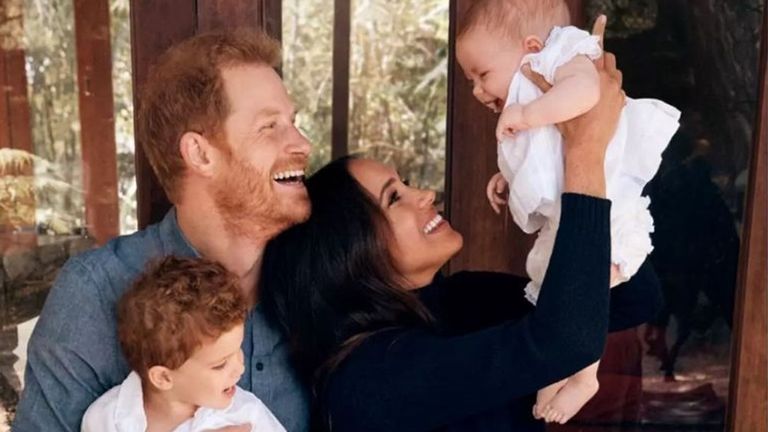 The opening line of the message in the card read: "This year, 2021, we welcomed our daughter, Lilibet, into the world. Archie made us a 'mom' and a 'dad', and Lili made us a family".
Lili then celebrated her first birthday at Frogmore Cottage, Windsor in June 2022, the same property the couple now own been asked to "clear out", according to a spokesman.
The request to leave Frogmore Cottage came after the publication of The Autobiography of Harry Sparein which he was harsh towards his family, and was seen as a big rebuke by Charles to his son, who moved to the United States in 2020.
The couple also voiced their grievances about their alleged treatment in a Netflix series.
Despite this, a spokesperson for the couple told the Times that they they are invited to attend the king's coronation in May.
They have reportedly not made a decision yet, as the event falls on son Archie's 4th birthday.