Mexican President Andres Manuel Lopez Obrador on Thursday threatened to launch an "information campaign" in the United States against Republicans, telling Mexicans and Hispanics not to vote for them unless US lawyers change their treatment of Mexico – an apparent threat of election interference by the head of state in response to US calls for action against cartels smuggling fentanyl across the border.
"Starting today we are going to start an information campaign for Mexicans who live and work in the United States and for all Hispanics to inform them of what we are doing in Mexico and how this initiative by the Republicans, in addition to being irresponsible, is an offense against the people of Mexico, a lack of respect for our independence, our sovereignty," he said.
"And if they do not change their attitude and think that they are going to use Mexico for their propaganda, electoral, and political purposes, we are going to call for them not to vote for that party, because it is interventionist, inhumane, hypocritical , and corrupt," he said, later adding that Mexico would be insisting that "not one vote" goes to Republicans from Mexicans and Hispanics.
MEXICAN PRESIDENT CLAIMS FENTANYL IS US PROBLEM, SLAMS CALLS FOR US MILITARY ACTION AGAINST DRUG CARTELS
Lopez Obrador was responding to calls for action from Republican lawyers, including military action, to crack down on the continuing smuggling of fentanyl into the United States
On Wednesday, Sen. Lindsey Graham, RS.C., called for the "fury and might" of the United States to be unleashed on Mexican drug cartels.
"We're going to unleash the fury and might of the United States against these cartels," Graham said. "We're going to destroy their business model and their lifestyle because our national security and the security of the United States as a whole depends on us taking decisive action."
Graham said that he intends to introduce legislation that would designate Mexican drug cartels as foreign terrorist organizations (FTO) and authorize the US to use military force to go into Mexico and destroy the drug networks.
"Not to invade Mexico, not to shoot Mexican airplanes down, but to destroy drug labs that are poisoning Americans," he said.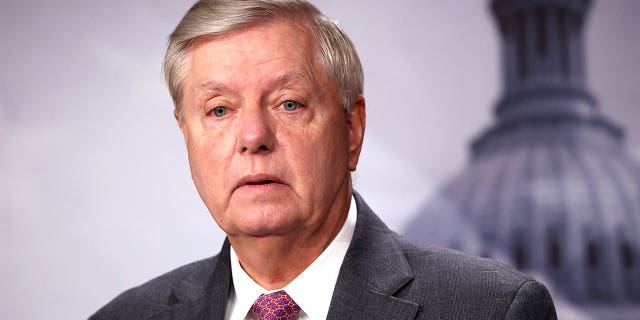 Graham dismissed concerns about such a move damaging diplomatic relations with Mexico.
SEN. GRAHAM CALLS FOR 'FURY AND MIGHT' OF US TO BE UNLEASHED ON MEXICAN CARTELS, EYES MILITARY ACTION
"We'd like to help you, but we're not going to sit on the sidelines anymore as a nation and watch our neighbor become a narco-state that kills more Americans in a single year than we lost in Vietnam," he said .
Rep. Dan Crenshaw, R-Texas, had also backed military action in the wake of the deaths of two Americans at the hands of cartels in recent days. He said it was "time we authorize military force" against the cartels.
"We would love for you to be a partner. Help up help you," he tweeted.
Lopez Obrador also claimed in remarks on Thursday that Mexico does not produce fentanyl and sought to shrug off responsibility to the United States.
"Here, we do not produce fentanyl, and we do not have consumption of fentanyl. Why don't they [the United States] take care of their problem of social decay?
AMERICAN FENTANYL CRISIS 'UNLEASHED ON PURPOSE' BY MEXICAN DRUG CARTELS, AG GARLAND SAYS
Despite Lopez Obrador's claims, the overwhelming majority of fentanyl — which is 50-100 times more potent than morphine and can be fatal in small doses — is in fact produced in Mexico using Chinese precursors and then smuggled across the US land border. The Mexican government has acknowledged this fact before, and has made a number of high-profile seizures of fentanyl at drug labs in its territory.
The DEA said last December that "most of the fentanyl trafficked by the Sinaloa and CJNG Cartels is being mass-produced at secret factories in Mexico with chemicals sourced largely from China."
It isn't just Republicans who have been critical of Mexico. Attorney General Merrick Garland told lawyers in the Senate last week that the fentanyl epidemic is being "unleashed on purpose" by the Mexican cartels.
CLICK HERE TO GET THE FOX NEWS APP
He also said that Mexico "is helping us, but they could do much more."
Fox News' Paul Best and The Associated Press contributed to this report.