Prosecutors have formally charged Barcelona with corruption over its payments of millions of euros over several years to a company that belonged to the vice-president of Spain's football refereeing committee.
The decision, made official on Friday, was reported this week by the Spanish newspaper El País. An investigating judge will decide whether the charges should lead to charges.
Barcelona, ​​which deny any wrongdoing, have been under scrutiny since the club's payments became public. The payments were initially investigated as part of a tax investigation into the company.
LIONEL MESSI LEAVES BARCELONA AFTER A HISTORIC CAREER WITH THE CLUB
Prosecutors in Barcelona have issued three charges which include alleged corruption in the sport and fraudulent management. The other charge involved the alleged forgery of merchant documents.
Spanish football has been rocked since it was revealed that Spanish tax officials were investigating Barcelona's payment of 1.4 million euros ($1.5 million) from 2016-18 to a company belonging to José María Enríquez Negreira, a former referee who was part of the Spanish Football Federation Referee Committee from 1994 to 2018.
Prosecutors said in court documents seen by the Associated Press that payments by the club actually totaled 7.3 million euros ($7.7 million) from 2001 to 2018. They added that this "amount was not justified because it was not stipulated in the club's statutes nor approved by its general meeting (of club members)."
This scenario would mean that Barcelona paid for Enríquez Negreira's company during several club presidents, including from 2003 to 2010 during the first term of current president Joan Laporta, who returned to office in 2021. Laporta, however, is not accused by the prosecutor and denied all wrongdoing.
The charges are against Barcelona club Enríquez Negreira, former Barcelona presidents Sandro Rosell and Josep Maria Bartomeu, and former Barcelona managers Óscar Grau and Albert Soler.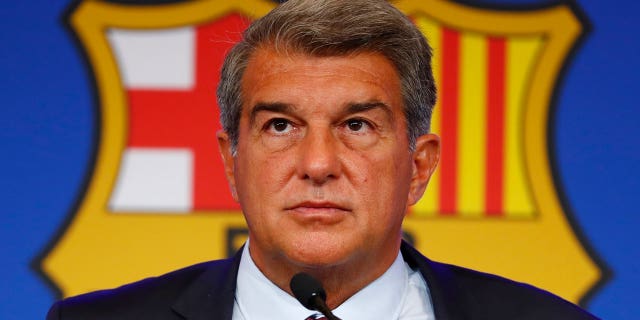 Prosecutors said there was enough evidence to believe that Rosell and Bartomeu, who led Barcelona for back-to-back terms from 2010 to 2020, "reached a confidential verbal agreement" with Enríquez Negreira, who, "in exchange of money, should have carried out acts of care to favor the Barcelona football club in the decision-making process of the referees in the matches played by Barcelona and in the results of the competitions".
So far there is no evidence that referees or match results were actually affected.
The refereeing committee that Enríquez Negreira belonged to assigned referees to matches, chose those who worked in which division and chose those for international competitions.
Barcelona have consistently denied any wrongdoing or conflict of interest, saying they have paid for referees' technical reports but never tried to influence their decisions during matches.
Getting reports on referees is a common practice and clubs can pay other companies or have them prepared in-house, as Barcelona do now. But paying large sums of money to a person involved in the management of Spanish referees for reporting is not normal practice.
BARCELONA PRESIDENT CONfrontS REFEREES AFTER EL CLÁSICO LOSS: REPORT
Bartomeu, who has denied any wrongdoing, told ABC newspaper last month: "It seems that with this report we are asking for more sanctions in our favor or that we want to influence the decision of the referees, but that is not true. This person (Enríquez Negreira) does not had no power over the arbitrators".
Several former and current referees, including their current chairman, have all denied ever receiving orders or pressure to favor Barcelona.
Enríquez Negreira told Cadena SER radio that he never favored Barcelona when assigning referees to matches, and his job was only to help the club verbally on how players should behave in front of each referee.
The scandal threatens to tarnish Barcelona's golden age, when Lionel Messi and company dominated Spanish football. In the years that prosecutors say Barcelona paid Enríquez Negreira, Barcelona have won nine Spanish league titles and six Copa del Reys.
CLICK HERE TO GET THE FOX NEWS APP
Apart from an initial statement from the club and its chairman when the payments were first reported by Cadena SER last month, Barcelona have remained silent on the scandal. The club has engaged a law firm to carry out its own investigation into the payments, the results of which should be made public.