A pair of climate activists in Scotland will face trial after allegedly vandalizing a display case containing national hero William Wallace's broadsword.
"Police say the accused believe they were raising awareness of climate change and that their actions were necessary for the cause," said prosecutor Eilidh Smith.
Alexander Cloudley, 29 and Katrielle Chan, 21, both from Glasgow, pleaded not guilty to vandalism at Stirling Sheriff Court last week. They allegedly damaged and spray painted the case that held Wallace's sword from "Braveheart".
Each of them faces a single charge that, on March 2, they entered the National Wallace Monument and "wittingly or recklessly destroyed or damaged property belonging to another" "by repeatedly hitting a storefront with sledgehammers and chisels."
CLEAN ENERGY Czar BIDEN ANNOUNCES THAT CHINESE COMPANIES WILL BE "MAJOR PLAYERS" IN FUTURE ENERGY PRODUCTION IN THE UNITED STATES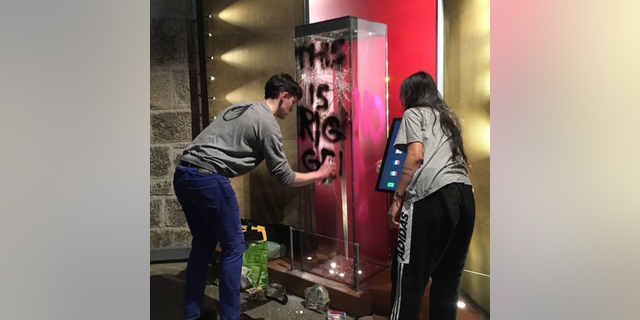 The activists also reportedly spray-painted the case with "This is Rigged," the name of their protest group, The Scotsman reported.
The Crown court has not opposed bail for the activists, but has sought to ban them from entering the city of Stirling, where the Wallace monument stands, except to attend court dates.
Cloudley and Chan were arrested at the scene, but Police Scotland said "investigations are ongoing" into the incident.
MANCHIN TANK BIDEN CANDIDATE ON CLIMATE ACTIVISM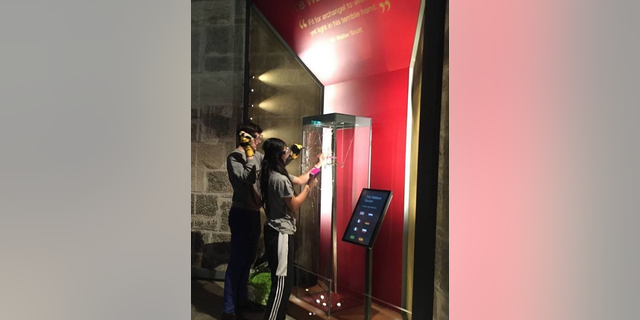 An Instagram post, which includes images of the suspects allegedly vandalizing the storefront, said the group's intent was to "continue civil resistance until our demands are met."
"We are calling for the Scottish Government to openly oppose all new fossil fuel projects in Scotland and create a clear transition plan for oil workers," the group wrote.
BIDEN'S BUDGET AIMS AT FOSSIL FUEL INDUSTRY WITH TAX INCREASES
In a video posted to the group's page, Chan read a statement after spray painting the window, saying, "One hundred and eleven years ago, the suffragettes stood in this very spot defending their rights and freedom, 600 years before William Wallace defended our freedom with this very sword. Now it's time for us to defend our rights too."
Wallace defied the British at a time when Scotland remained subject to its southern neighbour, helping to wage the War of Scottish Independence which ultimately resulted in Scotland breaking away – for a time – from English rule.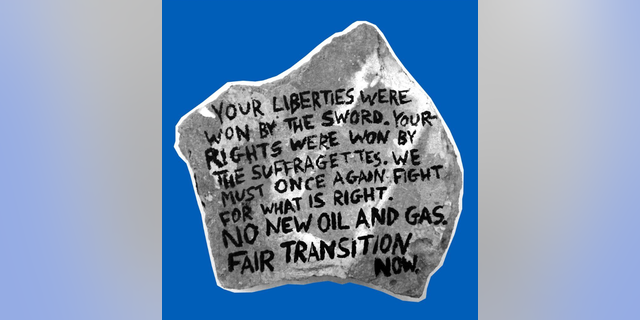 The sword displayed in his monument is one he allegedly wielded during the Battle of Stirling Bridge in 1297 and the Battle of Falkirk in 1298, according to Artnet News. The story inspired Mel Gibson to make the Academy Award-winning film 'Braveheart' which won the Academy Award for Best Picture in 1996.
CLICK HERE TO GET THE FOX NEWS APP
Climate protests in Britain have targeted a number of culturally significant artefacts and pieces, including a famous incident last year in which anti-oil environmentalists poured tomato soup on Vincent van Gogh's 'Sunflowers' painting at the National Gallery in London.
'Just Stop Oil' protesters also glued themselves to the frame of a famous John Constable painting that hung in Britain's National Gallery in June.