Former President Trump has a slim lead over Florida Gov. Ron DeSantis in a hypothetical Republican primary, according to a new poll that revealed where potential GOP candidates stand in the early days of the heated 2024 race.
A new CNN poll surveying likely Republican voters and Republican leaning independents found that among a list of potential contenders for the 2024 GOP nomination, Trump leads with 40% of the vote, and top contender DeSantis secured 36% support. While DeSantis has not officially entered into the race, the governor most recently sparked 2024 chatter after his book launch and private visits with top donors.
The poll revealed that Trump leads DeSantis among likely-Republican and Republican leaning independent women by 40% to 32%. The Florida governor was neck and neck with the former president among all registered voters, 39% to 37%.
The former president also received 48% support among individuals ages 18 to 45, while DeSantis received only 30% support among the age group. According to the poll, DeSantis leads Trump among voters 40 and over, 40% to 35%.
REPUBLICAN 2024 HOPEFULS RESPOND TO TUCKER CARLSON'S QUESTIONS ABOUT THEIR STANCE ON RUSSIA-UKRAINE WAR
Former Ambassador to the United Nations Nikki Haley and former Vice President Mike Pence both locked in 6% of the vote, while every other listed potential candidate including South Carolina Senator Tim Scott, former Secretary of State Mike Pompeo, Virginia Governor Glenn Youngkin received under 2 % support.
DANA PERINO: POLLING SHOWS DESANTIS HAS 'ROOM TO GROW' AHEAD OF 2024
When combining respondents first and second choices for the GOP nomination, DeSantis lead the group of possible contenders with 65% support, placing Trump in second with 59% support, Pence being the choice candidate to 22%, Haley locking in 15% of the vote , and Pompeo receiving 9%.
Nearly 60% of likely-GOP voters are seeking a candidate who shares their views on major issues, over 41% who would rather choose the candidate that is most likely to beat President Biden, if he seeks another term.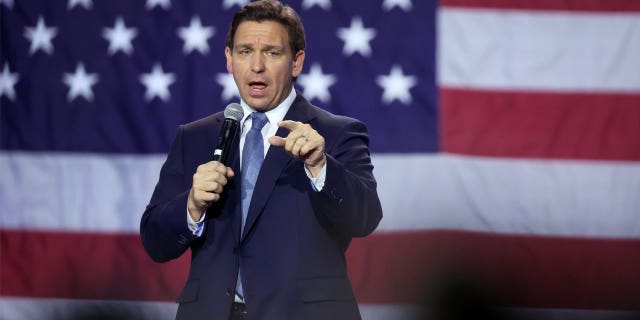 In terms of candidate qualities, 87% of likely-Republican and Republican leaning independents said that they prefer a candidate with sharpness and stamina, 59% believe it is essential for a candidate to pledge to maintain Social Security and Medicare as they are, 57% seek a candidate who will represent the future of the GOP, and 54% support government action to oppose "woke" values.
The economy was the issue of top concern to 32% of Republican and Republican leaning independent respondents, immigration was the most pressing to 16%, and 13% believed candidate quality is most important when choosing a candidate to vote for. Nearly 10% said foreign policy is the number one issue, 7% government size or spending, and 7% said issues related to values, morals and rights.
CLICK HERE TO GET THE FOX NEWS APP
The CNN survey was conducted from March 8 to 12 with a margin of error of plus or minus 3.8 percentage points.