Polish coal miners angered by a European Union directive aiming to cut methane emissions protested loudly outside the EU office in Warsaw on Friday saying it would deprive them of their jobs.
About 300 miners chanted "Thieves" and used smoke bombs and sirens to draw attention to their protest in the center of the Polish capital. Traffic has been temporarily blocked in the area.
Protesting miners from the Solidarity 80 union said recent climate recommendations for the 27-member EU calling for a significant reduction in methane, starting in 2027, would force the closure of most of the nation's mines, with the loss of tens of thousands of jobs.
RUSSIAN MISSILES CROSS NATO MEMBER POLAND KILL 2: SENIOR US INTELLIGENCE OFFICER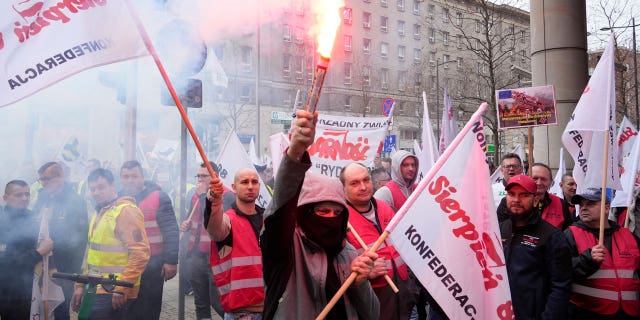 CLICK HERE TO GET THE FOX NEWS APP
Most Polish mines have a high presence of methane gas which is released during the coal mining process. This also leads to serious mining accidents as methane becomes explosive when mixed in low proportions with oxygen.
Located in the southern Silesia region, coal mines are among Poland's largest employers, providing around 77,000 jobs in a nation of 38 million.