A stunning video emerged on Friday of commuters in London smashing the windows of an Underground train to escape after it reportedly filled with smoke.
"Stuck on the train at Clapham Common and the carriages full of smoke, the doors won't open if it weren't for the workmen on the platform we wouldn't have got off!" a witness to the incident wrote on Twitter.
The video shows people on the platform breaking the windows of a train so the passengers inside can escape.
Other subway passengers appear to have their bodies wedged between the train doors in an attempt to escape.
CORONATION OF KING CHARLES SHADOWED BY PRINCE HARRY AND PRINCE WILLIAM FEUD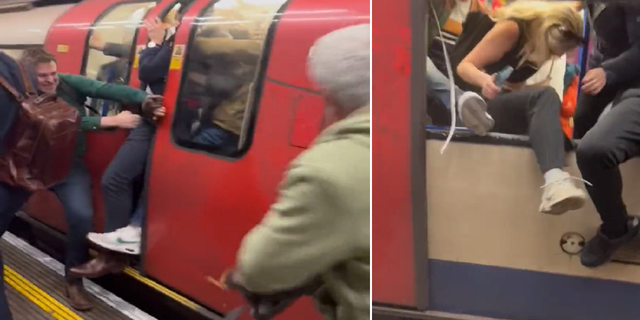 The witness said on Twitter that "the response from station staff was horrific" and Transport for London, which oversees the city's tube system, should be "ashamed".
CLICK HERE TO GET THE FOX NEWS APP
"There are currently severe delays on the Northern line due to an earlier fire alarm at Clapham Common station. We are working to get the service back to normal as quickly as possible," Transport for London said in a statement.
It happened one day before the coronation of King Charles III.
Emily Robertson of Fox News contributed to this report.
This is a developing story. Please check back for updates.