Thousands of people have been forced to evacuate their homes as unprecedented wildfires ravage western Canada.
Alberta declared a provincial state of emergency after 45 new fires broke out in just under 24 hours.
As of Saturday evening, more than 24,000 people in Alberta were under evacuation orders as 110 active wildfires burned, 36 of them out of control.
Additional firefighters were dispatched from Quebec and Ontario, but it was an "extremely difficult" day for those battling the blaze.
"We were battling very strong winds, hot weather, and those winds produced extreme wildfire activity," said Christie Tucker, information unit manager for the provincial government service Alberta Wildfire.
The hot, dry spring has turned much of the landscape into kindling, so "all it takes is a few sparks to ignite some really scary wildfires," said Premier Danielle Smith, leader of the ruling United Conservative Party. in Alberta.
"These conditions have resulted in the unprecedented situation our province faces today," she added.
"Pray for Rain"
So far this year, 43,000 hectares have been scorched by wildfires, Ms Smith said, adding it was "very unusual" to see such fire activity so early in the season.
In one community, the fire destroyed 20 houses and the police station.
Read more world news:
Nine dead including one suspect after shooting in Texas
Congo village turned 'wasteland' as floods kill 200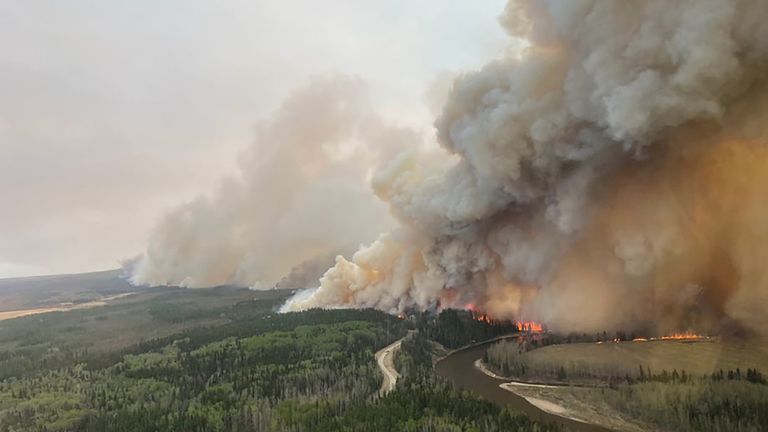 "(We are) watching closely and praying for rain," said Grant Fagerheim, CEO of Whitecap, an oil producer in northwest and central Alberta.
Pembina Pipeline Corp, which manages oil pipelines in the region, said Friday it has activated emergency response and incident management processes and is "assessing any current or anticipated operational impacts."